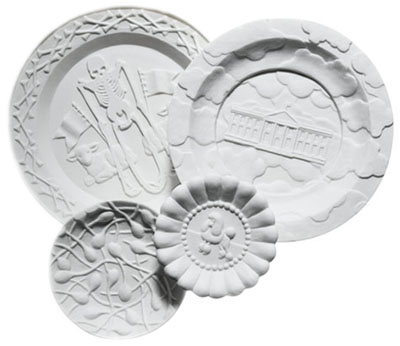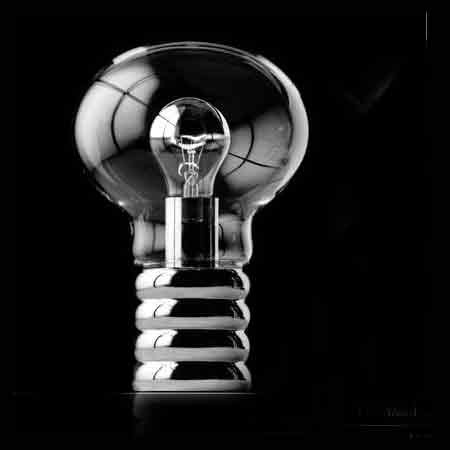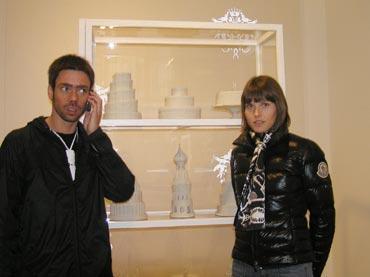 Design Week hit New York on Saturday and continues until tomorrow with back-to-back parties, exhibitions, conferences and, of course, the ICFF (International Contemporary Furniture Fair) at the Javits Center. All the design heads are here in town from all over the world and believe me, they all showed up for Murray Moss's opening party on Saturday night. (Murray told me 5,000 people stopped by and they ran out of wine halfway after pouring through 26 cases!!!!)
Moss has a show of the young hot Dutch design team Studio Job (see their ceramics above) and their stuff was selling like hotcakes. I'm sure Larry Gogosian is trolling Studio Job, as their pieces are quite conceptual and sell for up to $160,000, and I think were almost sold out!
Last night, I hosted a dinner at my home with Murray Moss, his partner Franklin Getchell and my friend, jewelry designer Ted Muehling, to celebrate a milestone birthday for our old dear friend Ingo Maurer (the legendary German light designer... see his classic bulb design above). Murray was in charge of the invite list and it turned out to be a fun group of people. Studio Job's Job Smeets and his girlfriend Nynke both came (they are so glamourous... see how cute they are in the photo above). They told me they're hopping back to New York in a couple of weeks, because the CFDA invited them to design the CFDA Design Awards. Should be fab. It was fun to bond with them.
Humberto and Fernando Campana stopped by (those cute furniture designers from Brazil) and it was great to see them. I first met the Campanas years ago through Ingo, before anyone heard of them, and now they are huge stars selling chairs for hundreds of thousands of dollars! They are sweetie pies and it was great to see them!!! The high point for me was meeting the original Droog genius named Tejo Remy. Tejo is the one who designed one of my absolutely favorite pieces of furniture on the whole earth in the early '90s... that giant mess of all shapes and sizes of drawers that are held together with a gigantic rope/elastic (see photo below). I have always regretted I didn't snap one up, I must say. Check out his site... he's really great. Lots of other fun design peeps came for dinner including fabric guru Michael Maharam, Chee Pearlman, Dutch design guru Li Edelkoort, Yves Behar, the artist Mats Gustafson, Brit designer Tom Dixon and a young Israeli designer named Arik Levy who's supposed to be up and coming. It was such a fun night.