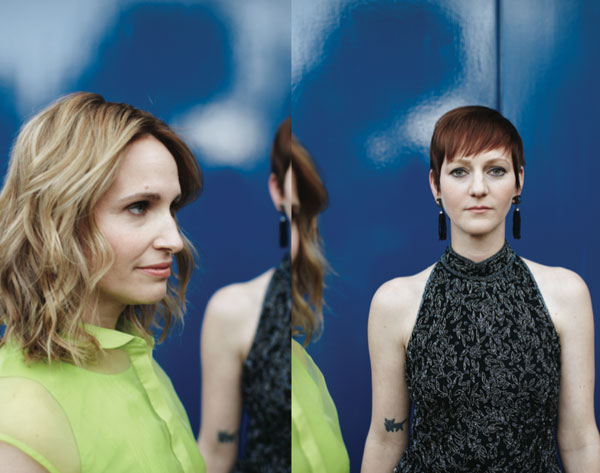 How do you define architecture? It's a question that could generate any number of pretentious answers, but when Los Angeles architects and designers Catherine Johnson and Rebecca Rudolph saw it on the submission form for an architecture competition back in 2010, they just couldn't take it seriously.
So Rudolph and Johnson cheekily jotted down "Design, bitches," and submitted the form along with their portfolio. To their surprise, they won an honorable mention, and received a gilded certificate from the American Institute of Architects commemorating Design, Bitches -- the first official recognition of what has become a vibrant multidisciplinary design company.
Emphasis on multidisciplinary. "We love architecture," says Rudolph, "but don't want to limit ourselves. It's a lot of fun to think about things that are more immediately accessible to people." Much of their work so far has been in branding, graphics and product design; they've designed T-shirts for sub_urban riot that will be available soon and have done brand development work for Coolhaus Ice Cream Sandwiches, as well as interior design and façade graphics for a recently-opened Coolhaus store.
To some extent, their clients so far have been self-selecting -- perhaps not surprisingly, given the company's name. "If people want to hire Design, Bitches, they're likely people we want to work with," says Johnson. Rudolph says the clients "are interested in doing something fun, and maybe a little bit out there." Design, Bitches is unusual for other reasons, as well. "We're a couple of girls working together, which doesn't happen, barely ever," says Johnson. That's a point of pride for the two women, who are looking to take on other female business innovators as clients in the future. "We kind of have this dream of making a Design, Bitches guild--finding other like-minded women designers to group together," says Rudolph. There just might be a few exceptions, though--first among them Rudolph's husband, designer-builder Colin Thompson, whom she's proudly dubbed an "honorary Bitch."
Photo above: (l-r)
Catherine
wears a dress by
H&M
. Rebecca wears a top by
M. Dot
and earrings by
Chanel
from Clothes Heaven Pasadena.
MEET THE REST OF OUR 2012 BEAUTIFUL PEOPLE