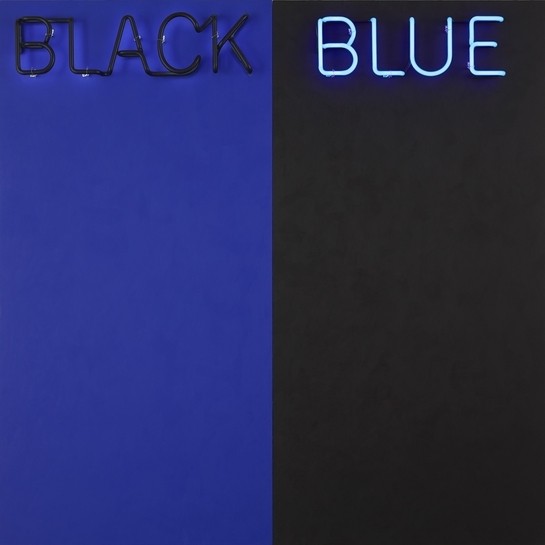 Deborah Kass' "No Kidding"

Paul Kasmin Gallery is back from Miami and opening three new shows this week: Erik Parker's "Undertow," highlighting his new shaped canvases, opening on Thursday, December 10th, 6 to 8 p.m., at 297 Tenth Avenue; Deborah Kass' "No Kidding," featuring new mixed media paintings, opening on Wednesday, December 9th, at 515 West 27th Street; and Mark Ryden's "Dodecahedron," with eight new paintings and his first bronze sculpture, opening on Thursday, December 10th, 6 to 8 p.m., at 293 Tenth Avenue. All three are up until January 23, 2016.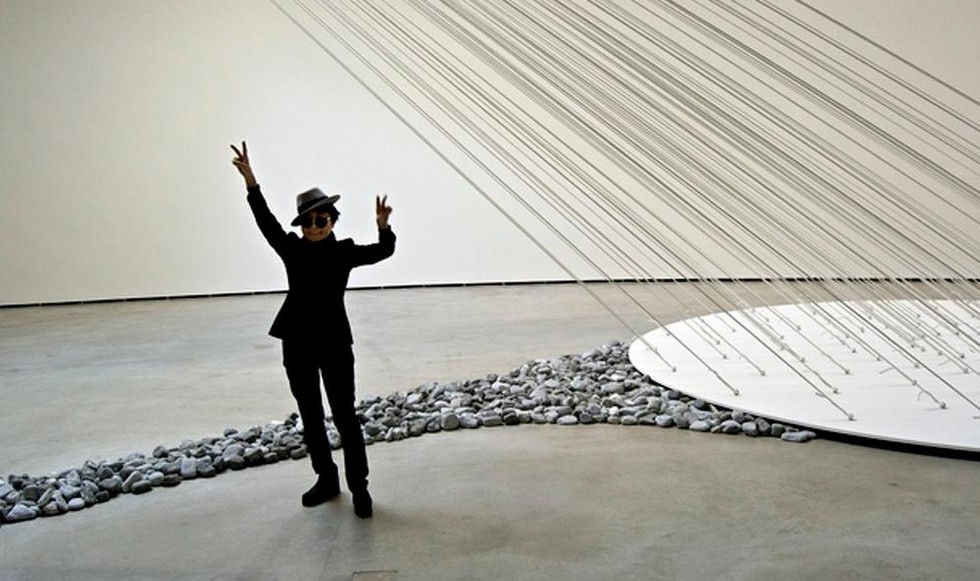 The Riverbed by Yoko Ono.

Yoko Ono's double exhibition "The Riverbed" opens on Friday, December 11, 6 to 8 p.m., with large installations in two galleries: Galerie LeLong (528 West 26th Street) and Andrea Rosen Gallery (525 West 24th Street). Visitors should check out both shows and will be given "instructions" including: "draw a line to take me to the farthest place in our planet." Though both shows are basically the same, they will "evolve differently over time." On view at Rosen until January 23rd and at LeLong until January 29th.


Howl! Happening (6 East First Street) opens "Threat Assessment," the first solo show by Tim Clifford, on Friday, December 11th, 6 to 8 p.m., and on view until January 10th. The timely works "transform the visuals of American gun culture into meticulously rendered indictments of violence and death."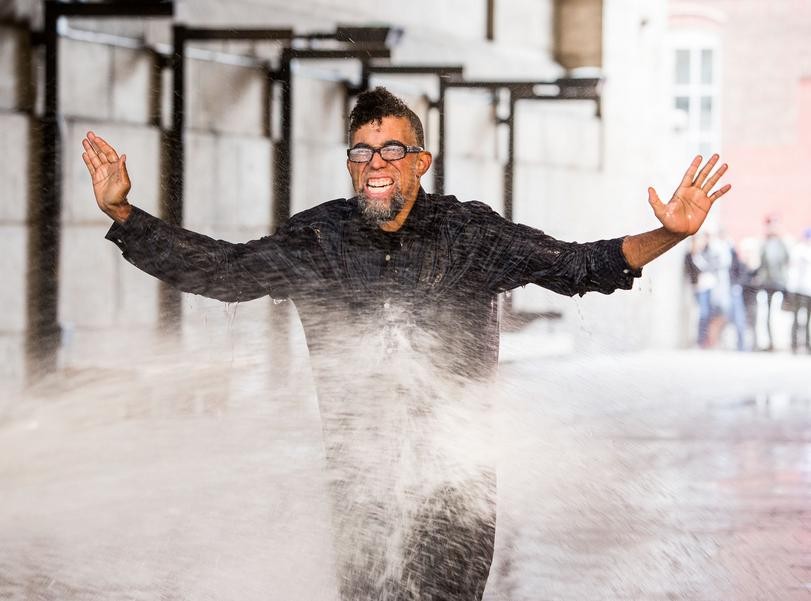 Dread Scott performance still from "On the Impossibility of Freedom in a Country Founded on Slavery and Genocide, 2014," featured at the Brooklyn Museum's "Agitprop!" show.

The Brooklyn Museum(200 Eastern Parkway, Brooklyn) opens a group show featuring 20 artists called "Agitprop!" on December 11th and on view until August 7th. The works connect contemporary art to social change and "highlight struggles for social justice since the turn of the twentieth century." Two more groups of artists are being added on February 17 and April 6, 2016, with each group choosing those in the next.

Flux Factory (39-31 29th Street, Long Island City) has a group show called "Test Patterns" opening this week and closing on December 18th. The show "examines the ways in which we interact with technological standards" and was curated by Maddie Hewitt and Roopa Vasudevan, co-curated by Lee Tusman. Their monthly potluck and art salon is on Thursday.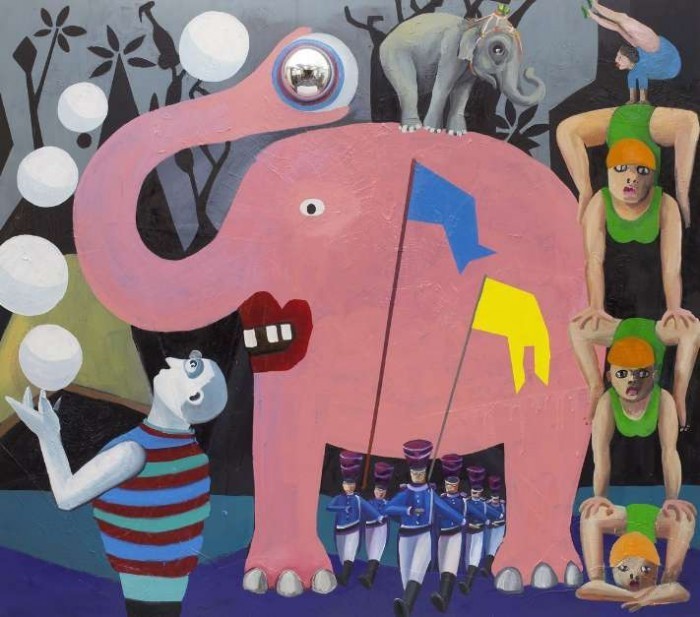 Stefanie Gutheil's "The Hone of Mr. Peeps" at Mike Weiss Gallery

Mike Weiss Gallery (520 West 24th Street) opens "The Home of Mr. Peeps," featuring new works by the Berlin-based artist Stefanie Gutheil, on December 10th and up until the end of January. The show "transforms the gallery into a sanctuary of the bizarre...(with) horned beasts, laser beams, onesies, a brass marching band, phonographs and multi-talented chickens."

Edward Thorp Gallery (210 11th Avenue) opens a group show called "Spaced" on December 10, 6 to 8 p.m., with several artists including Alfred Stieglitz, Vija Celmins, Bruce Conner etc. interpretating the "factual and psychological concept of space." On view until the end of January.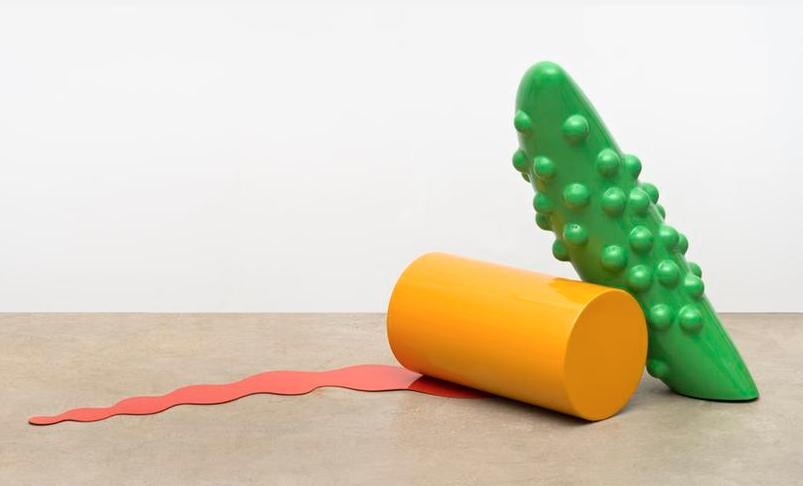 Pat O'Neill, "Safer Than Springtime"

Mitchell-Innes & Nash () (534 West 26th Street) has the New York debut of L.A. artist Pat O'Neill opening on Saturday, December 12, 6 to 8 p.m. "Let's Make A Sandwich" includes works from the artist's career spanning five decades, with work's on paper, sculpture and film. It's up until January 23rd.

Envoy Enterprises (87 Rivington Street) opens a solo show, "Hedonic Reversal," featuring photographs by Rodrigo Valenzuela on December 10th, 6 to 8 p.m., and up until January 17th. The photos" recreate urban decay and ruins." Valenzuela was born in Chile and is currently based in Texas.

Jack Shainman Gallery () (513 West 20th Street) opens "Of Context and Without," their fourth solo show by Toyin Ojih Odutola, on December 11th, 6 to 8 p.m. Odutola was born in Nigeria and currently lives and works here in NYC. Shainman also opens "The Velocity of Change" with new paintings by Odili Donald Odita at there 524 West 24th Street location on December 11th, 6 to 8 p.m. Both shows are up until the end of January.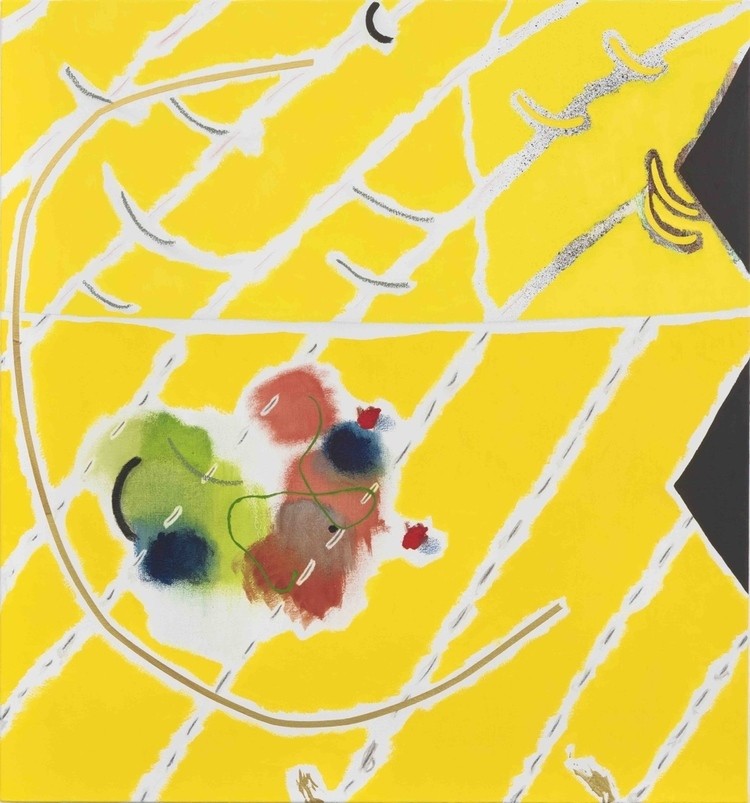 Allison Miller via Susan Inglett Gallery

Susan Inglett Gallery (522 West 24th Street) opens a show called "Speeds" featuring new paintings and works on paper by L.A. based artist Allison Miller on Thursday, December 10, 6 to 8 p.m. Art writer and curator Sarah Lehrer-Graiwer informs gallery visitors: "...it is advisable to watch for red herrings, green ghosts, blue balls, and pale pink smoke screens."