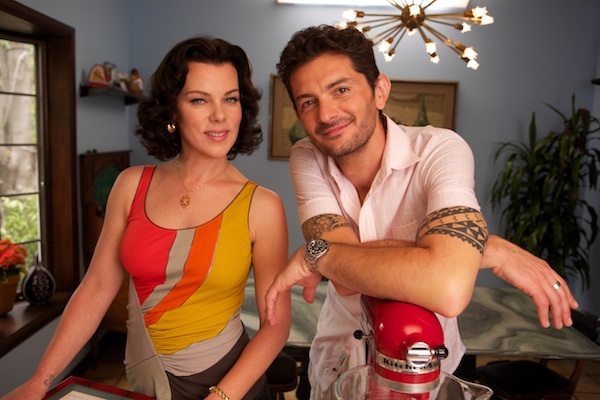 It's like déjà vu when
Debi Mazar
opens her hotel room door and greets me in her black bra and panties. She welcomes me in like we're old besties, though this is our first meeting. I help her pick out her earrings, try on some perfume and she dusts my face with foundation as she gets dressed for an event at the
New York City Wine and Food Festival
. At the food fest, she and her tall, Italian husband,
Gabriele Corcos
, are promoting the second season of
Extra Virgin
, the surprise-hit
Cooking Channel
show that chronicles their lives in L.A. and Tuscany. Between sips of champagne, we talked food, celebs, and the good old clubbing days of '80s-era New York.
Debi Mazar:
I remember when PAPER was a big piece of paper.
Kathleen Squires:
They used to give it out in Danceteria!
DM:
Yes, I was working the elevator in Danceteria back then, and that's where I met Madonna. She came into my elevator and she said, "Wanna dance?"
KS:
Is it true that they used to pump "laughing gas" into Danceteria? That was the rumor of the time.
DM
: No, that wasn't true. Everyone was just drunk and on drugs in those days. I was just working the fucking elevator. I met a lot of great people there and one of them was Madonna. She was a Midwestern kid, straight off the boat from Michigan, and she was hanging around the music area of 37th Street and trying to get her record out there. We started hanging out from that night on, and I started doing her makeup. I was also doing makeup for PAPER and
Details
in those days. My acting thing didn't come until a little bit later because I was mostly doing makeup in the theater, standing behind the stage like "All About Eve." I knew the lines better than everybody else. I would go onstage when everybody left, in the dark, and pretend that I was some opera star or some fabulous maven of the theater and say my lines to nobody. I realized then that I was not happy so I started studying acting.
KS:
So how did you go from makeup artist to acting to cooking?
DM:
I was always a person who loved to travel and loved to eat and loved to cook. And when I met Gabriele in Florence, he impressed me with his cooking. He simplified everything -- he "Tuscanized" every recipe. He would take my beef stew that I learned in Cuba and he would make it simple and beautiful and everything came out better. We fell in love and got pregnant very quickly, and he even gave up playing with Shakira on her world tour to be with me and the baby....
Gabriele Corcos:
As they say in Italy; the power of the pussy hair is stronger than a hundred bulls -- it pulls harder than anything else. When I met her there was no question. I fell in love and I came to the U.S. and that was it. And one day we were given a camera from my aunt for the wedding, and we thought let's make some spaghetti on video!
DM:
So we just put it on the tripod, got all fucked up, had fun, cooked and then we cut it and put it on You Tube just for fun.
GC:
And we did it again, and again, and I started writing the blog,
UndertheTuscanGun.com
.
DM:
And people started to get interested. Relevant foodies liked it; normal people liked it. I think they liked that we were just a normal couple that were interested in food. We didn't have the pretentious set and all the accoutrements... we just wanted to share with people how easy it is to really cook. 
KS:
You both have a great chemistry and are so relatable to viewers. I suspect that you're not the norm in Hollywood...
DM:
We are not the norm in Hollywood. I feel like whenever I go to these big homes of these gazillionaire people they always have these incredible kitchens that largely go unused, or their staff are working there, and they don't know where anything is. Like I would go into Madonna's kitchen and say, "Can I borrow this spaghetti pot because I'm having a party?" And Madonna would be like, "Yeah sure," like she didn't even know it was there. She's actually interested in food but she doesn't have time to cook... Anyway, I wanted to inspire other people in a socially conscious way about how the life of an actress isn't always so glamorous. I love Goop.com, for instance, but it's a little inaccessible for people who don't have money. It's Gwyneth and her wonderful life. And I love Gwyneth, she's a friend of mine, and she gets a lot of shit because she's a debutante and she grew up entitled and went to Spence, but at the end of the day, she is also a person who has evolved and she has become a mother. She has learned how to cook. I remember when she was a straw-haired, skinny vegan and now she's going with Mario Batali to fuckin' Spain. But I think it turned out to be a successful formula for her and I think she talks about really great stuff.
GC:
But when she discusses a typical morning and has coffee from a $1,700 machine, then pilates at $500 an hour...it's like who is she talking to? She is not talking to us.
DM:
But she is talking to people who have a fantasy life, and I think that is important. People want to know what that's like, too. We just feel good about sharing good information with people in a way that was tangible. Like, OK, you don't have pancetta, and you live in Podunk? OK, well, here's what you can do. Let's substitute.... I like to say our show is like "Green Acres" meets "I Love Lucy" with cooking involved.
KS:
So, what's easier, comedy, drama or cooking show?
DM:
It's all easy for me but getting the cooking show up and running was an organic thing -- not produced. Then suddenly
Bon Appetit
and
Saveur
found us. And I love the foodies. People are just so into it -- this weekend they were all  out at the Wine and Food Festival, and they all looked a little bit tipsy, they're spewing shrimp out of their teeth as they are talking, but they seem like just such happy people! It's so different from the Hollywood scene and I find it so refreshing.
KS:
In the upcoming season I understand you get visits from Kathy Griffin, Joe Mantegna and Adrien Grenier. What food secrets can you tell me about them?
DM:
Well, Kathy Griffin doesn't know how to cook but she wants to desperately. She was so into it and loving the simplicity and I like the idea that we inspired her. Joe told me about when he went to Italy in the late '70s to finally meet his grandmother. He told us they served him this incredible dish, which was donkey meat. We couldn't get donkey meat, but we wanted to surprise him and replicate the taste that he had at that time. We even got his relatives on Skype and he and his wife just started sobbing -- they were so touched. And Adrien was the one
Entourage
cast member who was socially conscious and environmentally conscious and he was always taking some kind of homeopathic shit during the day. He has a very clean energy in his diet.
KS:
Have you ever ended a relationship or friendship because of people's taste, or lack thereof, in food?
GC:
I just don't hang out with those people that don't have that affinity for good food. All the guys in Italy are like that, cooking with their families all the time. So on the show I am just capitalizing on who I am.
DM:
I don't judge. But I do often want to feed people. In Hollywood I see a lot of these skinny girls who are literally growing fur on their shoulders -- it's called lanugo or something -- that thing when you come out of the birth canal and you're malnourished and it's fur to protect you to keep you warm? I mean, I'll feed them, but I won't judge them.
The second season of
Extra Virgin
premieres October 19th at 10:30 p.m. ET/7:30 p.m. PT
on the Cooking Channel.