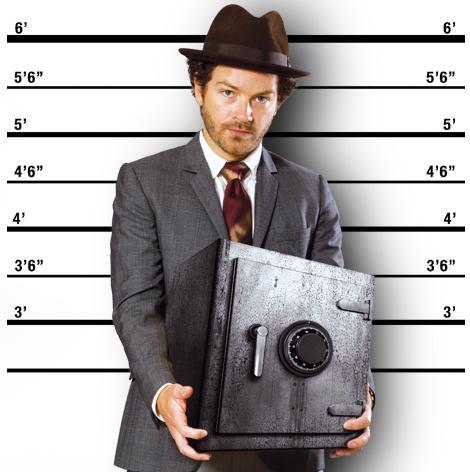 This Thanksgiving, we here at PAPERMAG are thankful for
Danny Masterson
. That is because we interviewed him about his new film 
The Brooklyn Heist
(opening on Friday night at
Theater 80
on St. Mark's Place), and his answers just made us laugh and laugh.
So how did you find this movie? Or did it find you?
The script found me. Julian Kheel, the director, sent me the script, I read it, fell in love with it and signed on on the spot. 
So the film focuses on three different groups of criminals each trapped in a different film genre -- a rap video, a black and white movie and a grainy, '70s antihero film. You play Fitz a member of "The Amateurs," and you're part of the '70s-era crew. Why do you think you're so good at playing people from the '70s? You only lived in that decade for the first four years of your life!
As most players know, it only takes four years living in a decade to fully embrace the power of that era.... Hence, my career. 
This film is the first to be shown at the new Theater 80 on St. Mark's Place. How did that come about?
Basically, it's the coolest theater in New York City, so, as the Talking Heads said, "This must be the place."
What was it like shooting in NYC? Any fun stories/anecdotes from the set?
I've never had more fun shooting a movie in my life. I rode my bike everyday from Tribeca to the West Village. We shot in an abandoned auto repair shop, which was amazing as shit, except for the fact that they were editing hard core porn on the scond floor so we had a ton of sound issues during the "money shot" scenes. Besides that, perfecto.
You're from NY, but are mostly LA-based yes? How would you describe your current relationship to New York?
My current relationship with the city is like that girl who wants to marry you but you just can't stop traveling so you can't commit. You love her the the most, but there are so many cities to visit...
Speaking of relationships, you were not so long ago featured on the cover of PAPER with Bijou. What was that like? Do you display the cover prominently over your bed I hope?
We blew it up 30 foot by 50 foot and bought two billboards. One one Sunset, one on Broadway. Basically, whenever we fight, the first person to drop "I was on the cover of PAPER" wins. And the loser has to perform an enema on sad winner. Luckily, I keep losing.
You're such a renaissance man these days -- in addition to acting, you co-run a restaurant (Shin), a boutique (Confederacy), you DJ all around town (as Momjeans) and you've for the first time taken a behind the camera role as a producer of the Brooklyn Heist. What are the challenges of having your hands in so many different pots? What have you not done yet that you have your eye set on? 
Muchas gracias senorita. I feel there's a need for a third leg in the human race (and I don't mean a giant cock cuz that's a given). I intend to create the formula that creates the cream that gets applied to your backside that creates the third leg. I've been working diligently to provide this addition. 
Also Momjeans is such an amazing DJ name, and I have thought that for a long time. When and how did you come up with that name?
Thank you so much! Well, I've been DJing since the '90s, and I used to make fun of Laura Prepon and Mila Kunis of That '70s Show for wearing "mom jeans" -- jeans that they had to zip up to their breasts. Amazing, weren't they?
Any new projects coming up that you'd like to mention?
I just finished playing Jerry Rubin of "The Yippies" in The Chicago 8. It's a courtroom drama set in 1969 after the Democratic National Convention debacle. A "biopic" as they say. 
What are your Thanksgiving plans? 
Eat birds and cry for the Indians. 
Oh, and also, after its two week stint at Theater 80, where can folks catch this film? 
On DVD, yo!