Dancing in the Dark at "No Lights No Lycra"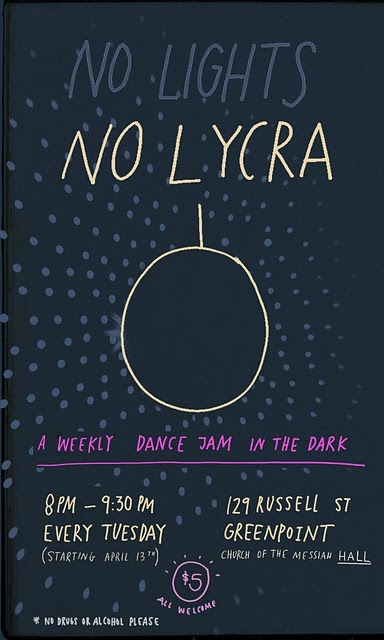 What happens when a dance floor simply becomes that which it was intended to be: a place to dance? Cancel out the plushy décor, strobe lights, toxic cocktails, five-inch spike heels, and the incessant internal nagging to meet someone, and what you've got on your hands is
No Lights No Lycra
, a dance party in the dark that stresses dancing simply for the sake of enjoying it.   The movement began in Melbourne, Australia last summer, and then a chapter sprung up in Greenpoint, thanks to graphic designer Joanna Zawadzka and the trio behind the Van Leeuwan ice cream company. While it obviously can't and won't be enforced, No Lights stresses the point of showing up to these dance parties without having partaken in drugs or alcohol. The magic in these dance parties lies in the "no lights" aspect of it: walking into this church basement is similar to the experience of walking into a movie theater after the lights have already dimmed; it's a bit harried, and the darkness is a bit overwhelming, but within a matter of minutes it is possible to make out the face of a person standing directly next to you. If dancing in a room full of people whose only intentions are to move to music isn't enough to get you going, the darkness is a substitute for any sort of inhibition-bashing substance you might need to take to dance in public. About 30 or 40 people generally show up to these no-frills, hour-and-a-half Tuesday dances, where songs can by requested via email and a $5 suggested donation box sits by the front door. Drop by a dance sometime and arouse your latent love of dance. No Lights, No Lycra brings Usher's lyrics, "if we close our eyes it can just be me and you," to a whole other dimension -- and not in the way he intended.
No Lights No Lycra
Every Tuesday night
Church of the Messiah Hall
129 Russel St.
Greenpoint, Brooklyn
8 p.m.-9:30 p.m.
$5