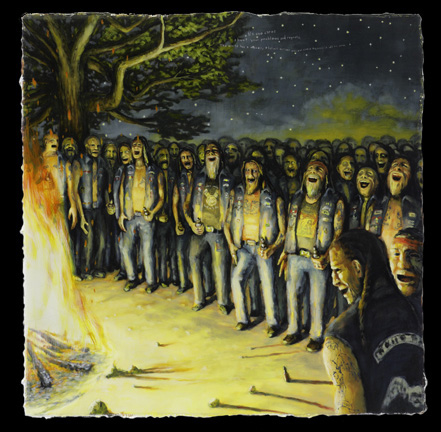 One of my favorite young artists, Dan Attoe, has two shows opening this month. First up is the American painter's second Berlin solo show at Peres Projects BERLIN which opened over the weekend. The exhibition, called "Simple Thoughts and Complicated Animals," features new works in painting and mixed media sculpture and runs from May 2 until June 21.
Attoe's second show this month, "American Dreams" opens at Museo de Arte Contemporáneo de Castilla y León, MUSAC in Leon, Spain and will be on view from May 17 – July 6, 2008.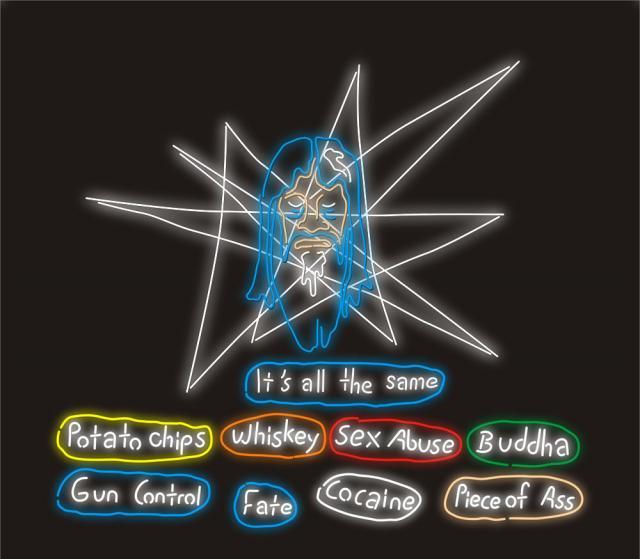 I first discovered Attoe's trippy images of Americana-gone-to-psychedelic-seed several years ago when he first showed at Peres Projects in Los Angeles. Thrilled to discover I could actually afford one of the fast-selling works, I immediately bought a small but fantastic aqua-green, oil-on-wood painting of a strange Arctic landscape featuring a cuddly Yeti and a babe in Uggs (titled "Sasquatch & Snowbunny"). I was so in love with that painting that I made sure to be one of the first in line at his next show where, thankfully, the price was still right. So I bought four more (including "Stripper Mirror" below).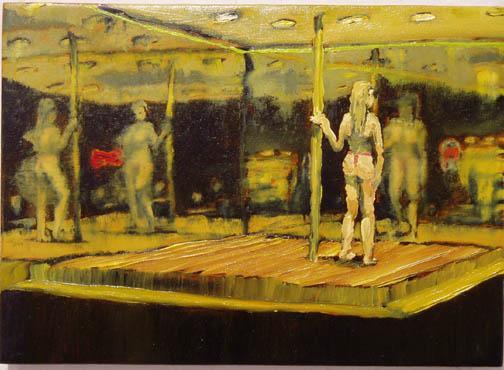 Attoe is still painting but he is now also working with neon, to great effect! Twisting modern iconography into hilarious works sprung no doubt from Attoe's Pacific Northwest subconscious, these new works (like his earlier ones) simultaneously amuse and disturb. Now based out of Portland, Oregon, Attoe seems to delight in propagating homegrown mythologies full of modern heiroglypics that will confound the archaeologists of tomorrow but charm art-loving beer drinkers (and beer-drinking art lovers) of today. Alas, Attoe's work is now out of my price range but I'm thrilled he is finding success! See more of his stuff here and here. Read more about his other exhibitions here and here.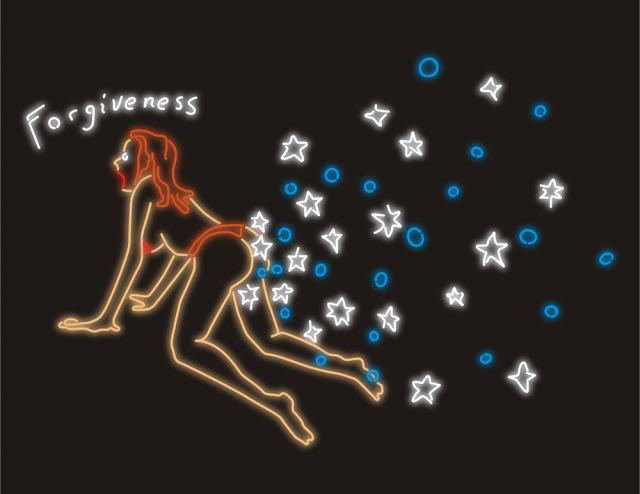 More about the work (from Peres Projects):
It is no small feat to make a series of landscape paintings that reflect a coherent and specific vision almost 100 years after Ernst Ludwig Kirchner interpreted the aura of his beloved Swiss mountains, but Attoe accomplishes this part of the program with characteristic humility. In "Simple Thoughts and Complicated Animals," Dan Attoe reveals his ritualistic landscapes by taking us along on that most American of past-times: the road trip.

From inside the coals of a ghastly fireside biker ritual to the now-not-so-remote arctic by way of the monolith, New Year's (rocking eve variety), sexualized angels and ubiquitous roadside motel death scenes, reassuring, paradoxical and sometimes-yes-simple thoughts in good ol' plain English are there to guide, or to obscure. "Everything is grist for the mill," the artist admits of his prodigious exterior monologue. There is a sub-lingual quality to Attoe's work that Burroughs would appreciate.