Damages' First Season Ends With a Bang!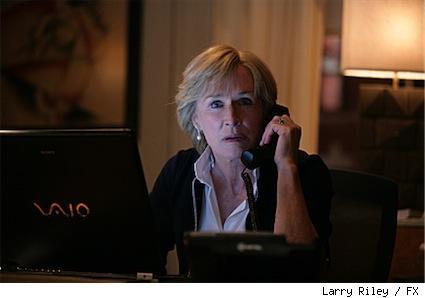 I've been obsessed with the new FX show Damages and last night they aired the season finale which was astonishing. This complex legal thriller stars a brilliant Glenn Close as a cutthroat litigator, Patty Hewes, and Rose Byrne as Ellen Parsons, a young ambitious lawyer who comes into the film to work on a twisty class action suit against a corrupt CEO, Arthur Frobisher (Ted Danson -- who has never been better!).
The show this season has been circling the main story with Ellen arrested for the murder of her boyfriend but all the threads came together last night with a bang and set everything up for next season. Rarely have shows been so intricate but paid off so well. The intelligence and nerve-wracking twists this show took were breathtaking. And Zeljko Ivanek as tortured lawyer Ray Fiske gave such a stunning, heartbreaking performance that he took my breath away. Until the new season of The Wire comes back from HBO, Damages is rocking the airwaves! Bravo!