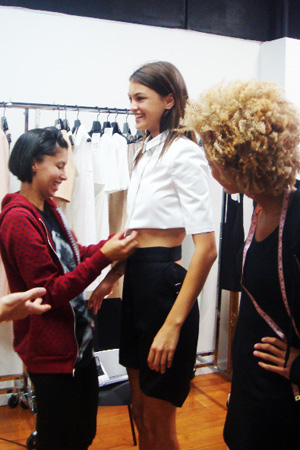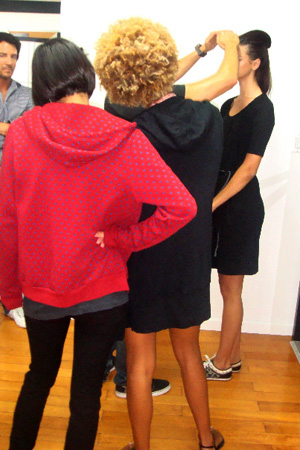 Don't even remember what happened yesterday -- it's been madness. Cannot say what time we got to the studio or what time we left. We managed to see most of the girls, all except two, and did the hair and make-up test with Amy Farid and Gregory Arlt, which looks amazing. It's so fantastic seeing our vision realized. Gregory and Amy immediately understood the look we wanted to achieve. We are so happy with the outcome and so lucky to have such an amazing team. Kevin Krier is really making our dream come true and keeping us very entertained throughout the whole process!

We also met with Rene Goulet, our music maker extraordinaire, and decided on a combination of two tracks. He had given us a selection of tracks to listen to over the weekend based on our concept and the mood we wanted, and he hit the nail on the head!

The rest of the day was a whirlwind of fittings and alterations, things being picked up and dropped off to get altered. We also have Deilia sewing in the corner of our studio finishing a few pieces -- she has been a god send!

At the end of the day La Esquina margaritas were heavily in need….