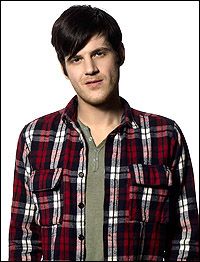 I first saw Michael Esper in the play The Four of Us that he's currently starring in at the Manhattan Theater Club. Although his co-star in the two-character play Gideon Banner is also very cute and talented I really fell for Michael with his dark-haired, boyish appearance. He seemed to really relate to his character, a struggling playwright in hiss twenties whose best friend gets a multi-million dollar book deal (supposedly the play is semi-autobiograpical written by the young playwright Itamar Moses). I recently got to meet Michael and chat with him about his acting career thus far and what it was like to act beside Ryan Gosling in All Good Things! I wouldn't have minded being a guest on that set!

Whitney Spaner: How is it working with just your co-star Gideon night after night?
Michael Esper: You mean do we get sick of each other? No! We get along great! It's really, really fortunate because it could be a disaster, right? No we're good friends –- I mean I can't speak for him but I hope! We had met before when we did a play together years ago at Lincoln Center called Big Bill, and so we first met doing that and then got reacquainted with this show and it's been amazing. I couldn't imagine doing it with anyone else. He's an incredibly good guy and an amazing actor and really there for you on stage. He's always present and playing with you, and in a two character play when it's just the two of you on stage the whole time, that's just the whole ball game. We talk about each other's lives. He tells me things and I judge him for them.
WS: Do you share a dressing room?
ME: Yes, it's nice -- I mean not in a weird way. But we enjoy each other's company.
WS: What was it about this particular play that made you want to be involved?
ME: I mean I was excited about it when I heard who was involved before I had even read it just knowing Itamar's work and [director] Pam McKinnon's work and I've always wanted to work at MTC ever since I started acting, so right off the bat I was excited. Then when I read the play I was like I have to do this. I can't not do this play. I was so affected by it and I felt like I hadn't read a play that really captured the experience of or really explored the relationship between two straight guys and all of the complexities and intimacies that are involved in that relationship. I feel like it's something that's really under-explored.
WS: Where did you go to school?
ME: I went to Oberlin College for a year, and it didn't go well and they sort of politely suggested that I might want to take a year off. I struggled, I really struggled. I just could not apply myself there. I was there to study writing and philosophy and writing at that time wasn't doing it for me. So I took their suggestion and took a year off and didn't know what I was going to do. My mother and father are both acting teachers and I had acted sort of my whole life but I thought it wasn't what I wanted. I thought I was going to write, but I started taking classes at my parents' acting studio in the city and as soon as I started there it just sort of lit me up I was screwed. So from there I went to Rutgers where my father was the chair of the acting department and started acting there.
WS: Did you grow up in the city?
ME: I was born in Manhattan and then my family moved out to the suburbs of Jersey and we were there for most of my childhood and then went to highschool in Brooklyn Heights at St. Ann's.
WS: How did your career start off?
ME: About a year after I got out of school I got a job in Jersey at New Jersey Shakespeare and then I got in the union when I did a play at theTrinity Rep in Providence. From there I just slowly worked my way through and did some regional theater jobs and then started doing plays here in the city and started working with a company called the Civilians and one thing lead to another. I also did little movies here and there.
WS: Oh you like film too?
ME: I do more plays but I did some small indie films for awhile. I just started getting back into doing some film work. It's certainly something I'm eager to get back to and explore more. I'm working on a movie now. It's a small- really small part but I'm playing Ryan Gosling's brother in this movie called All Good Things.
WS: I love Ryan Gosling!
ME: Is there a better actor than him? I don't know that there is. I feel like across the board -– you can only get as good as him -- I really think he is as good as it gets. I had a rehearsal with them the other day and it was really exciting.
WS: So this might sound a bit match.com-y but what do you do in your free time?
ME: I play guitar. I was in a band for awhile called the Red and the Black. We toured around for awhile. I still play and record stuff on my own.
WS: What type of music?
ME: It's a very simple stripped down stuff. People that I love are Elliot Smith, Sufjan Stevens, the Dodo's record, Animal Collective and Panda Bear.
WS: Do you get out much with working and everything?
ME: I don't go out too much. Even though the show is short and a lot of fun it is really demanding. It's just the two of us onstage talking for 90 minutes and there's a lot of experience in there so I tend to want to take it easy and to be pretty tired afterwards.
WS: What do you have to have in your dressing room?
ME: My laptop. There are guitars kicking around backstage. Gideon has this weird collection of lilac-scented candles that he lights up -- I don't know what that's about. He's got all kinds of pink gauze around there but I just keep to my own side…
WS: What would you do if you couldn't be an actor?
ES: I guess I'd be a musician or maybe I'd teach or direct but that question makes me very sad because I don't really feel like, as difficult as it is and as scary it is, it's one of the only things I've been able to stay with. So it's hard for me to imagine being unable to do it.
The Four of Us is at the Manhattan Theater Club through May 18th.