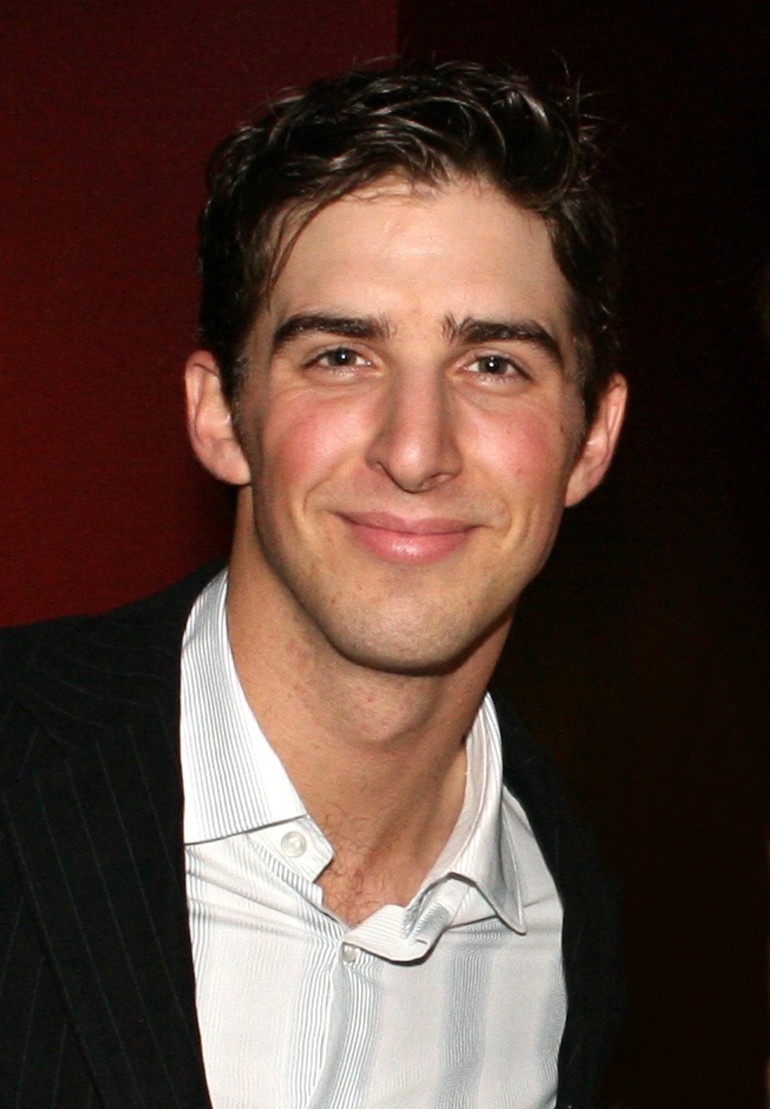 I haven't posted a Curtain Cutie for a long time but my new crush Cody Green is the perfect one to get us back into the swing of things. I saw him recently in the new Broadway production of Grease, spawned from the first-Broadway related reality show You're the One that I Want in which America and celebrity-ish judges picked Laura Osnes and Max Crumm to star as Sandy and Danny. (Max stopped by our interview and is also very cute!) Cody is part of the ensemble and is the understudy for Kenickie, who he will be playing on an upcoming weekend! He also is the runner-up in the hand-jive contest (pictured below). I was in awe of his amazing dance moves and charismatic facial expressions. He definitely made the show -- which I, (like most 20-somethings) have seen on stage and film a million times -- a very fresh experience!
He also has an impressive background, which includes Julliard and a starring role in the dance heavy Billy Joel musical Movin' Out on Broadway, on tour and in London. During our pre-show interview at the Brooks-Atkinson Theater, I asked him if he could come back and dance around my living room for me. Kidding. But I did ask him these very important "get to know you" type questions.
Whitney Spaner: How old are you?
Cody Green: I just turned 27 like a week ago.
WS: Oh you're a Virgo -- so you're organized and ambitious.
CG: I'm not terribly organized. I guess I'm organized with certain things, but my room is a mess! And I have ambitious qualities but I'm also kind of very relaxed.
WS: Is it weird to be part of the first Broadway show that came from reality TV?
CG: Well we're really lucky because Max and Laura are so talented and they're doing really well and we all mesh really well as a cast so it's just fun. We're just having fun with it. It doesn't feel different -- I mean obviously it's different, every show you do is different. I think it's interesting and it brings different people to the show that might not have come before.
WS: Would you ever do a reality show?
CG: No, I don't think so.
WS: What's the best part about being in Grease?
CG: I think doing "Greased Lightnin.'" That's fun.
WS: You're in a couple of movies coming up as well, right?
CG: Yes I did Across the Universe, that just came out. I did it [in New York] when I was doing Movin' Out on Broadway. I haven't seen it yet but some people in the cast have seen it. I was one of the dancers and we did some small group stuff. I think there are like seven or eight of us doing this briefcase dance. The other movie is The Curious Case of Benjamin Button, that Brad Pitt and Cate Blanchett movie.
WS: Did you get to meet both of them?
CG: I met Cate Blanchett. She's pretty amazing. She's beautiful. She looks like a goddess. We did a small scene and she was dancing and it was supposed to be the Paris Opera Ballet. And then we did some other scenes throughout the theater, like you know, coming and going in the theater, talking and all that stuff, so I'm excited to see that.
WS: What theatrical training have you had and in what order would you label yourself? Dancer, singer, actor?
CG: I guess I'd say dancer, singer, actor -- with singer and actor being kind of interchangable. I did some training at Vancouver Film School because I grew up in Canada, I went to Julliard here in the city and I trained in voice in Los Angeles with Seth Riggs Studio and some people in Vancouver as well. But I didn't do a lot of musical theater, aside from the shows that I've done. I didn't do any kind of regional theater or community theater.
WS: How did you know you wanted to do theater then?
CG: I don't know really. It just sort of worked out. I love dancing and I'd done a bit of concert dance growing up and some when I first started performing professionally, and I knew that I liked it but it wasn't what I wanted to do all the time. I loved acting and I'd done some TV stuff when I was younger and I really enjoyed singing and it was kind of like well, how can I put these all together, and then I found out that a friend of mine from Canada was doing Mamma Mia and I went and auditioned for it because it seemed like something I'd want to do and it worked out. I did Mamma Mia on tour and then I did Movin' Out as well.
WS: What's the most embarrassing thing that's happened to you on stage?
CG: So many -- that's a tough one! I'm usually OK with falling on stage because everyone is going to fall or trip, but I fell one time in Movin' Out and it was just a really inopportune time. I was coming downstage and I played the character of Eddie and it's just me on stage and I'm supposed to be kind of running like all happy, and both of my feet came out from under me and I landed flat on my back. I was supposed to be doing other choreography and I sat up and just kind of smiled and went on with it. It was pretty embarrassing, because it's not like I just sort of tripped and caught myself -- I just went down.
WS: What's in your dressing room?
CG: We like music. During Movin' Out especially, I'd play music to help me get pumped up during the show.

WS: Do you share your dressing room?
CG: There are four other people in my dressing room. I had my own dressing room for Movin' Out but it's fun to have other people there. It helps break the monotony when you are doing the same show eight times a week. [But in] Movin' Out, I appreciated having my own space. It's a really intense show.
WS: If you had to give up acting tomorrow what would you do?
CG: It sounds kind of dorky but I'm kind of big into golf. Maybe I'd try my hand at you know --
WS: Being pro?
CG: Well I'd have a bit of work to do but I'd try.
WS: What's the most glamorous thing about being on Broadway?
CG: I'd say the feeling when you finish a show when everyone is clapping or everyone is standing up. There's that really great moment that just kind of fills you.
WS: Do you think you're going to leave New York anytime soon?
CG: I've lived in LA for short periods of time, and I enjoy it, but I like the pace of New York and I love performing in front of people, being on stage rather than doing a shoot for a week and half and it comes out like three years later. It's such a rush having that immediate reaction.
Pictured is Cody and his dance partner in "Born to Hand Jive," and Cody atGrease's Opening Night party.