Over the past day, Jacques Hyzagi's recounting of his attempt to interview Comme des Garcons designer Rei Kawakubo has become a media must-read. Under the sublime headline "Elle on Earth," he penned a pyrrhic, sometimes-incoherent, 3,700-word tirade against the unimaginative magazine elite (ok, mostly Elle) and, it appears, the entire concept of editing. Throughout, he torches famous names and civilians alike, from Anna Wintour to models he's dated, gleefully wielding a poison pen.
Now Racked has created a way that you too can follow Hyzagi's example and craft a cutting riposte that is the perfect blend of verbose, condescending, and nonsensical with their Jacques Hyzagi Insult Generator.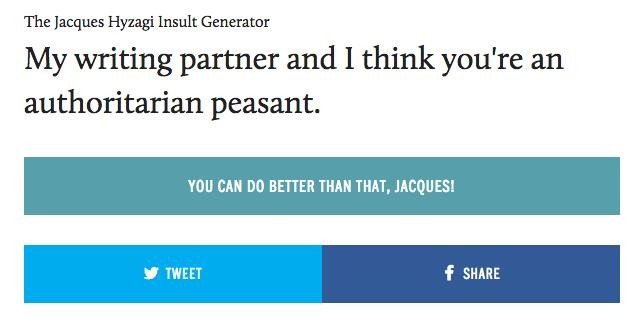 This is merely a photo of the fun that awaits.Racked
Click the button and see the perfect Hyzagian way to describe your work nemesis when venting on your tumblr, or get a cutting retort to level at that Tinder date who only texts at 2 A.M. A personal fave is "He ended up living in his bed in his mother's house in whatever god forsaken [sic] villages he grew up in before he came to New York." But it's hard to resist the abrasive simplicity of "Everybody is sick and fucking tired of you and Anna Wintour."
[h/t Racked]