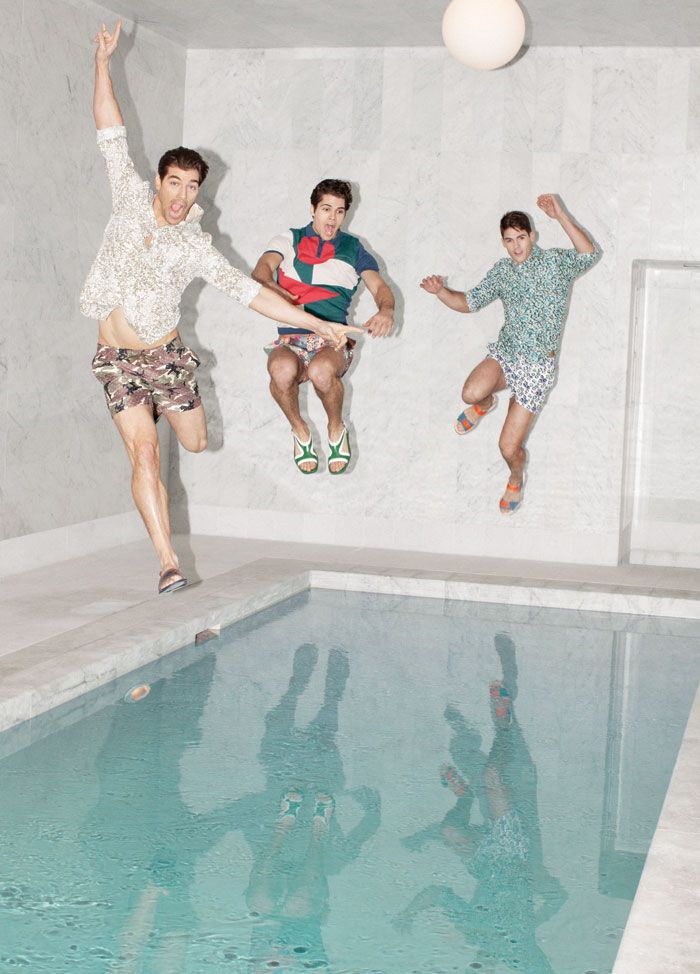 (L-R) Cory wears a shirt by Rag & Bone, trunks by Topman and sandals by Prada. Brian wears a shirt and trunks by Topman and sandals by Prada. Chad wears a shirt and trunks by Topman and sandals by Opening Ceremony

Sure, the oft-mocked world of modeling is rife with clichés: models discovered in random locations, models with inflated senses of self-worth, models who might not be the brightest bulbs -- the list goes on. "We work hard too," reassures Cory Bond, who, alongside fellow Soul Artist Management studs Brian Shimansky and Chad White, has invaded men's fashion editorials, look books and advertising campaigns with seductive aplomb. "And we aren't all Zoolanders," he insists -- even if Shimansky was discovered at a John Mayer concert.
Each of the guys has done his share of high-profile shoots. Shimansky's worked with names like Versace, Michael Bastian and Moncler; White's done Nautica, Hugo Boss and Ralph Lauren; Bond's credits include Michael Kors and Gant. The guys say that although modeling is notoriously cutthroat, there's a familial atmosphere among Soul Artist talent. "Working with Brian and Chad is always fun," Bond says. "We don't have the jealous feelings and competition between us." White agrees: "We all hang out outside of work so when we do shoots together we crack jokes and are already comfortable."
When it comes to male model clichés, though, sometimes truth really is stranger than fiction. Shimansky explains his unlikely discovery at that John Mayer concert: "After a brief tailgate, we walked to the ticket gate and I decide I gotta pee. So we walked away and took care of that. On the second approach to the gate, we were stopped by a scout." The rest, as the saying goes, is history.
MEET THE REST OF OUR 2013 BEAUTIFUL PEOPLE