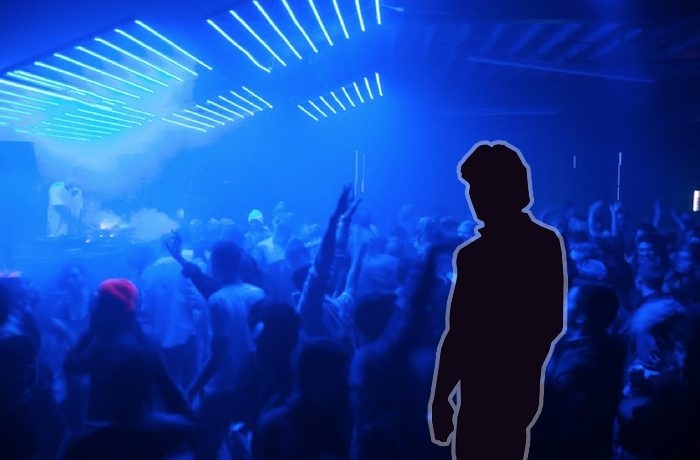 In our new series "True Life," we're tipping our hats to MTV's bingeworthy docu-show and publishing the best confessions, anecdotes, and blind item gossip unearthed from the worlds of nightlife, fashion, Hollywood and beyond. First up: a former finance guy tells us about how he became a top warehouse party promoter and recounts stories of artists snorting Sudafed, nightlife-loving fashion designers behaving badly and more.
Growing up in the former U.S.S.R., I always wanted to be a film director. I'd watch all these American movies and they would totally blow my mind. Since there was a lot of censorship during the days of the U.S.S.R., the overriding motif in all of the foreign movies that were released over there was an extreme criticism of capitalism. As a result, I had a very narrow understanding of what the West was about because the movies were basically about how terrible things were and how awful it was for the proletariats. The first time I decided I wanted to be a film director was after watching that movie
Once Upon a Time In America
with Robert De Niro playing a Jewish gangster. The movie made everything in America look pretty bleak. But I knew that wasn't true.
When I was 16, my family immigrated to Bensonhurst, Brooklyn. Everything in New York City looked really tall, really big, really dirty. I didn't really speak English but I didn't give a shit, I was so happy to be here. I finished high school in the States and went to college and studied film. After graduating, I started looking for production work and wound up being a PA on an indie movie that some rich kid from Long Island was shooting. I didn't get paid. Afterwards, I got another PA job up in Harlem and I also wasn't getting paid. I started to wonder, "What is this shit about? No one's paying me!" I was doing all these awful jobs clearing out abandoned lofts in Harlem that were full of shit. Crack houses. They needed me to clear this one house that was abandoned and was full of dog and human feces and syringes everywhere. They wouldn't even give me the money to buy a respiratory mask.
A little while later I got a job working on
Analyze This
. I met this girl who was Robert De Niro's assistant and had previously worked for Harvey Keitel. She had all these awful, dirty stories from the film industry, all about everyone's daily coke and prostitute habits. Everyone had herpes. Before she became an assistant, she told me about getting sexually harassed on sets, groped and grabbed by everyone. Finally she was like, "Fuck, I can't do this" and she got a job with Harvey.
I still wasn't making any money and I realized I'd probably have to put up with this shit for 10-15 years before I would. This was around the time of the dot-com boom and a friend of my mom's was starting an underground computer school in his basement in Brighton Beach, Brooklyn. I enrolled and immediately after I finished, I got a job at Kaplan Testing. I got major money -- like $80/$90 per hour and I was doing nothing. I'm honestly not sure what I did back in those days. I just worked with kids, hung out, ate a bunch of steak.
Around 1999 or 2000, a headhunter told me he could get me a job at Morgan Stanley, making $150,000 a year. I immediately quit Kaplan and went to the bank where I became the Vice President of their Intranet. I was only 24 or 25 and I had my own office and assistant. It was great. At first.
The work was bullshit. I'd just show up to their office in the World Trade Center, write a tiny bit of code and then the rest of the day I really didn't have a lot to do. I'd go out during lunch and get super stoned. I'd be online all day talking to people, looking at porn, just wasting my time. I started to get really depressed.
And then 9/11 happened.
I wasn't at work yet that day because I didn't have to come in until 10-10:30am. My train didn't even leave the station. I got on it and it just stood there. Then we got off and went home. I found out later that a lot of my colleagues had died -- all of the execs. There was a really fancy restaurant up there and the execs were in it having a breakfast meeting. It was so traumatic that I quit right then and there.
With money saved up and no work, I decided to play guitar in a prog-rock band I formed with two high school friends. It didn't go anywhere so I quit and formed a new band with a bunch of guys from Berklee College of Music. We went on tour with these giant emo acts like Taking Back Sunday, The Used, My Chemical Romance. A lot of the guys in the band were excited and kept saying, "This is the future of music -- making music for 12-year-olds!" But I was upset with the direction it was going in and the whole thing fell apart in 2005.
During this time, I lived in Williamsburg and went out a lot but I didn't have any money. A friend of mine and I would always try to find places to go to that had open bars. It was an interesting time when the economy was really ratcheting up and companies would just throw marketing dollars into anything. Pretty soon, I started coming up with a list of these open bars each week and posting it to a blog I'd created. And suddenly the blog became a hit. It eventually morphed into a marketing company that worked with alcohol brands. We made a ton of money but then the recession hit and the marketing dollars dried up.
I decided at this point that I wanted to do my own independent, DIY parties with a friend. I would find really weird, off-the-grid places to host parties. I was familiar with a lot of venues from doing events with the marketing company or from booking gigs when I was still making music and so I threw all these parties at tiny bars in Bed-Stuy, basement galleries on the Lower East Side or Brooklyn warehouses. I remember throwing a party with this well-known electro-rock band and I saw one of the members getting a blowjob in the yard.
One of the best parties I did was at this place called Sugarhill in Bed-Stuy. It's this giant, unmissable soul food restaurant and club on the corner of DeKalb and Nostrand that was built in 1982. I'd walk by it for years and be like, "What is that?" Finally I went in there and it looked like it was frozen in time, the carpeted floors, mirrors on every surface and wood paneling was straight out of the late '70s/early '80s. I knew I had to throw a party in the space. But it took two years to get through to the owner. I'd go to the restaurant and try to sidle up to the owner but he was never having it. Finally one day I was like, "Fuck it" and walked in with a wad of cash and put it on the table and the owner was like, "Now we're talking! Get this guy a contract!" Then it was done.
It was also around this time that I started dating a well-known nightlife figure and eventually we started throwing our own big warehouse parties together. I remember once a world-famous,  A-list designer tried to order bottle service with his credit card. The bartenders were really perplexed because this was just, like, a rager in a warehouse; I mean there was no bottle service or even credit card service. Finally my girlfriend got in there, grabbed him a bottle and threw some plastic cups over the lid, and said "Find a corner and make your own!" He loved it.
Another time, a young, New York A-list photographer snorted Sudafed instead of cocaine. One of the owners of the venue was sick and had broken up a capsule of Sudafed and crushed the tablet on a ledge in the video control room and went out and this guy was hanging out in there and just snorted it. He started screaming and I was like, "What's going on?" And he was like, "I sniffed this!" I started running around being like, "What is this? Whose is this?" The owner finally came back and was like, "That's Sudafed!" I started googling "Sudafed + is it okay to snort?"
Now I've recently started working for a creative agency and event firm but I'm still doing my thing. I'll probably do parties for Gay Pride or Fashion Week and Halloween. Right now my main job is crazy, though. I get to sit around and come up with cool shit for someone else to do. It's great.