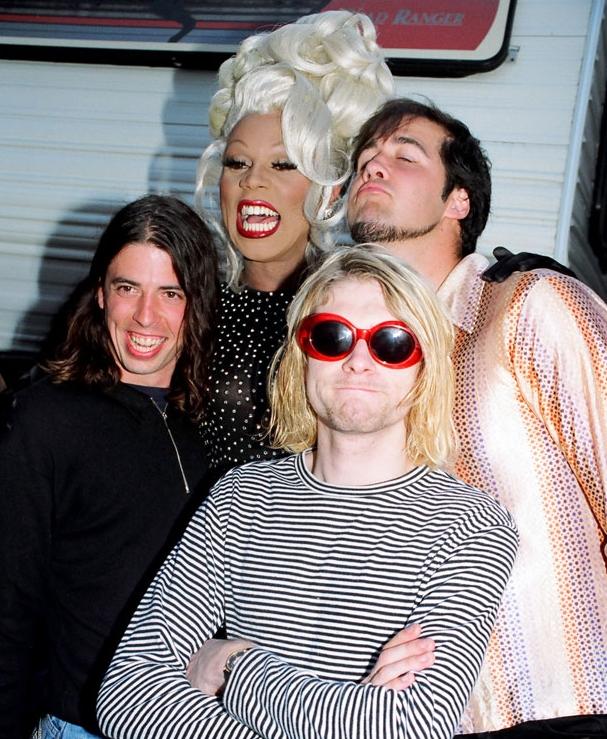 Photo of RuPaul and Nirvana at the 1993 MTV VMAs
I'm originally from Atlanta, which in the late '70s and early '80s was really fun, really lively and had a connection to what was going on in Athens. I remember seeing the B-52s perform in a club the size of a New York apartment when I was still in high school and I'd see R.E.M. all the time. There was always this gay side of the Atlanta scene that was pretty prominent and this band The Now Explosion were pretty popular in that world. They were the crazier, gayer, trashier, wilder counterpart to the B-52s -- a very DIY band -- and were led by Larry Tee. At one point they started doing drag, and when I was 22 or 23, I'd go to their shows and become friends with the members and that's how I started getting into it.
Larry Tee was already sort of an impresario back then and he had cultivated this relationship with a guy who owned all these crazy clubs in Atlanta, these old '60s-era dive-y lounges. The guy booked bands and on nights when no one was booked, we'd do drag shows. RuPaul was a part of this scene and very quickly demonstrated that he was a star. He'd run around town and make these zines. He had a band. Interestingly, though, he didn't start doing drag until relatively late in his career. And when he did, he started doing very inventive, gender-bending, flamboyant, artsy drag. It had punk and New Wave elements -- he liked to wear face paint. At one point, shoulder pads were part of his look. It wasn't until he came to New York that he really started doing that super glamorous type of drag.
Eventually folks involved in thescene, including RuPaul, Lady Bunny, Larry Tee and Lahoma Van Zandt, all moved to New York and brought that Atlanta energy with them. And those of us who didn't move to New York would go visit them a ton. I would go up and visit Bunny and just sleep on a mound of gowns. I also remember coming up a few times in the early '80s and go-go dancing at the Pyramid Club, which was so, so crazy. In those days, if you wanted to dance there, you would go into the club on a Friday morning at 10 o'clock or something and wait to see [if you got picked]. It was very funny, hanging out there in the daytime.
But back in Atlanta, with the Now Explosion scene gone, a new scene took over called Eleganza. The drag shows became more like improv comedy shows featuring a cast of four, five or six people with really distinct personalities. It was ahead of its time and was before the whole
Priscilla, Queen of the Desert
and the revival of '70s disco and ABBA. What we were doing then seemed really new and fresh at the time, like, "Oh my god, they're lip-syncing to ABBA! That's hilarious!" We had these characters and would do this running soap opera every week where, in between numbers, we'd carry on these crazy plots. For instance, my character, Lurleen, was supposed to be a divorcée who lived in the suburbs and who comes into town to let her hair down. She was also a home wrecker caught up in this love triangle.
Lurleen performing Jody Miller's "Queen of the House"

I got the name Lurleen from the first wife of [Alabama Governor] George Wallace who eventually became Governor herself. She's an interesting character because she represents a certain type of Southern woman who was probably fairly decent and normal herself but got mixed up in national events and, of course, the Civil Rights Movement, by being married to a really important -- but not necessarily positive -- figure in history. And that's the other thing about Eleganza -- it was a very silly show but it was also very political. In a light way, we'd address political topics like what folks were doing in ACT UP and Queer Nation. I remember we did a fundraiser once for the African American politician Harvey Gantt back when he was running against Jessie Helms for the Senate. Helms, who was a hateful homophobe (and probably a closeted gay because he was very femme) and racist, had ran a very infamous racist ad appealing to white fears about black people taking their jobs. It was really shocking. So in our Eleganza shows, we'd talk about that Senate race. We'd also talk about issues related to the first Gulf War -- we did a few anti-war shows. I remember we lip-synced to Buffy Sainte-Marie's "Universal Soldier" and one of my trademark numbers was "Candles in the Rain" by Melanie. 
Eventually I moved to New York in 1995 and that was when [Michael Alig's party] "Disco 2000" was still going strong. Tunnel was still big. Sound Factory was going. I guess Club USA made a splash but it didn't last long. Palladium was just at its tail end. It was the twilight of that huge club period with the crazy Club Kids, lots of drag, and all that ecstasy. Lady Bunny would tell me her favorite thing to do on ecstasy was to sit at the bar talking to a girl. I don't even remember what that was about. As my friend Panty used to say, people on ecstasy could have fun in a toilet. But you could already see that that scene was ending and the Village scene and lots of small bars were becoming really hot for the gays.
I performed at Cake on Avenue B and
Crow Bar
. The big thing, though, was
SqueezeBox!
at Don Hill's. It was so much fun and so different. For someone who had come from the punk and New Wave music scenes, it was fun to finally have that come together with the drag stuff.  Miss Guy DJ'd and was fab and the crowd was really mixed and really fun: there were older rockers, young kids, super glammy drag queens, punk kids gay and straight. That's also where I first got to know Justin Vivian Bond who was performing there.
This was also the time when Wigstock was at its peak. It grew so big that it moved to the West Side piers before they were redone. We did a couple of elaborate production numbers because the whole lip sync stuff that would work in a club didn't necessarily work in a place that large. I did a Tammy Faye Bakker number one year as Lurleen, an
Up With People
-style number with everyone dressed in bright white and yellow outfits like we were on a riverboat. One Wigstock, I remember wearing this amazing blue sequin dress that the designer David Dalrymple had made for me and this really cute Latin guy picked me up and put me on the handlebars of his bike on the way home. There were a bunch of crazy stories like that.
It wasn't long before I started moving out of the drag scene, though. It was just a change of life and it became hard to do things late at night. But the scene was changing, too. New York was becoming so expensive and people needed day jobs and it's really hard to do ecstasy and then get up the next day and be productive. I try not to sound like a dumpy old fart but I think that pop culture was becoming more corporatized around that time. The drag scene I came up with was more influenced by variety TV and old musicals and even this connection to vaudeville. We grew up seeing Milton Berle and Carol Channing and Cher. I look back and call that moment and that scene Southern-style drag. I feel like the queens from Atlanta like RuPaul, Lady Bunny, and Lahoma brought it up to New York and now it's spread around the world. There's always drag everywhere but the wild, showgirl drag with crazy comedy really started in Atlanta.