Coming Out As a #StonerGirl Online: The Emergence of the Female Pot Smoker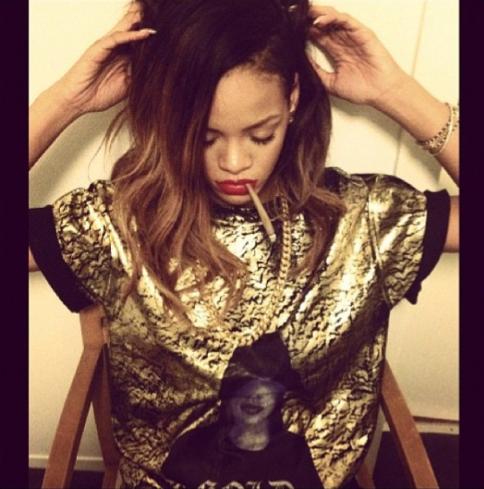 Via Rihanna's Instagram. RIP.
For guys, the mythology of The Stoner runs deep. There's Cheech and Chong, Bill and Ted, Harold and Kumar, James Franco and Seth Rogen, the dudes from
Dude Where's My Car
, and plenty of other stoner bros to round out a
High Times
list of "
13 Great Stoner Movies
." The Stoner Girl appears to be a more elusive creature with a less public history, launching many a debate about the state of
Marijuana and the Modern Lady
.
Historically,
it just hasn't been safe for women to go public about pot
. Back in 2000, when
Friends
was still on the air and Jennifer Aniston was America's sweetheart, she
unapologetically came out about enjoying weed
and media outlets proclaimed her image as 'tarnished,' even bringing in unrelated family troubles to the matter. There are things that good girls are supposed to do and marijuana, apparently, isn't one of them.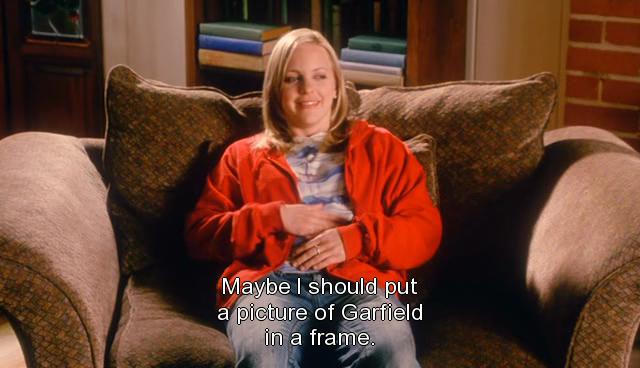 Anna Faris in
Smiley Face.
No wonder then that there have been so few movies or TV shows featuring girls getting high. As recently as the 2000s, the only examples you had of lady tokers in pop culture came down to 'retro characters' like Donna and Jackie on
That '70s Show
(who weren't even shown smoking on camera) and Milla Jovovich in
Dazed and Confused
or little-seen indie roles like Anna Faris in her 2007 flick,
Smiley Face
. In 2010 there was, for a moment, a glimmer of hope
as buzz started to build around Best Buds
, a stoner comedy that Natalie Portman would star in and produce. The premise was centered around two female best friends trying to get some pot to their friend before her wedding. But a stoner 'chick flick' proved to be a hard sell
and the project was quietly put back on the shelf. 
Though the female stoner mostly seemed to exist in a media vacuum a decade ago, women nowadays
are coming out of the smoky shadows and writing their own high histories online. Just last year Emmy-winning casting director Katja Blichfeld, along with her husband Ben Sinclair, took notice of the lack of diversity in stoner stereotypes and set out to defy them. Eschewing Hollywood altogether, they took to the Internet and
High Maintenance
,
a web series about a fictional New York City weed dealer and his clients
, was born. The heart of the show is in its characters, whose affectations are immediately recognizable as people who could float in and out of our own Brooklyn apartments.
"The show ends up just being a straight up reflection of our household and what we see in our circle of friends," Blichfeld, explains. For Blichfeld and Sinclair's
High Maintenance
characters, many of whom are women, pot smoking becomes just another attribute -- not the defining attribute. "I haven't seen very much media, at least not stuff that I watch, where weed was this really casual thing. There always has to be some qualifier for why someone is smoking, and it usually has to do with them kind of being a loser. I'm pretty pleased whenever we're able to depict someone who is figuring it out and doing OK."
In a recent episode titled "
Rachel
," Blichfeld played a busy working wife with a stay-at-home husband (played by
Downton Abbey
's Dan Stevens) and a fabulous Rachel Comey wardrobe. (The designer herself is a fan of the show and even makes a quick cameo.) "I was pleased to show someone who is able to come home, smoke weed to unwind, and then get up the next day to be a successful breadwinner for the family," Blichfeld said of her character. "We felt good sneaking that message in there. And that wasn't an accident. I do think we have a bit of an agenda to say that weed is normal." But when comparing marijuana with booze, Katja is hesitant to equate the two. "I was going to say that smoking pot is not any different from having a scotch after work but it is different. It's more health conscious. And as a woman, I'm not going to lie, there's no calories in weed." 
And it's not just web series like
High Maintenance
or
Ilana Glazer and Abbi Jacobson's Broad City
-- which became its own Amy Poehler-produced half-hour Comedy Central series this year --  that are responsible for making weed-loving ladies more visible. You can look to Twitter, Tumblr and Instagram and find The #StonerGirl thriving. Before Rihanna's Instagram account
was unceremoniously taken offline
, we were witness to all the exotic tropical locations that BadGalRiri lit up. And every year --  as is now tradition -- Miley Cyrus wishes us a Merry 4/20 on Twitter. Miley and Rihanna run very fine Twitter accounts, no doubt, but it's 22-year-old
Mira Gonzalez
, a Miranda July-endorsed poet, who has some of the most hilarious and brutally honest stoner tweets.