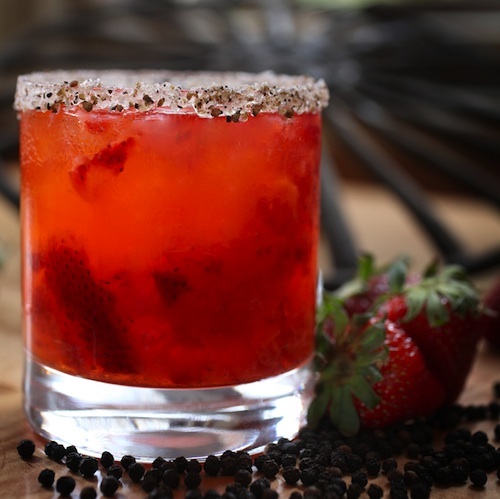 When the craving for, say, summer squash or a petite-sized loaf of housemade Parker House bread strikes, a seat at the curved bar of
Back Forty West
, a choice spot for SoHo people-watching, is nirvana. The fact that an equally simple but satisfying cocktail awaits here is just a bonus.

On a recent evening, most leafy green-eating patrons were sipping one drink in particular, The Red & The Black, a seasonal concoction that's been a favorite since the eatery's days as Savoy, and with good reason: it encapsulates the mission of its farm-to-table pioneer owner, Peter Hoffman.
Although it features Sauza Tequila, a mess of Greenmarket strawberries and is generously rimmed with sugar, kosher salt and black pepper, Hoffman is quick to point out the cocktail is certainly not a strawberry margarita. "The Tequila is there, but this drink is fresh and alive," he says, thanks to a savory burst of black pepper simple syrup. "Otherwise it would just become sweetness and booze. And what better thing to do with these fabulous strawberries from our Catskills farmers?"