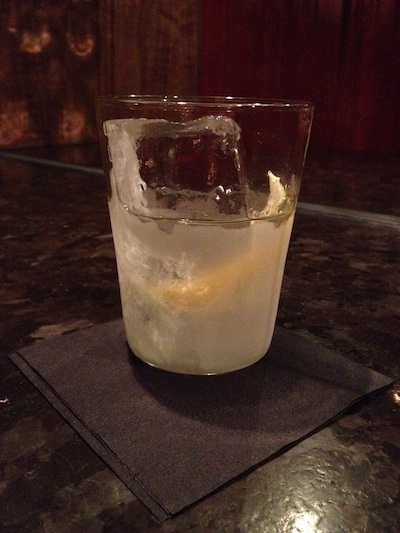 Grappa, the typically harsh elixir made from those grape skins, seeds and stalks kicked to the curb during the winemaking process, has long been an acquired taste, favored by old Italian men playing card games. Pisco, that distinctly Peruvian and Chilean grape spirit, has fared better with curious New York imbibers, thanks to bartenders whipping up some delightful renditions of the Pisco Sour. 
But leave it to
Alex Day
, co-owner of the swank new Financial District boîte,
Demi Monde
, to turn his guests on to the robust, oft-misunderstood, flavors of Pisco and Grappa with the Wolf Tone. 
"Pisco and grappa get a bad rap. They're fiery and weird, and in cocktails, more often paired up with citrus to limit their strong presence," he says. "We went a different direction, embracing the weirdness of both with open arms and making a drink that is as elegant as it is drinkable."  He adds that the cocktail, which pops with layers of elderflower, eucalyptus and orange bitters, is an "Old Fashioned by any respectable definition -- mostly booze, bitters, and a touch of sweetness." 
Bonus: It's a divine complement to the addictive avocado
fritto
.