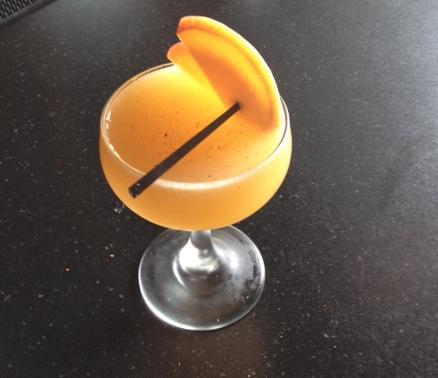 Whether it's bearing grill marks, served alongside pork loin, or in deep-dish pie form, a fresh peach is one of summer's greatest riches. But as all those fall coats in store windows (way too soon, Loft, way too soon!) reveal, the most opportune days to bite into these juicy fruits are quickly coming to a sad finale. 
To ensure we maximize August peach consumption,
Doug Mancini
, bar manager at
Gwynnett Street
, has dreamed up the Peachy Keen. While many a cocktail made with the fruit proves cloying, Mancini alleviates that by marrying peach puree with Jameson, Yellow Chartreuse and lemon juice. 
The Irish whiskey and liqueur meld to the peaches to create a balanced, fruity depth that would impress the fiercest cocktail nerd, yet for Gwynnett Street owner
Carl McCoy
, the drink fulfills a far simpler mission in this most humid of seasons. "There's really no wrong way to serve a peach," he says. "But with whiskey, it really helps with the heat."
Gwynnett St. is located at 312 Graham Ave., Brooklyn, NY