Coachella's Top 10 Missing Bands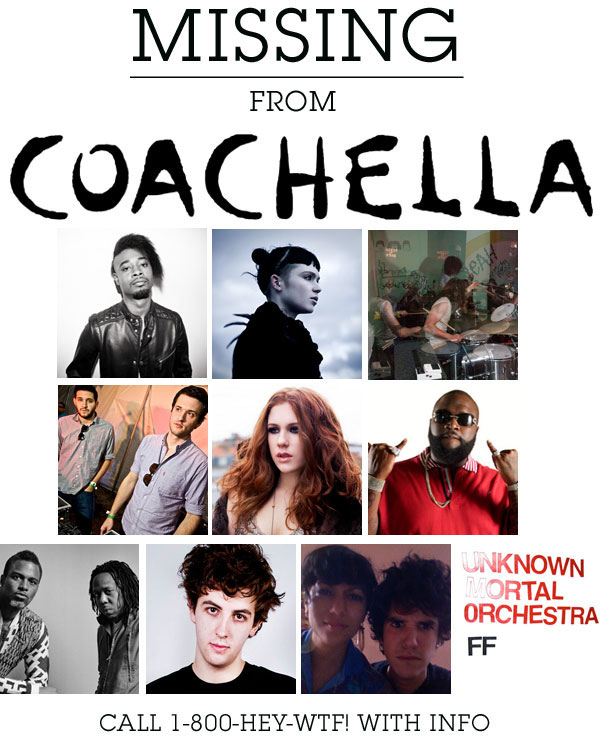 Around this time every year, when the good people of the
Coachella Valley Music and Arts Festival
decide to finally unveil their famous lineup poster, the font size police come out of the woodwork. While headliners are obviously entitled to their 36-point glory in bold, there's always debate over the third and fourth tier acts' placement on the bill. Are we really to believe that
Manchester Orchestra
deserves a larger typeface than
tUnE-yArDs
?
Azealia Banks
above
Destroyer
?
Noel Gallagher
's
High Flying Birds
over... anyone? Better yet, what about those artists whose names didn't make the list at all? With that in mind, here are a few acts that won't be making their way to Indio, California this April, but most certainly should be.
Grimes
: If this on-the-rise experimental pop artist's forthcoming debut album
Visions
is any indication, she'll be a shoe-in for the 2013 lineup. Why not just get an early head start?
Unknown Mortal Orchestra
: This Kiwi outfit's brand of psyched-out guitar-pop could serve no greater purpose than to soundtrack mid-afternoon Volcano sessions in the desert heat.
Danny Brown
: With a hip-hop roster that seems very skewed towards hype-friendly rappers that've made waves this past year with left-of-center mixtapes, Danny Brown -- whose
XXX
might've been the best hip-hop release of 2011, period -- should've been included along with the likes of
A$AP Rocky
and
Kendrick Lamar
.
Shabazz Palaces
: Speaking of a hip-hop roster that seems a little too hype-friendly, we could afford to even things out a little with Shabazz Palaces, whose freak-stung approach seems perfectly Coachella-friendly
The Men
: With bands like Refused and At the Drive-In reuniting for this year's festival, it's clear that Coachella isn't averse to volume, which is why Brooklyn post-hardcore band The Men would make for yet another visceral addition.
Jamie xx
: He's probably busy working on his band proper The xx's new record, but few people have rocked tents as correctly as this guy has in the past year.
Katy B
: Female pop acts seem to be sorely lacking this year (unless Santigold is your thing), so Katy B -- whose
On A Mission
seemed to make its way onto just about every year-end list -- would've made for the perfect Party-to-Go.
Rick Ross
: The Bawse has never made an appearance at Coachella, and for a festival that revels in cartoonish, outsized realities, shouldn't the reigning king of cartoonish, outsized reality be invited to the party?

Nguzunguzu
: To offset the boorish, chart-friendly electronic acts dominating some of the lineup's top slots, L.A.'s own genre-smashing DJ team Nguzunguzu would've proved perfect foils.
Holy Ghost!
: Because if there's any sort of heir to the LCD throne, it's probably these guys.