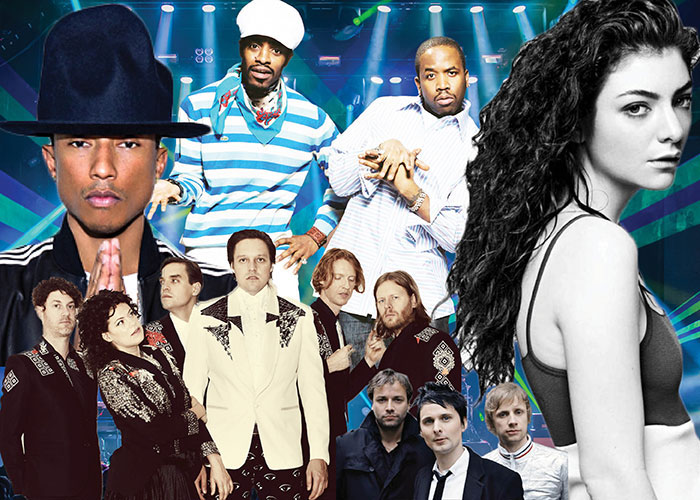 As per tradition, the good folks at Coachella have waited until the last goddamn minute to post
set times
for their three-day music and arts festival taking place this weekend (and the next). With about 150 bands on the bill, it means you're probably scrambling to drum up a schedule right now that won't interfere with your chances of getting snapped for a fashion blog slideshow. But don't get your Brandy Melville cutoffs in a twist just yet, because we've gone ahead and done the leg work for you by assessing all the crucial must-sees, must-misses, and buzz-killing conflicts. So load the Jeep up with hula hoops, crack a Bud Light® Straw-Ber-Rita and get your Tinder profile pic just right, because you're heading to Indio.
Friday
3:20
: Assuming you can knock off work early (which you probably can, what with the trust fund and all), head on over to the festival grounds to catch Aussie duo
Jagwar Ma
, who will be bringing their Mancunian-flavored early '90s dance rock to the Gobi tent. Granted,
A$AP Ferg
is at the Outdoor Theatre 20 minutes later (which would then give you a nice spot for one of the weekend's most buzzworthy acts, pop heartbreaker sister act
HAIM
), but it all depends on how keen you are on kicking off your weekend hearing "
Shabba
" live (
Editor's Note: you're very keen on this
).
6:15:
If you've heard "
Need U (100%)
" (and if you haven't, what the fuck?), there's a good chance you'll be at the Yuma tent for UK house guy
Duke Dumont
's set. Pro: You'll avoid the hordes of teens checking out Ellie Goulding. Con: They have better weed than you.
8:45:
You could stick around the Yuma tent for the recently-added Nicolas Jaar set, but his psyched-out side-project Darkside is playing the following evening, so do yourself a favor and go see the re-formed
Replacements
at the Outdoor Theatre at 8:45, so you'll be able to die happy having caught them in your lifetime.
9:15:
Conventional wisdom suggests you go see Girl Talk's 9:40 set on the Coachella Stage, but christ, how many times have you seen that guy in the past eight years? Instead, go see
Bryan Ferry
at the Mojave tent, and pray that he plays his stunning, brand new Todd Terje collaboration "
Johnny and Mary
."
10:30:
If you've seen even a second of footage from the
Knife
's
Shaking the Habitual
live show, you'll be over at the Outdoor Theatre for their batshit brand of electro performance art.
11:30:
OutKast
. Coachella Stage. Stank you very much.
Saturday
2:55:
Tonight's going to be an absolute conflict nightmare, so spend the morning relaxing and do some people-watching. There's probably a tent giving away free e-cigs, so get a bunch of those or whatever. Then be sure to head on over to catch
Ty Segall
's face-melting act at the Outdoor Theatre.
3:45:
And so it begins. First, there's sultry LA songstress
Banks
at the Gobi, which will drag at least a decent percentage of the pretty people away from the too-hip synth-saviors Chvrches' Outdoor set at nearly the same time. Don't feel like watching cool people french? Then give London electronic pop outfit
Bombay Bicycle Club
a shot over at the Mojave.
7:05:
Despite being one of the most satisfyingly irreverent acts both on stage and on record for the better part of a decade, people are finally starting to pick up on why Baltimore's
Future Islands
are so great. Thanks to their
meme-generating landmark Letterman performance
and a big SXSW, expect it to be packed.
7:55:
And we go from "packed" to "crushingly claustrophobic" with
Lorde
at the Outdoor, one of the weekend's biggest draws. You're probably better off catching
Solange
over at the Gobi to be honest, but who knows, maybe we'll get lucky and our favorite Kiwi teenager will
say some more uninformed shit about rap music
.
9:40:
If you read the fine print, the purchase of a Coachella weekend pass requires that you go see
Queens of the Stone Age
on the Coachella Stage.
10:35:
If you can stand to hear "Happy" even one more time, go see
Pharrell
(maybe he'll do "
Move That Dope
"!), but if not, you have your options. Turn up function:
Skrillex
in the Sahara tent. Turn Down function:
Darkside
in the Gobi.
12:00:
Help
Nas
celebrate
Illmatic
's 20th anniversary at the Outdoor.
Sunday
12:40:
Long day ahead here folks, so get limber with UK beat abstracts
Factory Floor
at the Gobi, then promptly hit the Fruttare Hangout for a popsicle (coconut, duh).
2:50:
Though it might be tempting to quirk-out with Aussie singer songwriter Courtney Barnett in the Gobi, you're going to want to go put one in the air with of-the-moment MC
Chance the Rapper
on the Coachella Stage.
3:35:
If you were one of the people who slept on LA dance act
Classixx
's excellent debut
Hanging Gardens
last year don't make that same mistake again by missing them in the Mojave. And no, you won't be judged for sneaking out early for the
1975
's brand of leather-jacketed pretty boy pop-rock at the Outdoor.
5:15:
Hang around the Outdoor for
Blood Orange
's brilliant low-key funk.
7:30:
Aw, what the hell. Go get your millennial on with
Calvin Harris
for a hot second on the Coachella Stage.
8:15:
Protest if you must, but given her recent output of material in advance of her sophomore album
Ultraviolence
, it's finally time for a serious reassessment of
Lana Del Rey
. You can repent accordingly at the Outdoor.
9:35:
OK, you're wiped out. But tough shit, because English house phenoms Guy and Howard Lawrence, a.k.a.
Disclosure
, are going to bring the fucking party. Though your uncle will be disappointed you skipped Arcade Fire, and your other uncle will be disappointed you skipped Motörhead, it'll be hard to pull yourself away from this one. If you have any gas left in the tank, check out A-Trak and Armand Van Helden's everything-but-the-kitchen-sink dance project
Duck Sauce
in the Sahara at 10:25. Unless, of course, you have to be at work the next morning. Which you don't, because, y'know, that trust fund.