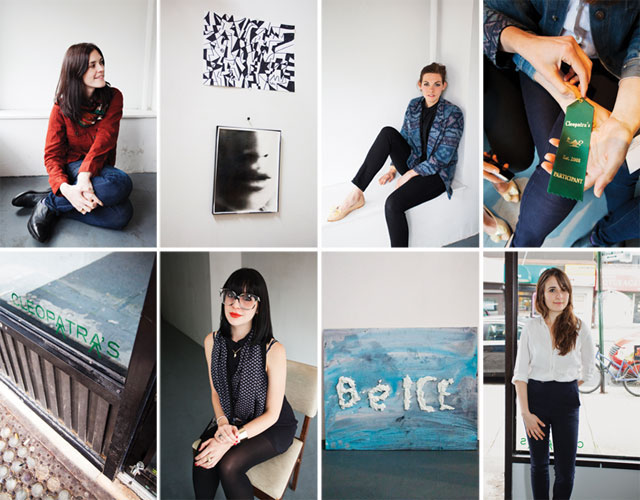 Cleopatra's Gallery doesn't have a mission statement, and that's just the way the co-owners and curators -- Bridget Donahue, Bridget Finn, Colleen Grennan and Erin Somerville -- want to keep things. The four women, who opened the Greenpoint space in 2008, split the rent ($300 each) and run the operation in addition to holding art-world day jobs (Donahue is a director of Gavin Brown's enterprise, Finn is an associate director at Independent Curators International, Grennan is a registrar at Andrew Kreps Gallery and Somerville is the director at Kimmerich gallery). By keeping things loosely defined, they have the freedom to work with a more diverse pool of artists, like octogenarian Irving Feller, who owned a beloved Greenpoint fur shop around the corner from Cleopatra's and showed his abstract black-and-white drawings there last year; Cary Loren from Detroit art-punk band Destroy All Monsters, who turned the space into a demented lagoon of sorts, complete with underwater footage projected through a fish tank; and this month's exhibit will feature the young Oakland-based avant filmmaker Mary Helena Clark and sculptor, Josh Minkus. "We like it when artists are still working something out, and who use the space as a little lab for experimentation," Donahue explains.
They've obviously been successful with this model, as they were chosen to represent Brooklyn at the Shanghai Biennale, which runs through March 2013. Cleopatra's installation is a collaboration with artist Chris Rice called
CKTV
. It's an interactive karaoke project featuring footage of 50 different videos by Brooklyn artists, which Biennale visitors can sing along to. The booth will be up through December. After all, explains Donahue, "we aren't interested in just taking six framed works from someone's studio and putting them up on a wall."
Box 1: Bridget Donahue; Box 3: Colleen Grennan; Box 6: Bridget Finn; Box 8: Erin Somerville
More Art Groups