Claire Danes, the Next Big Star on Broadway!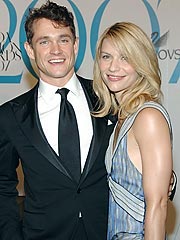 It's just been announced this week that Claire Danes will star as Eliza Doolittle, the crass flowergirl who climbs the class ranks with the help of Professor Henry Higgins in the Roundabout's production of Pygmalion, which will begin previews on Sept. 18th. Interestingly enough, she'll not only be acting alongside her boyfriend Hugh Dancy's costar from this spring's critically acclaimed revival of Journey's End, Jefferson Mays, but she will also will be directed by Journey's End director David Grindley. It's amazing how insestuous the theater world can be!
Here's a cute pic of the pair snuggling up at an event.