Cinelli + RVCA = Some Amazing and Collectible Bicycles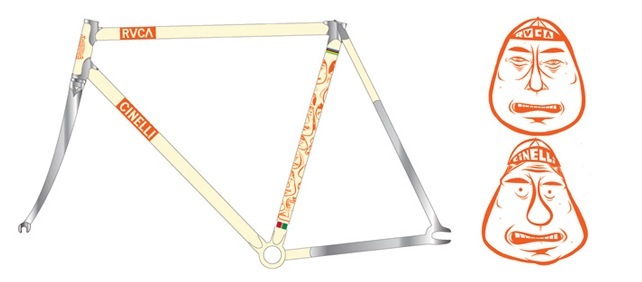 I am waiting with baited breath to see the bike collab (called "Pressure") that the awesome Italian bicycle company Cinelli is producing with my friends over at RVCA (and most importantly, some of their artists from their network program) that will debut at the RVCA shop in San Francisco (aka VASF) this June. Bicycle insiders will agree that this is authentic meets authentic.
There will be 50 Cinelli/RVCA Barry McGee bikes produced that will sell for $3,700 (complete bicycle) or $2100 (frame kit only). There will additionally be another group of one-of-a-kind artist bicycles (available in three frame sizes: 54, 56, 58) designed by ANP artists like Ashley Macomber, Clare Rojas, C.R. Stecyk III, Dan Murphy, Dmote, Jesse Geller, Josh Lazcano, KAWS, Madsaki, Phil Frost, PM Tenore and Stephen Powers. Pressure will launch at San Francisco's VASF Gallery (1485 Haight Street), on Thursday, Jun. 19 from 7-10 p.m. So if you live in SF put that in ink.