Stars - they're just like us! But only in the sense that they're petty, messy, attention whores in a forest of delusion who live for drama and can't let each other have nice things. Much to the delight of us plebs, celebrities are forced into quarterly televised formalwear interactions with one another at awards shows, where they attempt to conceal both their contempt for their peers and their rabid desperation to WIN SOMETHING. ANYTHING. Sometimes at these awards shows, the contempt, desperation, and/or delusion gets an alley-oop from the open bar, and shade boils over into an outright stunt. In honor of tonight's MTV Video Music Awards, let us remember the rich history of messy celebrity interruptions at the VMAs...

MCA Interrupts R.E.M. as Nathaniel Hornblower During 'Best Direction' Award
Year: 1994
But for why?
Adam "MCA" Yauch of the Beastie Boys, dressed as his beloved Swiss alter-ego Nathaniel Hornblower was backstage at the VMAs, preparing to accept the award for Spike Jonze's legendary video for the Beasties, "Sabotage." And then "Everybody Hurts" won. So he stormed the stage, called the Stipe win "an outrage," and went on to claim, "I had all the ideas for Star Wars and everything."
Who was on the right side of history?
Sort of a toss-up. Both music videos are pretty legendary. On the one hand, R.I.P. MCA WE MISS YOU. On the other hand, Michael Stipe's body language: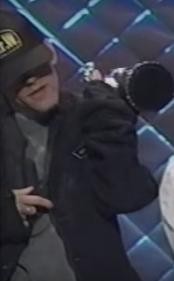 Courtney Love Throws Makeup At Madonna, Interrupts Her Post-Show Red Carpet Interview
Year: 1995
But for why?
Because Courtney Love is Courtney Love, and Madonna is Madonna. Courtney was at the peak of her sloppy, perfect, baby doll notoriety, and Madonna had matured from sexy upstart brat to a slightly primmer, mildly accented pop dowager. After making the greatest entrance you could possibly hope for, Courtney immediately spats with Madonna's offscreen A&R guy and shades Madonna by praising her labelmate Alanis Morrissette - "Now those are some pipes." It just gets better from there.
Who was on the right side of history?
Courtney Love. Because she's living her truth.
Rage Against The Machine Bassist, Tim Commerford Interrupts Limp Bizkit By Climbing Scaffolding
Year: 2000
But for why?
Umm, because Tim Commerford was literally raging against the machine? And "he wanted people to see destruction." Eminem start chanting "Jump!" and Dr. Dre was not down. Fred Durst though, was definitely down. He was onstage to accept the award for Best Rock Video, and said, "This guy is rock n roll, he should be getting the award." Kid Rock didn't get it. They couldn't get him down for awhile.
Who was on the right side of history?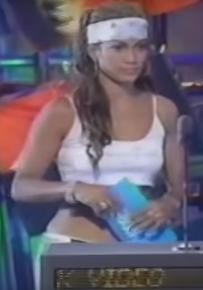 Lil Mama Crashes Stage During Jay-Z and Alicia Keys' Performance of 'Empire State of Mind'
Year: 2009
But for why?
There was something in the air at the 2009 VMAs, and as Jay-z and Alicia Keys were wrapping up their performance, Lil Mama just up and decided to join them. In her own words:
"I wasn't trying to be disrespectful…I was feelin' it and it just happened. As I'm walking, I stop, and I'm like—'come on, come on, let's go,' to Beyoncé. And she's like, 'What?' She couldn't believe it. I was trying to celebrate the city. Now that I'm a woman, how crazy would it have looked if she walked up there? They would have been like, [Beyoncé's] jealous, she can't stand to see [Jay Z] with another woman. And here I am, someone who's not in that state of mind, not thinking that way, just caught up in the moment. I look back and think, damn, she was right. I was tripping."
Who was on the right side of history?
Not Lil Mama, unfortunately.
Kanye West Interrupts Taylor Swift for the love of Beyoncé
Year: 2009
But for why?
BECAUSE BEYONCÉ HAD ONE OF THE BEST VIDEOS OF ALL TIME. And because Kanye. This is the stunt that launched a thousand stunts.
Who was on the right side of history?
Kanye, but it took him seven years and one Kardashian to prove it.