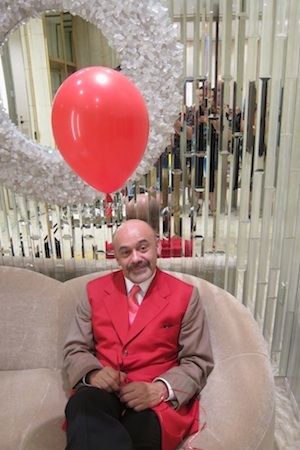 When it comes to making women swoon, shoe designer
Christian Louboutin
has it in the bag. He's the king of the high-heel and, 20 years into his career, his signature red sole is unmistakable worldwide. Bergdorf Goodman hosted a party last night celebrating the Parisian designer's 20th anniversary and, here, Mr. Mickey chats with Louboutin about making his rapping debut at classic Paris cabaret Crazy Horse (yes, you read that correctly) and listened to him give the most poetic description of high heels we've possibly ever heard.
Mickey Boardman: Do you change your fashion looks when you travel or do you just have a consistent "Louboutin look" that goes with you around the world?

Christian Louboutin:
Climate, heat and light affects what I wear. I have the "heat look" and the sort of "wave look" or whatever.
MB: Do you ever get tired of heels and think, "I only want to do flats now" or vice versa?
CL:
In the fashion world, you shouldn't say that something is never going to happen, but I know that I will never be bored with high heels. Ever. I never get bored of looking at heels or hearing heels. It's not just the look -- it's the sound, it's the system, it's the body language. It's not like you need to even look at the shoe. It's the pleasure on a woman's face.
MB: It's like that Almodóvar movie High Heels.CL:
Yes, exactly. But it's also Flamenco music. It's a woman walking in the streets. It's a Jack Turner movie. I will never get bored of that.
MB: Well that's a relief for women everywhere. Is it possible for a heel to be too high?CL:
You know what? There was a time with high heels when it was impossible to envision them being any higher. Since then, they've become
much
higher and no one [is] complaining.
MB: Is there anything you're going to be doing in New York while you're here? Is there a restaurant you always go to or anything?CL:
I'm recording a song tonight after the party with Loa [a cabaret dancer from the Crazy Horse].
MB: Is it a duet?CL:
I am adding some voice on the song. And she's singing.
MB: Is this going to be your musical debut or no?
CL:
Yes. I'm going to be rapping and doing these numbers at the Crazy Horse.
Three Beats is doing part of the music and Loa is singing on it.

MB: I love it. When are the shows going to be at Crazy Horse?

CL: March.

MB: I can't wait.