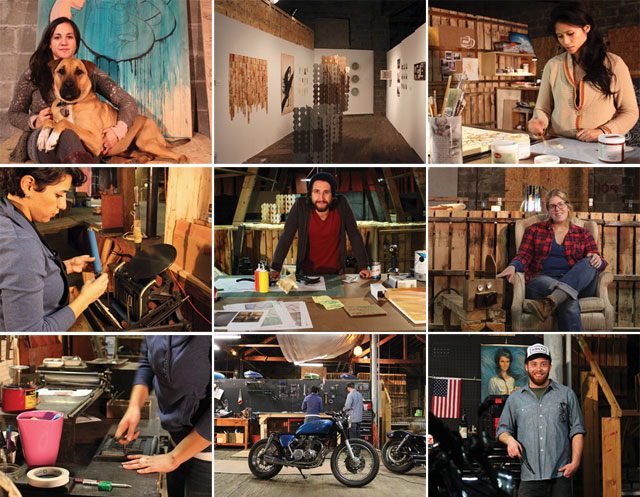 "We wouldn't make a good reality TV show," says Matt Arnold of the Chocolate Cake Design Collective. "We're not real dramatic."
Even if CCDC's internal politics lack sufficient bickering to earn them a spot on Bravo's prime-time lineup, the collective's ten members, most of whom met at Detroit's College for Creative Studies, are quickly establishing themselves as the most enterprising group of young artists working in the blighted -- but hugely creative -- city. CCDC's other members are Katie Bramlage, Michael Carter, Danielle Denha, Nathan Hulsey, Nicky Intalan, Esther Johnson and Stephanie Limon; each pays a monthly membership fee and attends a group meeting on Tuesdays, "to the best of their abilities," says Carter.
They all work and collaborate in a 12,000-square-foot space on Detroit's east side that the group christened the Toys Warehouse -- a nod to the building's former days as a toy factory, which is echoed by the painted advertisements for "radio controlled toys" and "scooters" that cover the building's exterior walls. What began in the summer of 2011 as an effort to pool resources (their space has facilities for woodworking, screen printing and photography) and cosponsor events (like a Halloween fundraising party and open-studio sessions), quickly evolved into a full-fledged collective. Their first public-art installation. "Summer Breeze," which they describe as an "homage to summer," premiered at the Belle Isle Public Art Exhibit in June, with 170 panels of hand-dyed fabric installed between a line of beach-fronting trees. The panels, in a color gradient of lemon yellow to burnt orange, glowed in the setting sun; the overall effect was a distillation of the visual essence of summer.
"It's not easy for an artist to be able to put aside their vision for someone else's, and I think that learning how to be able to fill any role in the creation process was great," says Arnold, who explains that members divvied up the work producing the fabric panels. "We brought art and beautification in an unexpected way to the city. It made the city a little less bleak, and I think that's a big part of what the art community's role in Detroit needs to be."
Box 1: Stephanie Limon; Box 3: Nicky Intalan; Box 4: Danielle Denha; Box 5: Matt Arnold; Box 6: Katie Bramlage; Box 9: Michael Carter
More Art Groups