It's been a few weeks since Kim Kardashian took the internet by storm with a nude selfie and an aggressive campaign of shutting down her haters, but the repercussions continue to ripple out. Chloe Grace Moretz, one of those who felt the need to criticize Kim's Instagram post on Twitter, unabashedly defends her original tweets, where she chided her for not providing a good role model for young women.
"All I'll say is that I think a lot of things can be misconstrued in a lot of ways," Moretz told Elle in an interview. "I think if people looked into something bigger that I was trying to speak upon, they wouldn't be so easy to fire back silly, miscellaneous things."
So Moretz is clearly a little miffed that Kim dissed and dismissed her, particularly that "cute cover boo" dig. It also sounds like she maybe didn't keep up with Kim's ongoing responses, or read her extensive essay on accepting her body and choosing how to use it.
When asked about that Nylon cover, which shows Moretz looking nearly naked, she has a lot of thoughts, because being nude to sell magazines is a lot different than being nude on social media. "I think that's also a lot more based on artwork, so that's a little bit of a different conversation. Like, if I'm talking to a photographer, I'm talking to a stylist, I'm talking to a makeup artist, we're kind of creating and collaborating and making something that is artwork and is special and is different," Moretz said. "On social media, like on Instagram and stuff that I post, and the way that I view myself, and portray myself on there, that's definitely a much more personalized take. I'm not collaborating with people to make that, it's my own social media platform in which I'm–it's not a character, it's just me."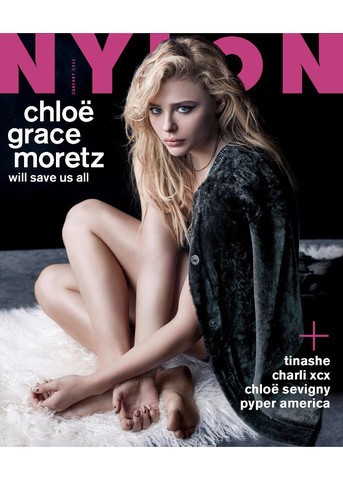 Nylon
Of course, Moretz is still just 19, and the art of making a consumer-friendly magazine cover might still seem very far away from the art of making a consumer-friendly social media account. But Moretz seems to have missed a key point of Kim Kardashian's brand, which is that, to an extent, her whole life is a character called Kim Kardashian.

[h/t Huffington Post]