Chinatown's New Release Gallery Opened With a Bang Last Night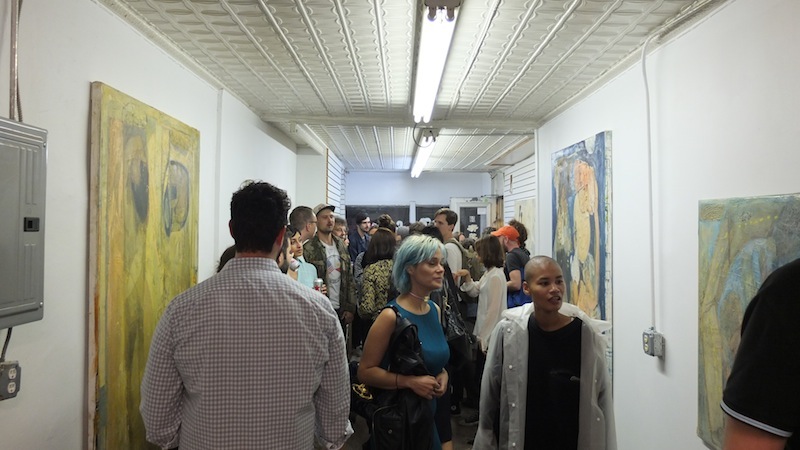 Inside New Release's Launch
Back in June, an excited art crowd gathered inside a narrow room covered with floor-to-ceiling carpeting, equipped with stacks of VHS tapes and old TVs, to attend
New Release
,
an art show in an abandoned Chinatown video store-turned-temporary gallery
. Three months later, at the first opening of what is now known as
New Release Gallery
, a show featuring works by painter Kamil Franko, many of these same faces could be seen through the glass storefront holding cheap beer and mingling down the rickety stairs onto Mulberry Street. But this time, things are permanent. Erin Goldberger, who curated the show earlier this summer and embraced the video store's nostalgic history, has taken over the space as her own (in addition to working as the director of uptown's Half Gallery) and has given it the makeover it deserves.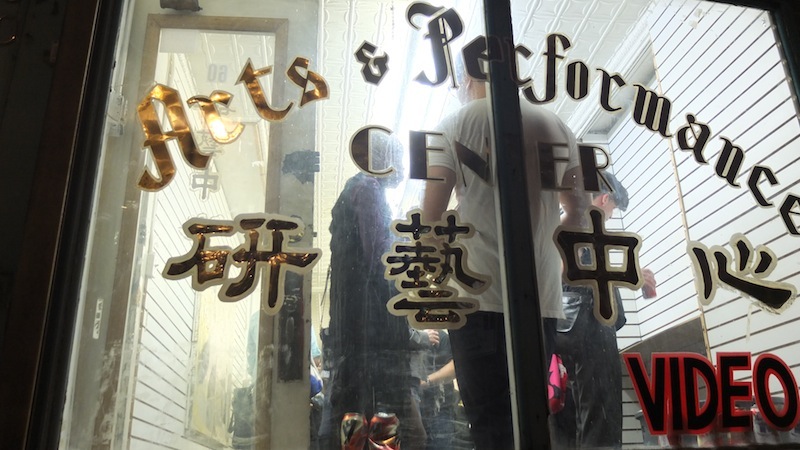 Outside New Release Gallery
Artists, gallerists, and the downtown art scene celebrated the gallery's new uncarpeted, fresh white walls, stripped floors, and extra standing space, while appreciating the charm of the Chinatown venue. "The potential to take something that sat unattended and turn it back into something it once was (based on how many layers of floor there were, I assume it has had many lives) was too necessary to ignore," says Goldberger of the new space, which she spent weeks renovating with friends and other artists. Many of these friends were there for the opening, but it wasn't just support, these art world elite were also there to witness the birth of a space, and a new gallery owner, whose success is just beginning. Peter Sutherland, Jeanette Hayes, Torey Thorton, Andrew Pope, Bill Powers, Aaron Bondaroff, Leo Fitzpatrick, B.Thom Stevenson, Andrea McGinty were all spotted in crowd, a clear expression of the legitimacy and promise of the new gallery.
Despite how easy it would have been to spend the whole night gawking at crowd inside, the work on the walls deserved equal attention. A collection of abstractly figurative paintings by Copenhagen's Franko marks the artist's first solo show in New York, and an almost serendipitous pairing to the renovation, rebirth, and re-release of the space. "For this first show I felt it was imperative to exhibit someone who hasn't yet had a voice in New York," explains Goldberger. "New Release is brand new but the space is old and needed a clean slate. Kamil's work is much the same to me; young and full of life but also has the light sigh of an old man who's seen too much."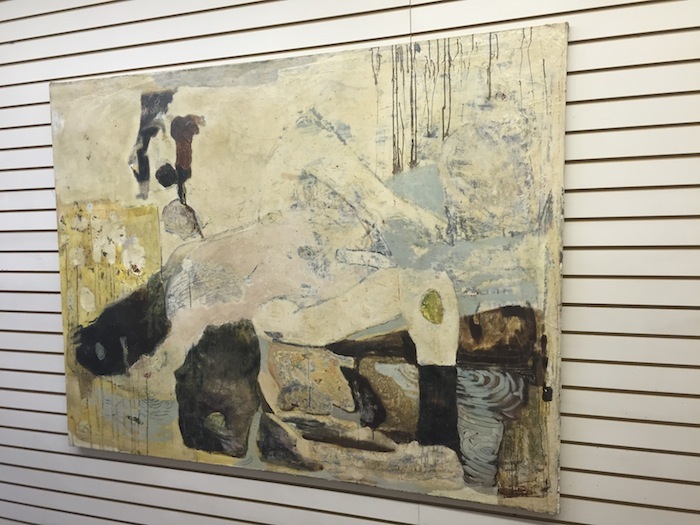 A painting by Kamil Franko
Franko's paintings are rich in fleshy colors and tangible textures, pulling between romance and lonliness, human and machine. Made during a three month solitary  stay at his family's old house in the outskirts of Budapest, the artist found a process of intimately painting and then sporadically destroying each work. Adding on layers and stripping them off, Franko creates a polarity that mimics the transformation of this VHS video rental store, abandoned for years, into a new staple in the downtown art world. "My work fits perfectly here," says Franko. "The space itself was completely demolished and now recreated. It's coincidental destiny I guess. They simply have the same nature."
Kamil Franko's show
Love and Violence
will be on display until November 7th at New Release Gallery, 60 Mulberry Street, New York, NY.