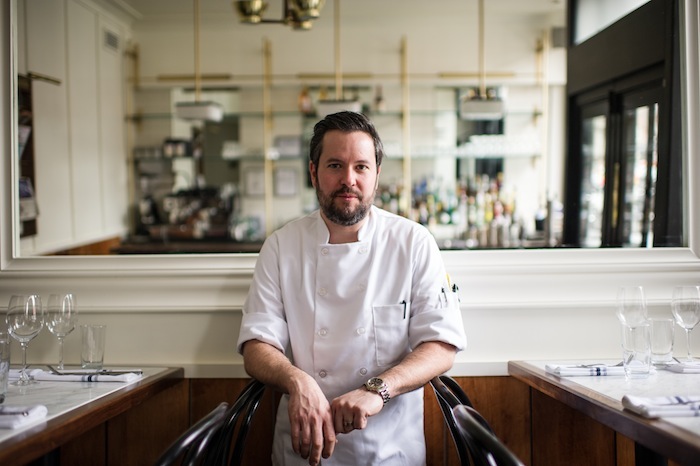 Chef Angulo (Photo by Daniel Krieger)
Although
French Louie
on Boerum Hill's boutique-laden Atlantic Avenue is awash in marble and mirrors, it's certainly not a traditional brasserie. At this second lair from Buttermilk Channel's hospitable proprietor Doug Crowell and dreamy chef Ryan Angulo, locals follow up Calvados Old-Fashioneds with lamb steak frites and sherry vinegar caramel-laced profiteroles. Here, Angulo, a Rhode Island native, talks Paris, his pet turtle and how scrubbing pots and pans set his career in motion.
So what was your first brush with the restaurant world?
My mom knew someone at the Pawtucket Country Club down the street, and so the day I turned 16 I started as a dishwasher there. It was the best job of my life.
What made washing dishes so compelling?
It was the first time I worked with adults and I felt a sense of independence. No one treated me like a kid. It was an equalizing atmosphere where I joked around with crazy cooks and smoking was still allowed in the kitchen. It was a funny, weird time and I liked it, but didn't realize it was something I could do for the rest of my life. When I went to Johnson & Wales, I knew it was.
After school you worked all over the country -- New York, San Francisco, Rhode Island, Hawaii -- eventually landing at Stanton Social with Chris Santos. That place so encapsulated the Lower East Side of the mid-2000s. What was that like?
Until then I had either done casual or fine dining and nothing in between, so here I was in this place that was no-holds-barred. Chris's style is that he does whatever he wants so he gave me a lot of freedom. Now it's a party destination.
What inspired you to make the leap to Buttermilk Channel, where you have elevated buttermilk fried chicken with cheddar waffles and Savoy cabbage slaw to cult status?
I had been making small plates for years and ultimately was running the kitchen at Stanton Social, so I thought it was time for an executive chef position. I met Doug through Craigslist and we hit it off. He came to my house for dinner and I made him a bunch of stuff and the restaurant opened a year later.
Buttermilk Channel opened over Thanksgiving, in 2008. How has Brooklyn changed since then?
We opened around the same time that No. 7, Clover Club, Vinegar Hill House and Char No. 4 did. We were all young. It was kind of cool. Brooklyn has completely changed now. When we first opened it was hard to get deliveries because they didn't want to come to Brooklyn. They had all these restrictions. No way were they coming on Saturday or doing a second run. It's a very different attitude now. They deliver six days a week and bend over backwards for the restaurants because the scene has grown so much. Brooklyn is now this weird brand of homemade, and I'm not really sure what it exemplifies.
Do you live in Brooklyn?
Yes, in Bay Ridge.
Awesome neighborhood, and not one I would expect to hear. Do you eat at Tanoreen? One of my favorite restaurants of all time.
I've never eaten anything bad there. They do fun stuff like serve raw kibbeh. I don't know where else to order that -- or where else I would feel comfortable eating it.
Your newest project with Doug Crowell is French Louie. What did you guys want to create here?
Doug and I had both been to Paris a few times in the past couple of years and had thought about a steakhouse, or a French steakhouse or just a weird French place. We wanted something with a French bistro vibe with French bistro food -- whatever version that might be. I read about all these young chefs and new bistros in Paris and I tried them and they were awesome. But I was not expecting exposed brick and light bulbs, communal seating and farm-to-table food like Brooklyn. So I started going to the older bistros and really liked what I ate, but thought, "How could I do this differently?" I had three oil-poached sardines at Le Comptoir du Relais and I don't know if they came out of a can or not, but they came with a slab of butter and half a baguette and I knew I needed to do something with it, which spawned the smoked sardines with dulse seaweed butter and rye toasts at French Louie.
That's emerged as one of your signature dishes. The pan-fried skate with crab "dirty rice" and crab bisque seems to be another.
We have a regular, who comes to Buttermilk Channel, too, and she just hangs out. She announced that the skate was our signature dish and that we couldn't take it off the menu. 'This is your chicken and waffles,' she said.
Speaking of regulars, what was that New Year's Eve like when Beyoncé and Jay-Z bounced in?
It was pretty shocking to see them come in on New Year's Eve at 11 without a reservation. Someone called the restaurant and asked if there was room for two VIPs and Doug said, 'Everyone's a VIP tonight.' No one bothered them. They sat side-by-side facing the room and then they left.
When you're done with these eventful restaurant shifts you head home and in addition to your wife I hear there is a pet turtle waiting for you?
Yes, Boxy, the box turtle. I've had her since I was 9. She traveled cross-country with me to San Francisco, but not to Hawaii because they might have quarantined her. I think I still have her because I never lost her in the backyard. These turtles can get really old. She will probably be in my will.
French Louie, 320 Atlantic Ave, Brooklyn