Chef Mary Cleaver on Fracking and Its Dangerous Effects On Local Farms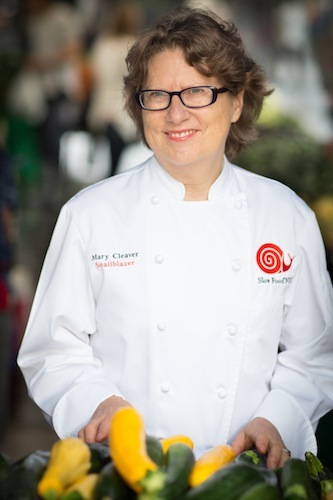 As it stands,
Governor Andrew Cuomo
is pursuing a plan to allow fracking of the Marcellus region, a shale formation that stretches across 28 counties of New York State near the Pennsylvania border. In case you haven't seen
Josh Fox
's documentary
Gasland
-- and you should -- fracking (or hydraulic fracturing) involves drilling up to 8000 feet into the earth's core to extract natural gas, then injecting millions of gallons of water, sand and untold numbers of chemicals into the well. Chefs who source their food from the area don't think it's such a good idea and to raise awareness and funds, several have banded together for a benefit called
Taste of the Marcellus
, to be held Thursday, July 26th, at the
Brooklyn Winery
. Chefs involved include
Michael Anthony
of
Gramercy Tavern
,
Zak Pelaccio
of
Fatty 'Cue
and
Mary Cleaver
of the
Chelsea Market's Green Table
. Fresh from opening two new kiosks in Battery Park,
Table Green
and
Table Green Café
, she took some time to school us on why fracking matters.
Why should New Yorkers care about fracking in a rural area a couple of hours away?
Upstate New York is a lot closer than Chile or China or California, where a lot of our food comes from. This is close to home. In the 30-plus years I've been in the food business in the city I've seen a tremendous rise in the local food movement and people concerned about where their food comes from. I think the unknown chemicals, the mystery behind the madness of fracking, has not been revealed. From what we know of fracking, we have seen it destroy and poison lots of land and water. 
[
Ed note: the chemicals are unknown because of the Halliburton Loophole, the 2005 Bush/Cheney Energy Bill that exempted natural gas drilling from the Safe Drinking Water Act. Hence, companies don't have to disclose the chemicals they're using
.] 
For people who say fracking isn't dangerous, what do you say?
Watching
Gasland
is a good thing. How would you like to turn on your faucet and have fire coming out of it? That's kind of terrifying. 
Why would farmers lease their land and risk that?
We're losing dairy farms by the hundreds. They can't make a living so they're selling out. It's not just dairy, but all kinds of farmers are finding it hard to make a living. Government money doesn't go to help small farmers. 
So it's understandable why they want the money from natural gas companies.
I do appreciate the fact that it's a great struggle. But if we're selling out our foodshed for energy, where are we going to be growing our food? China? Is that better for us? Why can't we be more involved in renewable energy sourcing? They say there's enough natural gas down there for 75 years. Okay, so once it's gone, then what? 
Lobbyists say fracking is safe.


Poisoning the water is the issue. If the water table is contaminated, we won't want to eat the food grown there. I won't source from a farm that's been exposed to so many chemicals. We've already polluted our rivers and streams, flooding them with PCBs and heavy metals. We still have this mentality that our resources are endless. New York harbor used to be the biggest oyster bed in the world. Saloon keepers used to give oysters away for free so people would drink more alcohol. Then the oyster beds became toxic, inedible. It's a pattern we really should look at. There's so much secrecy about fracking. It's not right. 
How did you get involved in the movement?
Because of Hilary Baum of the
Baum Forum
. She made me realize that many of our catering clients and food producers were in the Marcellus region. A lot of Greenmarket farmers are adjacent to it: Norwich Meadows, Berried Treasures, Mountain Sweet Berry Farm, Violet Hill, Max Creek Hatchery, Cayuga Pure Organics, Lucky Dog Farms. They could all be potentially affected and that means we'd be affected. 
Some say fracking also causes an increase in earthquakes.


When you go down to the core of the earth and start blowing it up, it could have greater repercussions than you realize. 
Fracking sounds like it could be a lot worse than the BP oil spill in the Gulf.
If you put these chemicals into the earth, they're not going to disappear. They can't get out. It's like putting antibiotics into an animal; if you eat it, it goes into you. If fish are exposed to mercury and you eat fish, then the mercury stays with you. We have a dead zone in the Gulf of Mexico because of all the antibiotics and pesticides and fungicides used in industrial farming in the Midwest. All of that goes into the meat supply then washes into the river and eventually into the Gulf of Mexico. 
Mark Ruffalo has done a lot to make people aware of fracking. Is he involved in the benefit?
No. He's not a chef. 
Can you describe the food kiosks you just opened in Battery Park?
Table Green Café focuses on Crop to Cup coffee and Blue Marble ice cream. At Table Green, which is closer to Castle Clinton, we serve grass-fed beef hot dogs, summer vegetable wraps, organic cheddar sandwiches, local beer and wine on tap. We took over the kiosks that Zak Pelaccio -- Fatty 'Cue -- had last summer. It's beautiful down there and fifteen degrees cooler than anywhere else in the city. 
If people are concerned about fracking, what can they do?
Write to the governor and continue to buy and eat local food so we can build a strong regional economy so our farmers will not need to sell their land because they can't make a living. Be active. Put pressure on our politicians. 
What if it's too late?
It's never too late. 
Contact the governor:
Honorable Andrew Cuomo
Governor
State Capitol
Albany, NY 12224
Email the Governor
Taste of the Marcellus - A Fundraiser to Fight Fracking in New York State
http://chefsformarcellus.org
Thursday, July 26th, 2012, from 7pm-10pm
Brooklyn Winery
213 N. 8th St., http://bkwinery.com/.
General admission is $125, VIP admission is $250, and the after-party (10pm-midnight) is $25, where there will be complimentary Ommegang beer and music.

Photo by Laurie Rhodes 2012