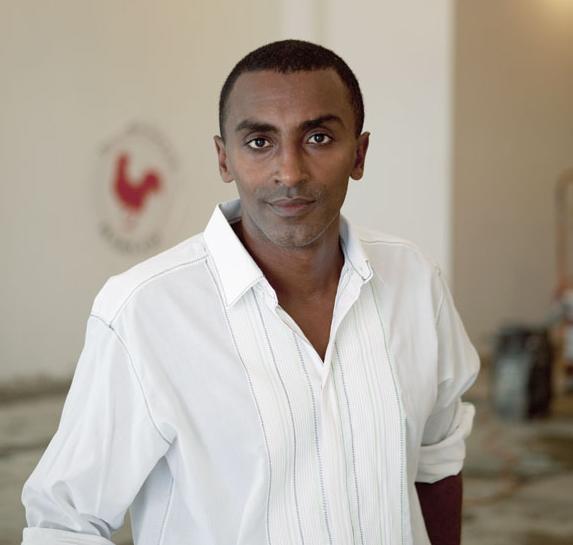 Celeb-chef
Marcus Samuelsson
's memoir,
Yes, Chef
, goes beyond the typical kitchen tell-all. Not only is it the story of his multi-culti background, spanning from Ethiopia to Sweden, and of his barrier-breaking achievements at Aquavit; it includes an honest account of his complicated relationship with a daughter he fathered after a one-night-stand, and of the dissolution of his Aquavit partnership and resulting struggle to buy his own name back. We caught up with Samuelsson in Harlem -- the HQ for his home and restaurant,
Red Rooster
-- for a chat about the memoir and some of the early reaction to it.
What was the hardest part for you to relive while writing Yes, Chef?
I wanted to make it unfiltered and not a victory lap. It took five years for me to write because I wrote it once, then again to go deeper, and then even deeper -- like a root canal. For me, it was painful to write about not being at my father's funeral and about the situation with my daughter.
In the book, you address why you feel that black chefs are not part of the current dialog of fine dining. Why do you feel change is taking so long?
It's not a quick solution. It takes time to happen. There is a diversity level that we have done very well in. The Latin community coming in and not just being  laborers, but being the chefs, for example. More women in the kitchen -- it's not where it should be but it's coming. You have got to look at the African American journey as one out of many verticals of diversity that we have to work on. Red Rooster is an answer to that. It's not the only answer, but it's a layer.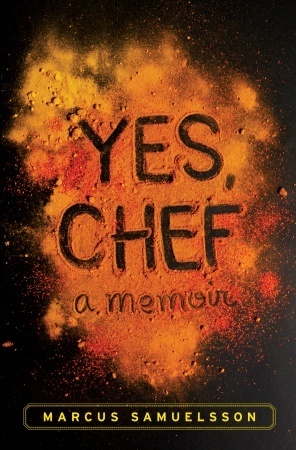 Tell me about Red Rooster's impact on the Harlem community?
We are keeping ourselves honest and evolving as a neighborhood restaurant. And it's about hiring from within the community. 75-80% of our staff is from the community. I think we have changed the footprint of dining here while cultivating regulars from the neighborhood. I measure success in those terms. It's not a one year or a two year thing; I am in this for life. Look at Sylvia's and the Lenox Lounge and The Apollo. They have been gamechangers in this community and those are the standards that I would like to keep up.
Has there been backlash? You mentioned in the book a gentleman who stopped you on the street and said, "Because of you, my rent is going up."
I don't think his rent was raised because of us but I do understand his point. It's about, can we evolve as a community? Can you do "urban renewal without Negro removal?" That's the larger issue and I think you can. I think if you keep evolving as a neighborhood and you challenge other companies to use the Red Rooster model of hiring from the community, it will take care of itself. The key is having a community that you are a part of so that you have ownership and staff that is in and of this community. Today, we are launching my book here in Harlem. I wanted to give Harlem the opportunity to get something first for once. I live here. A lot of my staff lives and work here. So we created a day for the community to be proud of and a part of, with activities for kids, cooking demos, music and food. 
How did you feel about Eddie Huang's piece in the
Observer
today, in which he basically calls you out as an outsider in Harlem?
I feel that the more you try to be positive, the more you try to make change, and the more people are going to have a point of view on it. It's not like he's a relevant person in this place, but we live in a diverse environment where people have every freedom to comment. I can live with the fact that we have created jobs and that we make people happy. I stand by our work every single day regardless of who has a comment.
What did you learn from the failure of Merkato 55?
I had no business being in the Meatpacking District because I didn't know enough about the Meatpacking District. I saw an opportunity to put an African food restaurant there but in the end I was selling baseball to soccer fans, it was not what they wanted. I embraced it all, though, because there's no way in hell Red Rooster would have been as yummy without that journey. It made me re-focus.
And what did you learn from the whole incident of actually buying your name back from your Aquavit partners? I thought it was interesting that it gave you a chance to explore your identity, who you really were.
I didn't think about licensing and stuff as a creative young person. When I came up you worked long and hard, you worked with the best, and hopefully one day get recognized and hopefully that will lead to something. But today, you start with a brand and you are a brand before you are anything. It is so strange. But anytime you are hit in life by a controversy that you are not prepared for, you start asking big questions of yourself.
The press immediately jumped on, and circulated, your story about Gordon Ramsay calling you a "black bastard." Now that it has been brought to light, has he apologized or responded in any way?
No. It happened. When that happened, it hurt. But I am not defined by that situation. It's a little sandboxy, but you move on.
Yes, Chef
(Random House) hits bookshelves this week, and is available online here.

Photo of Samuelsson by Bill Durgin.
*******
RELATED:
Renaissance Man: Marcus Samuelsson is re-inventing Harlem's Culinary Scene with Red Rooster.