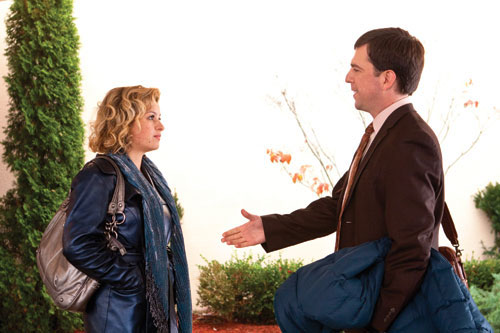 You probably know her as
: Maeby, the smart-aleck daughter of Lindsay Bluth and Tobias Funke on
Arrested Development
.
Now you can see her as
: Bree, a meth-head prostitute in
Cedar Rapids
, a new film about a wild weekend at an insurance convention, directed by her friend
Miguel Arteta
and starring
Ed Helms
,
Anne Heche
and
John C. Reilly
.
To prepare for the role she
: "watched
Intervention
, like the episode with the girl where she takes off all her clothes and is like bouncing around."
What it's like to make out with Ed Helms
: "He's a lot more old fashioned than you'd think he is. I've worked with a lot of gross comedians so I was expecting him to be raunchy and make dirty jokes, but he was much more of a Southern gentleman. I played the more aggressive one because I'm like, 'I'm in character!' He was blushing at the end."
On shooting the film in small-town Michigan
: "We'd hang out and play Rummikub at our little Holiday Inn. Everyone had their own room, so it felt like we were a soccer team or something.
And now that she's back at home in L.A.
: "I've been focusing on drawing. My ideal would be to have an animated show -- kind of like something on Adult Swim."