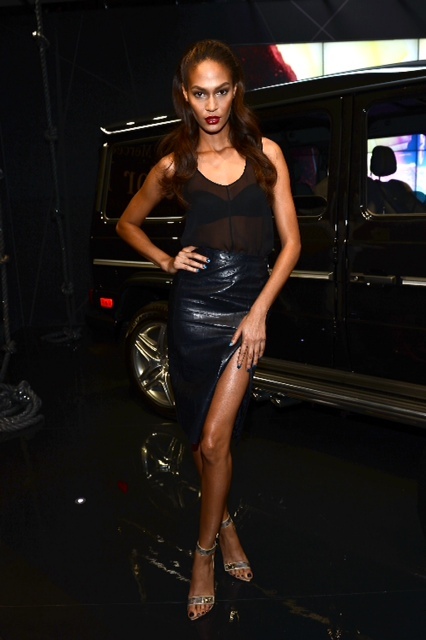 Amidst all the NYFW hubbub going on at Lincoln Center, we had the chance to steal a moment with model and MTV's newly-named
House of Style
co-host, Joan Smalls, during the 'Mercedes-Benz & Barry's Bootcamp Fit For Fashion' event and ask her about the new gig, what she thought of her recent jaunt to the VMAs and hard-hitting questions like which designers have the best food backstage at the shows.  Read on.

Congratulations on landing the co-hosting gig for the re-booted House of Style!
Thank you! It's [the kind of] new adventure that you never thought you'd be a part of and now that it's here, I'm extremely happy.  You see the clips of
Cindy Crawford
,
Rebecca Romijn
and they did such a great job.  They introduced the world to pop culture and fashion and had a really great insight into what it is that [models] do. 
Did you watch the original House of Style on MTV as a kid?
No, I was too little.  I've watched video clips that they have on MTV.

Can you share any teasers from the upcoming season?
Well, I can't give too many teasers away but we'll start filming during Fashion Week in New York, Milan and Paris.
Will there be scenes of you going backstage like Cindy Crawford did and hanging out with your friends and other models?
Yeah, all that good stuff! You'll get to see the different dynamics models have [with each other] backstage and you'll get the inside look at the designers.
 
Whom do you most want to interview for House of Style?
I'd love to talk to
Kanye West
and
Rihanna
.  I think they're both very stylish and Rihanna's extremely daring with what she does. I really appreciate that.
And, speaking of Rihanna, you guys were both at the VMAs on Thursday. How were they?
The energy was so insane!  And to see Rihanna perform was fantastic but my favorite was
Frank Ocean
.
Do you get star-struck at all when you see these artists?
No.
Moving on to Fashion Week, do you have any rituals or things you always bring with you to help you get through it?
I always make sure I travel with make-up wipe removers.  Instead of having someone take off your make-up constantly, you can do it yourself in-between one show and the other and you can cut the time.  I also carry my own mascara sometimes and lip balm.

What designers have the best snacks or drinks backstage?Christian Dior
has good food.  They have a lot of sweets! 
Donna Karan
also has good food.  She has pasta and sandwiches - warm food.

That seems surprising that she feeds her models all those carbs!
Yeah but [models] don't have time in-between to eat so you need to have food [like that] backstage to munch on before you go onto the next show.
Photo: Michael Buckner, Getty Images