Good Charlotte is the best-loved band in hip-hop.
At least that's what pop stars Joel and Benji Madden say.
Despite how wrong that sounds, the tattooed twins aren't joking. The brothers are part-time hip-hop producers. Their studio sideline, Dead Executives, is now two and a half years old. They say that you can ask anyone working in hip-hop about them and you'll get a smile in response. Aside from their family and the other members of their band, the person they're closest with is onetime 50 Cent protege The Game. The Game lives in Glendale, California, on the same street as the Madden brothers. If you ask the Maddens how close their houses are to each other, here's how Joel answers: "I live four houses away from Game, and Benji lives six houses up from him. You could walk it." Joel's pit bull is named Eazy (after the now-deceased member of N.W.A.). When he gets angry at the dog, he calls him Eric.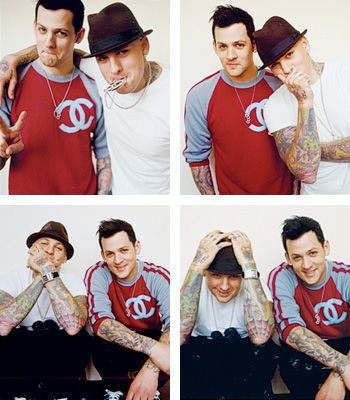 This isn't an act. They're not faking it. These pop-punk kids have cred on the streets -- even if the hip-hop set won't listen to their music. Sure, Good Charlotte's new album Good Morning Revival (Epic), out this March, doesn't deviate much from the Hot Topic formula that made them famous. (As another So-Cal punk band of yore used to scream, "You've got to keep them separated.") Rather than being hip-hop in the strictest sense of the term, the 27-year-old frontmen of the multiplatinum-selling band express a kinship in terms of attitude. "I totally understand what it's like when your mom has to work as many jobs as she can, just to support her kids," says Joel. "I get that part of hip-hop. I like that hip-hop teaches that it's OK to want to take care of your family. It's about respect." That attitude has taken them far. They've gone from not knowing how to play their instruments a decade ago in Waldorf, Maryland, to owning their moment, taking their place in the pantheon of modern L.A. rock stars. They run DCMA, their own clothing and accessories line. They've become tabloid stars. They're friends with Nigo. They can refer to Gwen Stefani by her first name, and they don't sound foolish doing so. They are the look and feel of now, the sum total of everything MTV. And they're aware of how quickly that can change. It's happened to them once already.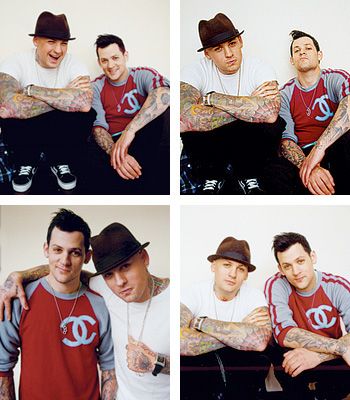 Joel wears jeans by Dior Homme by Hedi Slimane, sneakers by Vans, fedora by Still Life. * Benji wears jeans by Cloak, sneakers by Vans.
But it's only by changing that they can stay relevant. And while much on Good Morning Revival recalls the soundscapes of their previous three albums -- filled with the soaring guitars and machine-gun drumming of suburban angst, the sort of music you want to do doughnuts to while driving your family sedan around the parking lot of your local JC Penney's -- the first song released from this one is different. It's called "Keep Your Hands Off My Girl," and it's a crunchy pastiche of dance-metal guitars and wry beats. Joel speak-sings, "You carry Dior bags, and you got your Chanel/ You want Louis Vuitton, HG and YSL." It's a nightclub come-on about style, the kind that Good Charlotte's forebears in Bad Religion, Killing Joke and Rancid could never have written (not the least because it mentions HG, a Japanese clothing label). It's dirty. Junior Sanchez remixed it. It's a song that you're meant to move to, not fight to, and maybe that's because the Madden brothers have been spending so much time in the New York and L.A. underground scenes. They're regulars at clubs like Cinespace and LAX in L.A., and friends with DJ and Dim Mak label owner Steve Aoki and photographer The Cobra Snake. In New York, they've guest-DJed at MisShapes, the infamous Saturday-night party, and they're friends with Ultragrrrl, the party promoter, sometime DJ and founder of Stolen Transmission Records. It's a long way from eating burgers in Glendale with The Game to spinning songs in a Lower East Side sweatbox, but the Maddens somehow bridge the gap.
"They have their fingers on the pulse," says Benji of his DJ-promoter friends. "People around the rest of the country -- I don't care if it's Chicago, Minneapolis, Sacramento -- if they get the chance to spend a weekend in New York and they see what the MisShapes are doing, they'll take that look, that lifestyle home with them."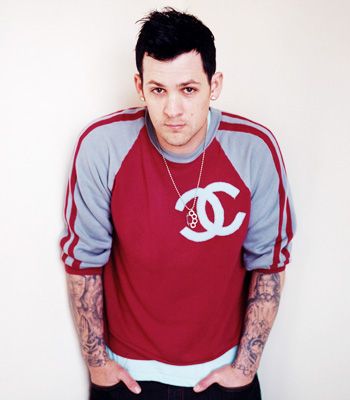 "They're at the center of something that's rippling across the entire country right now," agrees Joel. "To have people like that come into your life is just inspiring. But that's the way it is with all of our friends, whether that's Steve Aoki or Junior Sanchez or whoever. We all do different things, but we're all inspired by each other."
"Revolution is a good word to use, because that's what these kids are doing," Benji continues. "You think about New York in the '80s, about when Madonna made it -- that's what's happening now. You see kids come with nothing, just an idea, and a year later they're a success."
It took the Maddens a little longer than that. After founding the band in 1995, the brothers hooked up with their friends Billy Martin (guitar, keyboards) and Paul Thomas (bass). By 1998 they had achieved some small renown on the East Coast. The now-forgotten rock band Lit tapped the fledgling punk poppers to open for them on tour, which led Good Charlotte to open a few slots for Blink-182. That was their watershed moment: They signed to Epic in 1999 and released their self-titled debut in 2000. They followed that up with their breakthrough 2002 album The Young and the Hopeless, a chart topper that included hit singles like "Lifestyles of the Rich and Famous" and "The Anthem." Branching out, the band released Chronicles of Life and Death in late 2004 -- a critical and commercial flop -- but in terms of their press, it didn't matter. It was around that time that Joel began dating actress Hilary Duff. That was also, incidentally, right around when the MisShapes started their eponymous party and had Duff guest-DJ. The New York trio have since become renowned for their aggressively Teutonic looks and surprise guests, but back then Greg Krelenstein, Leigh Lezark and Geordon Nicol were just another crew of hipsters who asked Carlos D to spin the occasional song. In the meantime, Benji and Joel's older brother Josh had moved to New York and was working as a stylist. Josh and the MisShapes became friends through an introduction from Ultragrrrl, and before long the Good Charlotte boys were guest-DJing for the MisShapes, too. "They're cool guys, fun to be around, and that's why we wanted them there," says Krelenstein. "I guess some people can question it, but we've had Madonna [guest-DJ]. We're not exactly all about keeping it indie."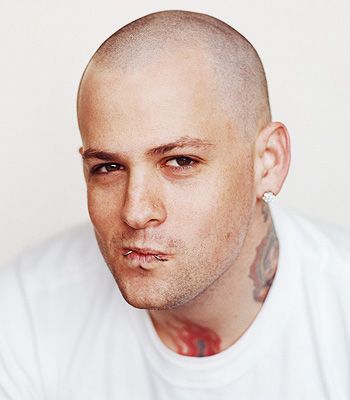 Joel and his girlfriend became a tabloid staple, with the effect of lending downtown New York and the underground's like-minded brethren on the West Coast a dash of cachet. When the couple broke up last fall, the scandal rags were already in a frenzy. The celebrity weeklies had a lot of breaking news to deal with -- Britney and K-Fed, Reese and Ryan -- but they still found space for Joel and Hilary. "It was really difficult to do that in public," says Joel. "You don't get any room to breathe, to examine your own thoughts and feelings. You can't pay attention to the press or you'll go insane." Even so, he's obviously not averse to the attention. He was seen with Nicole Richie shortly afterward, who is not exactly fond of a low profile.
From the outside, making a move like that seems almost like a savvy marketing strategy. But regardless of their private lives, the Madden brothers are conscious of who they are and what they represent in pop culture today. They're of the generation that was bred on VH1 rock docs and super-saturated with media. They know what they're doing, and it shows. When you speak to them, they're excited to be at the gateway, introducing underground culture to kids across the country -- and the world. "Right now, as we speak, there are kids in their garages, in their basements, in the middle of fucking nowhere, who will see us when we go on tour and then go home and be amped up for weeks," says Benji. "I'd love to be the band -- and I'm really happy to carry this torch -- that's reaching kids who don't have any access to anything other than Top 40 pop music," says Joel. "We are in their window. They can see us, and some of them choose to read a little deeper into what we're doing, and then they get turned on to this whole other world -- the subcultures that we find interesting. We have a chance to make kids listen to a band like Interpol, say, something that they might not be exposed to otherwise."
Whether they're using their position to subvert the mainstream or acting like ambassadors to the underground -- in effect, making their fame work backward (and giving back to the community they came from, a very hip-hop sort of gesture) -- the Madden brothers' attitudes reflect a genuine, positive worldview. They're not interested in flaming out, criticizing their peers or exploding with egotistical behavior. They do want to be big, though. Huge, actually. They idolize Oasis and the Clash, and in a world where Green Day -- a band that once released a record called Dookie -- can become a critics' darling, valued for its intelligence, anything is possible. The Madden brothers know this. And they're pleased to have connections in downtown, both the physical place and the state of mind, where they think the next cultural revolution is coming from. "When you look at the people who are really making things happen, they're not sitting around dissing everyone else," explains Benji. "They're believing in themselves, accepting what everyone else is doing. That's what all these people have done with us. They haven't been like, 'Oh, I've been a fan of yours since the first record.' They just go, 'I love it that you guys are doing your own thing and that you don't give a fuck.' A revolution? That's what these kids are doing in L.A. That's what the kids are doing in New York. It's not just about the art or the music or the clothes. It's a lifestyle."
Styling by Josh Madden
Photographed at 60 Thompson Hotel
Keep reading...
Show less