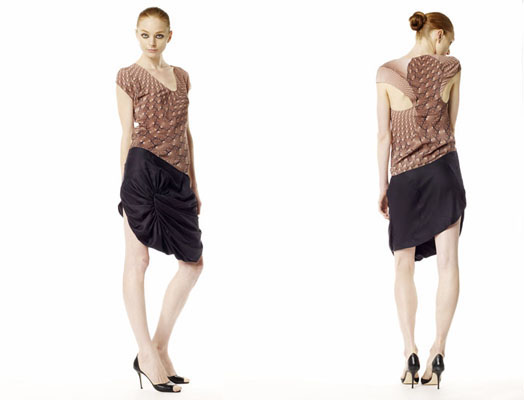 My partner David Hershkovits always says that we live in a parallel universe here in the world of PAPER. When everyone in the fashion world is shopping at Seventh on Sale, PAPER is opening a cuckoo 24-hour store in Los Angeles. When we are hailing someone as a fashion genius, the mainstream fashion organizations of our country are ignoring them.
Well I really felt that way big time this morning when I found out last night that the groundbreaking, dedicated fashion team of Threeasfour had not won the Vogue/CFDA Fashion Awards. And I was SO POSITIVE that they would win this -- hands down. To me this was a no-brainer. And hey, not only did they not win (which they should have) but they did not even place in the top three. This is really upsetting to me because not only were they the most innovative creative team to be nominated in a long time, but they are also so perfectly poised to go to the next step with a wonderful business team of people surrounding them ready to go. How can the CFDA/Vogue call it a fashion award when they constantly refuse to recognize the fashion innovators of America? (Or at least until they after they are dead.)
I love Rogan (the winner of last night's $200,000 award) and the jeans he designs, but is he really a fashion designer??? Is Rogan really more innovative when it comes to fashion than Threeasfour? Was the Trovata team (who won a few years ago) really more innovative as designers than Isabel Toledo (who was also ignored)?? I mean WHAT is wrong with this picture???? I think that going forward, the most true-blue innovative FASHION designers need to think hard before putting themselves through this grueling process in the future. The odds are great that they will never make the cut because this competition has more to do with business and much less to do with the magic of and passion for great fashion.
Bummer.