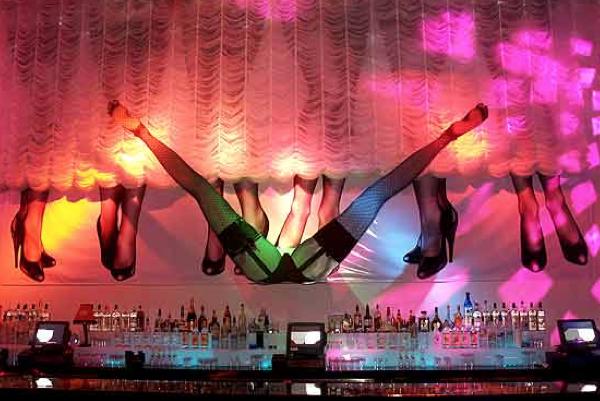 Photo by Tina Paul for
New York Magazine

In honor of our 9th annual Nightlife Awards taking place tomorrow night -- go vote for your favorite nominees HERE! -- we're looking back at some of the folks who took home awards in past ceremonies. From now until the 17th, we'll post a new story each day that tracks down the winners' exploits, closures and rebirths so you can find out what's been going on with your favorite DJ, door person or nightclub since they last witnessed you downing tequila shots and belting out Maximo Park lyrics at 4 a.m at Luke and Leroy's.
Our final installment:
Happy Valley,
the three-level mega club with an interior dreamed up by Jeremy Scott (that included a massive pair of women's upturned legs and crotch beneath the DJ booth) and servers dressed in
Boogie Nights-style
gym shorts, tube socks or leopard print rompers. Attracting a PAPER-approved mix of celebrities, socialites, drag queens, designers and all of the usual deviants and dirtbags that make nightlife fun, the place was also home to one of Susanne Bartsch's legendary weekly parties and was where Ladyfag made her official nightlife debut. Alas, the place didn't last long -- it shuttered a year after it opened in 2006. We reminisce with Ladyfag, Drew Elliott and Michael Musto about go-go dancing, hairy armpits and throwing shade.
On the opening of Happy Valley:Michael Musto:
Happy Valley welled up like a mirage, at a time when it seemed like the festive pre-Giuliani club spirit would never come back. And all at once, the Susanne Bartsh/Kenny Kenny experience attracted a whole new generation of club kids -- stylish, flamboyant, yet way more legal than the '90s ones -- and made for a feisty, sexy party as good as anything that came before it.
On the décor:Drew Elliott:
They had a disco ball that rivaled ours at the Maritime because the DJ booth was on top of that disco ball -- it was enormous. Jeremy Scott did the interiors.
Michael Musto:
The club had three separate environs, each with its own ambience -- the main dance floor, flanked by the spread-eagle legs on the bar mirror; the upstairs balcony, which seemed to be for tipsier, slightly more wicked people; and the basement, which felt like a frat party for gays and their admirers.
Ladyfag:
Upstairs had this scene, this amazing mix of New York personalities. And of course the real party happened in the basement later on.
Michael Musto:
The main level had a small stage for quickie entertainment diversions courtesy of burlesque stars like Julie Atlas Muz and Dita von Teese. Or you could easily spend a whole night in the hallway after you entered, not even going into the actual club, but just watching the zany throngs coming and going and making up nicknames to layer onto their already made-up appellations.
Ladyfag go-go dancing at Happy Valley


On Ladyfag's nightlife debut:Drew Elliott:
Happy Valley was incredible because that was the first place Ladyfag premiered and that was the first place I met her. That was her introduction to New York City. [My friends and I] would go just to see her.
Ladyfag:
I was at another party at Duvet, which was Larry Tee and Kenny Kenny and Josh Wood and a bunch of other peoples' [party] and I didn't know anyone. I'd been in the city for three months so I was like, "Fuck this" and wore a leopard print short, spandex dress and six-inch stripper heels and had a huge weave and started dancing on the floor and did this whole floor show. Kenny Kenny points to me and goes, "You! Come dance with me at Happy Valley." [When I started], Kim Aviance used to perform there and she's incredible. I'd watch her every week and be so mesmerized by her. So of course I'm put in right after Kim in a cage and she's an old-school club kid who gives you shade. She just stood on the side of the stage with her arm out and clearly hated me, and was like, "Go on, go ahead."
I used to be this insane go-go dancer. I remember when I came out of the cage, Kenny Kenny says, "You're hired! Come dance every week -- everyone wants to meet you." I just thought, "I'll be [in New York] for three months and won't know anyone so I'll just go all out." When I started working with Susanne, she told me, "Oh Lady, we don't have insurance to cover the things you're doing up there." People asked me what drugs I was on -- I was like, "Are you kidding? I don't know anyone! Who would I know to get drugs?"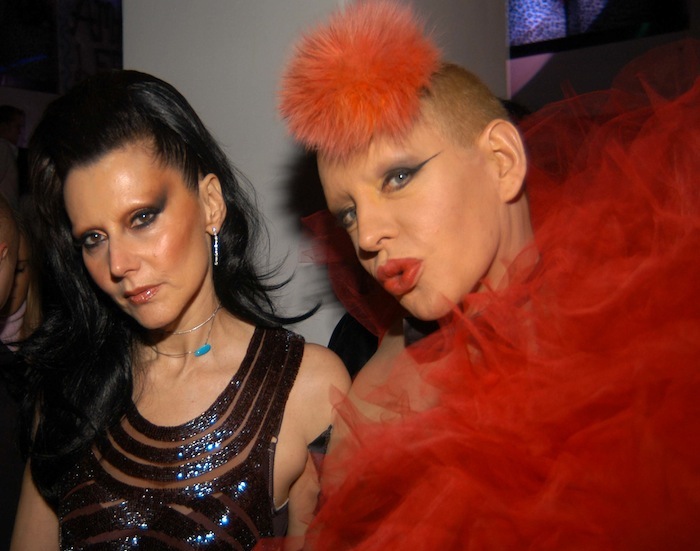 Susanne Bartsch and Kenny Kenny at Happy Valley (Photo by Patrick McMullan)
I didn't even have enough money for cabs both ways then. I'd put on crazy bathing suit outfits and a red trench coat and would take the subway to the party and then have enough money to take a cab home. I couldn't afford drinks. Everything was so exciting and so new. It was like out of a movie.
I remember when Michael Musto
wrote about me
[in the
Village Voice
]. He wrote something like, "It was a strange trip in clubland, with everyone off to Happy Valley to see the strange girl with the hairy armpits dance." [Shortly after], I met Larry Tee -- whom I'd never met before -- and he told me the story of how Sophia Lamar pointed me out and said, "We want her but can't have her because she's with Susanne [Bartsch]."
I also remember when I met Amanda Lepore. I must've been doing something with my hair because Amanda kept staring at me and I thought, "Oh, maybe she doesn't like me." She asked me about my hair and then after that we became friends. She later said, "Remember the tie we met? I was staring at your hair because I didn't know how you did that!"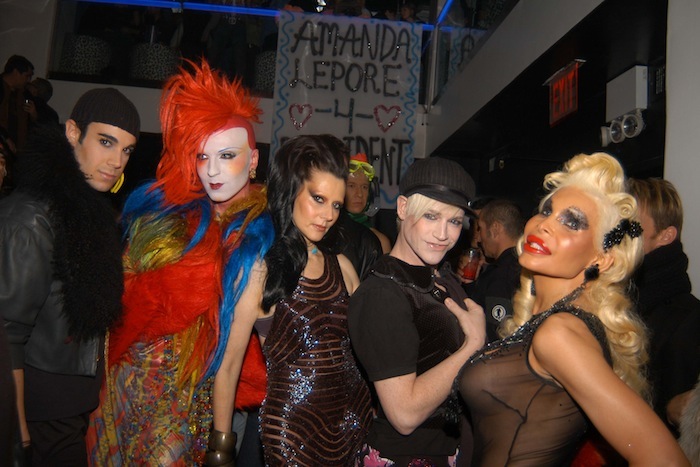 Deryck Todd, Iggy, Susanne Bartsch, Richie Rich and Amanda Lepore at Lepore's birthday at Happy Valley c. 2005. (Photo by Patrick McMullan)

On the Happy Valley crowd:Drew Elliott:
Everyone would go -- it would be all the club kids. Interior aside, the people were the best bit of the décor.
Ladyfag:
I remember Dita von Teese was there one night and everyone was excited. I was more interested in all of the kids, though. It was really a mix of the old-school and the new, young kids. It had the music kids, too, who loved the basement...I feel like it was a lot of kids dressing up but it was really a bunch of downtown kids -- freaks, the true freaks -- as opposed to those that get dressed up for tourists. Now there's a lot of kids who I wouldn't call "freaks" -- they're "weekend freaks." Happy Valley had that old-school, true freak element.
On its closure:Ladyfag:
In some ways, though events that are long have a magic to them, after a few years parties get diluted. The party [Susanne Bartsch's Tuesdays at Happy Valley] was short-lived so it became legendary. I think a year or two years is a good time -- people who keep their parties going that much longer are milking it.
Michael Musto:
The club was a miracle in the desert, and spurred a nightlife resurgence that continues to this day.