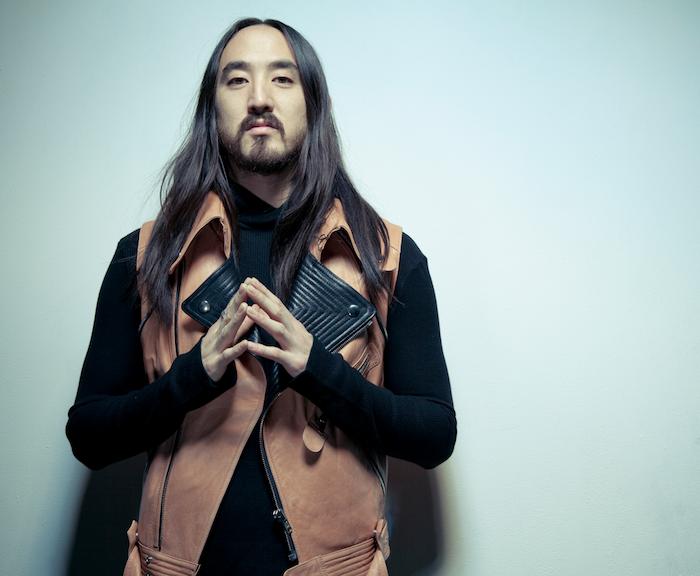 Photo by Dove Shore
An auditory buffet is being served up in New York this weekend, thanks to producer/DJ Steve Aoki, who's kicking off his Aokify America Tour with two NYC shows tonight and tomorrow that see Pharrell and Waka Flocka Flame sharing the bill. Tonight, the trio (along with Rune RK and Joachim Garraud) will hit up Hammerstein Ballroom and tomorrow they'll make their way to Pier 94.
"The idea is to bring in all these different genres of people into one room," Aoki tells us via email. "This evolution of all these genres commingling and converging, this is the time, and that's why it's exciting. Before this you might not ever see these kind of combinations on a tour package at all." He adds, "We're living in a really incredible time in electronic dance culture and a culture in itself that you can actually fuse all these genres together and have a harmonious show...where everyone is vibing on the same level."
The producer, who's working on a new album,
Neon Future,
that will come out next year via Ultra Music/Dim Mak, also released a new video for his single with producer Rune RK "Bring You To Life (Transcend)" featuring Richard Simmons. "I wanted to make a very vocal, progressive [track] since most of my records are these big, club banger records," Aoki says of the song.
To check out more dates on the Aokify America tour, which also features bass producer Borgore on the bill, click
HERE
.
Video for "Bring You To Life (Transcend)"