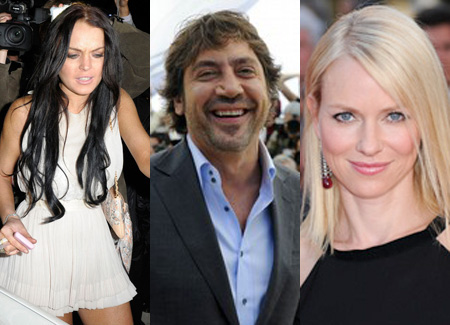 My friend
Bernard Zekri
, editor of the French weekly
Inrockuptibles
is in Cannes for the film fest. I asked him what was going on and this is what he sent:
"Tonight (the 18th),
Grace Jones
is playing at Le Baron, yesterday I saw
Lindsay Lohan
at the Baron with a ridiculous mini white dress.
Naomi Watts
is here with her two kids,
the Stones
might give a secret concert at the end of the week,
Glenn Close
went to see the movie of
Stephen Frears
(very funny and people loved it). The bosses of the festival are worried because the right wing might demonstrate against the movie
Hors la Loi
(
Outside the Law
) talking about Algeria and France.
Javier Bardem
put on some weight on and is incredible in
Alejandro Inarritu
's
Biutiful
. I loved
Cleveland Against Wall Street
, the documentary about subprime mortgages."