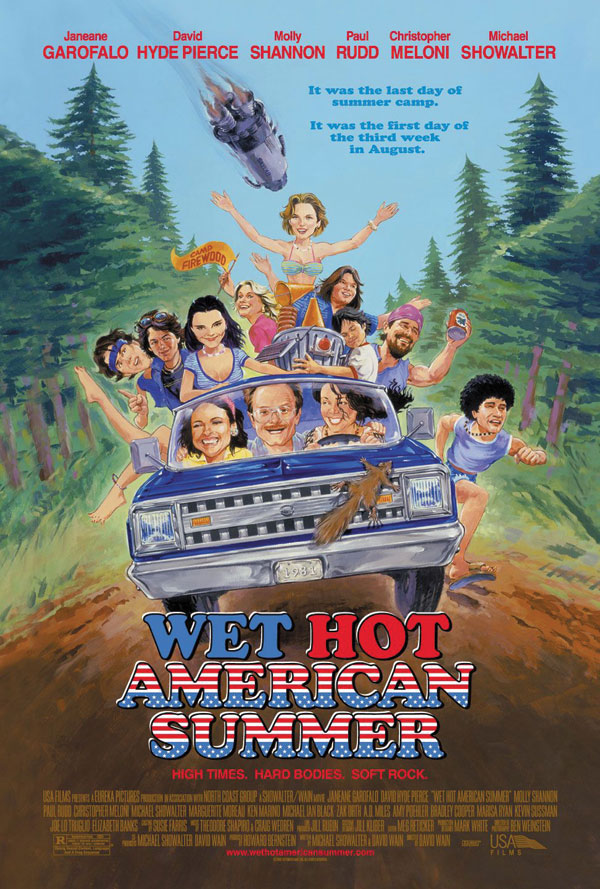 A Vietnam vet-slash-camp cook who humps a refrigerator and fondles his sweaters. An inattentive camp counselor who keeps letting campers die on his watch. A camp director who leads her staff into a downward spiral of cocaine and heroin abuse. A distraught and divorced counselor who's given sage advice by, and subsequently falls in love with, an eight-year-old camper. This isn't a description of the weirdest nightmare you've ever had -- these are just a few of the characters that populate
Wet Hot American Summer
, the funniest and most beloved cult classic of the 2000s. (Sorry
The Room
!)
Written by David Wain and Michael Showalter, who both starred in another cult favorite, MTV's mid-'90s sketch-revue
The State
,
Wet Hot American Summer
has become a staple in college-dorm DVD collections and at midnight movie screenings. But just how did a silly and strange summer camp comedy with a budget of $1.8 million (that grossed a paltry $292,102 in theaters when it was released in 2001), achieve such a rabid fan base? It doesn't hurt that the
Wet Hot
cast features a comedy dream team including Amy Poehler, Paul Rudd and Bradley Cooper before they starred in
Parks and Recreation
, made a raft of comedy blockbusters and were named the Sexiest Man Alive (respectively). Despite its cult status, Showalter, who also stars as Coop,
Wet Hot
's sexually frustrated hero, still wonders why the film didn't reach a mainstream audience. "I'm happy that it's a cult movie," he says, "but it wouldn't have bothered me if more people had liked the movie at the time."
It's difficult to imagine now, but
Wet Hot
repulsed most critics upon its initial release. "We didn't set out to make a movie that only a small audience would love," Showalter says. "We set out to make a movie that everybody would love, like
Caddyshack
, but we also wanted to be true to our sensibility. So it was a bitter pill when you read reviews by people who not only didn't like it, but hated it. Some reviews really, really took it down... I was despondent. It was the most crushing thing ever."
Wain, who made his directorial debut with
Wet Hot
and is currently directing
They Came Together
, which he co-wrote with Showalter and reunites many players from
Wet Hot
(including Rudd and Poehler), had a different reaction to the movie's initial flop. "Reading the bad reviews was hard, but I wasn't despondent," he says. "I knew the movie was cuckoo. I mean, there's a camp cook who humps a fridge. This wasn't for everybody. But there were difficult times before the movie came out. Especially at Sundance."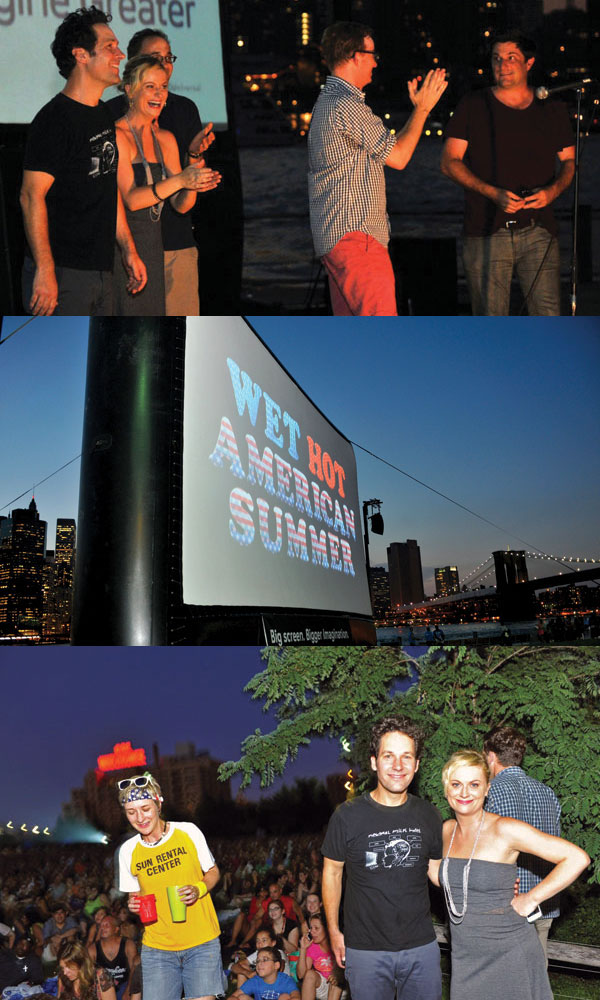 Top photo: L-R:  Paul Rudd, Amy Poehler, David Wain, A.D. Miles and Michael Showalter at a recent outdoor screening in Brooklyn Bridge Park, where original
Wet Hot
cast members introduced the film. Bottom photo (L-R): Paul Rudd and Amy Poehler.
With the hopes of landing a distributor, Wain, Showalter and the
Wet Hot
cast took the movie to Sundance in 2001. The industry audience was not impressed. "The movie had a lot of buzz [at Sundance], because of the cast," Showalter says. "But you could just tell that, once the movie started, it wasn't landing. I had this feeling of, 'Oh, this isn't going well.' It felt like bombing in stand-up. People didn't know what to make of the meta aspect of the movie. If you aren't savvy about that, a lot of the humor is intentionally banal or stupid or obvious, so if you're not familiar with our sensibility, you could read that as lazy humor. There were entire scenes where the audience didn't know what to make of it, and I think what they made of it was that it wasn't good."
Later that year,
Wet Hot American Summer
had a limited release in theaters and it came and went with a whimper. "There was no marketing push," says SiriusXM radio host Jake Fogelnest, who has a cameo in the movie as Silas, the camper who gets sent home for tape-recording himself jerking off. "I did a show at the old Upright Citizens Brigade Theatre with the cast to promote the movie, and that got the word out to about 100 people."But like a dorky camper who returns the following summer and has transformed into the coolest kid in camp,
Wet Hot American Summer
came back with a vengeance in the summer of 2003. The turning point in
Wet Hot
's rise from obscure flop to cult classic was at a late-night screening of the movie at the Times Square's AMC Theater.
"It's the tiny nuances that you might not notice watching it only once." --
Desiree Nash, fan
"Somebody dragged me to that screening," Wain remembers. "I don't think I wanted to go. But when I got there, I was flabbergasted. There were people in costume, wearing short-shorts and camp T-shirts. They were chanting lines from the movie. I was shocked. My jaw was on the floor. The movie had found an audience on video."
"A lot of the cast was at the screening, and they were in this little room beforehand," recalls Fogelnest. "You could hear the chanting. It was like the Beatles waiting to go on
The Ed Sullivan Show
, but not really, because Ringo never humped a fridge."
Not long after the Times Square screening, Wain gathered volunteers to organize midnight screenings of
Wet Hot
at the Village East Cinema in Manhattan, the first of which took place on Halloween of 2003. It was so popular, that the movie ran at midnight every weekend for six months. "People showed up in costume and knew every line. It was a surprise to me," Showalter says. "I was like, 'Oh... people love this movie.'"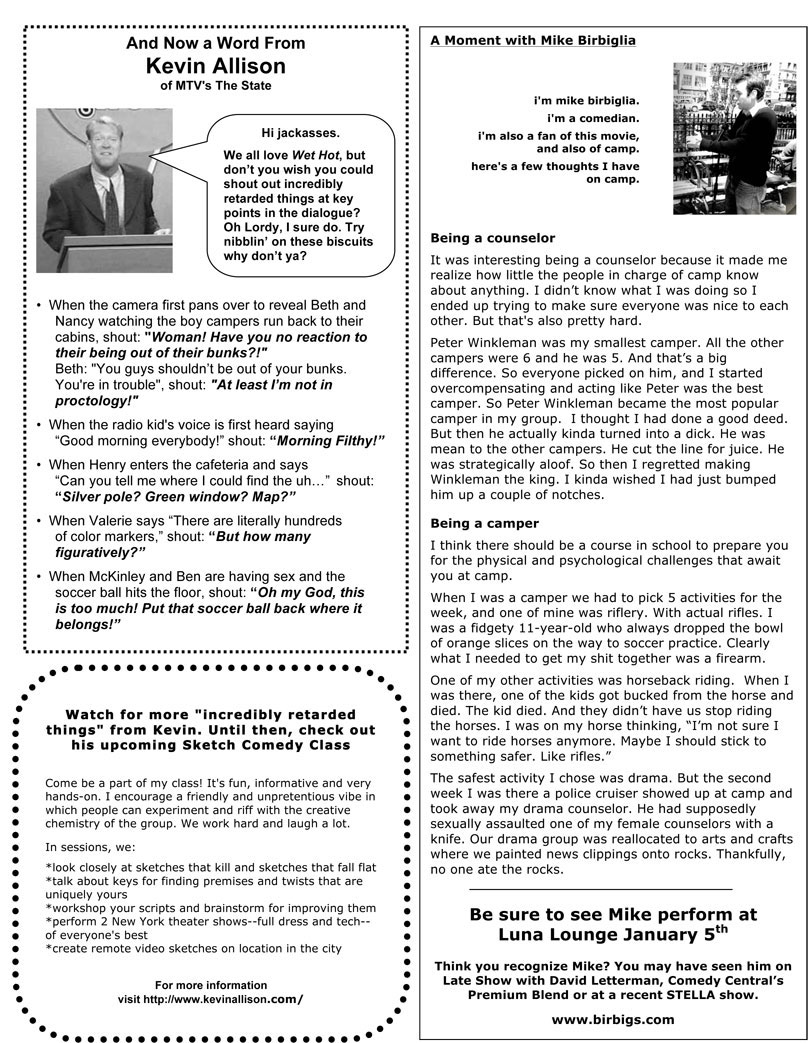 Click to enlarge image
  A 2003 edition of the "Camp Newsletter," distributed at
Wet Hot
's midnight screenings, courtesy of Marianne Ways.
But screening a movie at midnight for six months doesn't make it a cult classic. What exactly is it about the motley crew of counselors at Camp Firewood that makes
Wet Hot American Summer
a timeless comedy that rewards repeat viewings? Much like
Airplane!
and other Zucker brothers' parodies,
Wet Hot
is packed with gags -- after watching the movie several times, you'll still be discovering new ones. (Have you spotted Michael Ian Black's slo-mo "power walk" in the capture-the-flag scene? Or have you noticed that anytime something breaks, the same glass-shattering sound effect is used?) And even though
Wet Hot
achieves Christopher Durang levels of absurdism, the audience still cares about the characters -- like Coop, who falls hard for the beautiful and popular Katie, and Steve, the uber-nerd camper, who literally blows away the audience at the camp talent show.
"I feel like that scene really captures what a talent show at a summer camp in the early 1980s felt like," Showalter recalls. "The different types of acts and the life-or-death aspect of it -- just how important it is. You're all inside this little cabin in the woods and you feel like you're at the center of the universe."
Luckily for die-hard fans of
Wet Hot
, the story doesn't end here; the Internet has been abuzz with rumors of a sequel. "We are working on it. We're well into the script process," Showalter confirms. "I imagine that as soon as we're done with
They Came Together
, we'll begin working on the
Wet Hot
sequel." So more than a decade after he first appeared, it's only a matter of time before Gene, the fridge-humping cook, returns to a theater near you.