Cameron Diaz and Ben Stiller Support Shrek on Broadway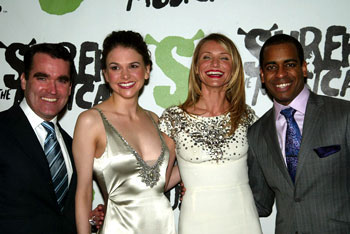 Shrek, the Broadway musical version, opened last night on Broadway marking the movie making machine, Dreamworks's Broadway debut. Cameron Diaz, the original voice of Princess Fiona in the animated version, came out to show her support, as did other bold-faced names like Ben Stiller, America Ferrera, Hope Davis and Phylicia Rashad. The reviews weren't great in today's papers but I actually liked it much more than I thought I would when I saw it last week. Maybe I'm just accepting that Broadway is now largely made up of cop-out film to stage adaptations and appreciating Shrek as the best of the bunch. I mean, it's certainly better than Little Mermaid. And also what's not to like about the true Broadway star Sutton Foster as Princess Fiona performing an amazing tap dance number with a troupe of rats? Nothing, that's what. Here's a photo from last night's opening night party. Look at Sutton's low-cut number! Very risqué for a Broadway opening but she's giving Cameron a run for her money.
From left to right, Brian D'Arcy James (Shrek), Foster, Diaz and Daniel Breaker (Donkey).