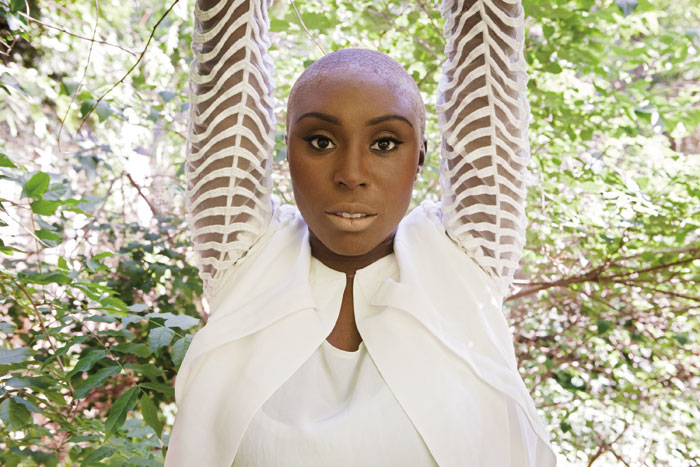 British singer-songwriter Laura Mvula can't get the Michael Jackson song "I Wanna Be Where You Are" out of her head. That she's been listening to the 1972 R&B; hit, which features the tinny sound of a harpsichord under Michael Jackson's prepubescent tenor, makes sense since Mvula's own music combines her soulful voice with unusual instruments like celestas, theremins, glockenspiels and harps. "I'm not very good at [describing my music]," says Mvula with regal stillness despite the hot, late spring day in Brooklyn. With her shaved head, sharp cheekbones and dramatic, catlike eye makeup, she resembles a more feminine Grace Jones. "If someone is really forcing me, sometimes I'll say at the very least that it's orchestral soul."
But she's right to hedge -- that description is selling herself short. The 27-year-old, who studied classical composition at Birmingham Conservatoire, sets herself apart from the post-Winehouse glut of British nouveau soul singers with her ability to deftly hopscotch between jazz, soul, classical and even bluegrass, creating something complex yet cohesive and at times ethereal -- like the soaring overture of an Elia Kazan film. These skills and sensibilities have taken Mvula from directing community choirs in her native Birmingham to being nominated for a prestigious BRIT award earlier this year, weeks before her debut record,
Sing to the Moon
(which came out in the U.K. in March and the U.S. in May) was even released.
"I thought my career in music was always to be in the background," says Mvula, who has battled terrible stage fright since childhood. But a bout of post-university malaise prompted Mvula to try writing music for herself to perform. Working in her and her husband's "really horrible flat in Birmingham," Mvula composed "She" and "Green Garden," both of which would become standouts on
Sing to the Moon
. "It felt like something interesting and new had happened," the singer says. "I was happy for the first time in a long time."
It's a safe bet that those good vibes will continue, as Mvula has a jam-packed touring schedule this summer, playing festivals across Europe, including Glastonbury. And in the meantime she's working on tracking down Motown-era songwriters like the ones who composed her favorite Michael Jackson songs: "I'm trying to look into all these writers and see if I can find them," Mvula says. "I'm excited about the whole Motown thing."
You play the what?
More contemporary musicians who play some weird shit.
Ke$ha
-- Theremin
Ke$ha has an unexpected tour staple: the theremin. The pop star even took one on Conan, where she gave the talk show host a lesson on how to play the old-school electronic instrument. Ke$ha and her theremin will be on tour this summer in Europe and the U.S.
BjÖrk
-- Gameleste
For 2011's
Biophilia
, the Icelandic songstress commissioned, the gameleste, a hybrid between two other odd instruments -- the celesta and the Indonesian saron. Björk played it on tour using an iPad. She plays a string of North American tour dates this summer, with stops at Bonnaroo in June and the Pitchfork Music Festival in July.
Alicia Keys
-- Keytar
Alicia Keys may be best known for her piano skills, but she's also a maestro of the most '80s instrument of all time -- the keytar. Not content with only one name pun, the singer's been known to break out a key-shaped keytar during concerts.
Jonny Greenwood
-- Ondes martenot
The Radiohead guitarist and composer of some spooky-ass Paul Thomas Anderson scores also plays the ondes martenot, an electric piano-like instrument that gets its eerie sound from oscillating vacuum tubes.