Brie Larson's Meet 'n' Greet Turns into a Meet 'n' Hang!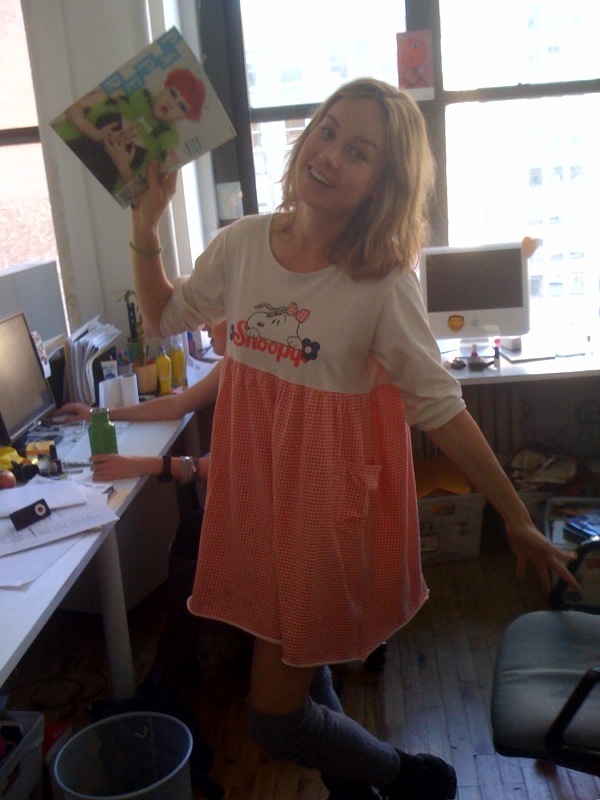 Yesterday, actress
Brie Larson
stopped by the PAPER offices to chit-chat with me and Whitney about upcoming projects she has going on (she plays Michael Cera's ex in the upcoming
Scott Pilgrim vs. the World
; Michael C. Hall's inappropriately-young fling in
East Fifth Bliss
-- which she's currently filming here in New York; and she continues to dazzle as Toni Collette's daughter on
The United States of Tara
). Said chit-chat, however, turned into a truly epic hang that lasted for much of the afternoon! Brie shot the breeze with us about everything from her Snoopy dress (it was a muumuu she got a thrift store which she doctored), to her boyfriend (who she first developed a crush on after seeing him in a Coke commercial), to her stint as a singer ("I was a baby pop-star"), to working out at the super-low-budget Dolphin Gym in the East Village ("They only have three TVs and one of them is turned around so that the employees can watch it!"). She even gave Whitney and I valuable advice about what to wear to the Beautiful People party last night, which she also attended, sporting a chic little Philip Lim number. We really can't wait to see her in
Scott Pilgrim
! When we mentioned to her that she and her female co-stars (
Mary-Elizabeth Winstead
, Aubrey Plaza,
Alison Pill
) all seem to be cut from the same cloth -- both looks-wise and sensibility-wise -- she agreed, telling us that they all kind of have big eyes and heart-shaped faces, which has to do with the comic book characters on which the movie was based. Crazy fact -- Brie told us that even though the movie's out in August, none of the cast has seen it yet!