Bridget Everett is All Crass at Ars Nova (By Broadway Blogger Whitney Spaner)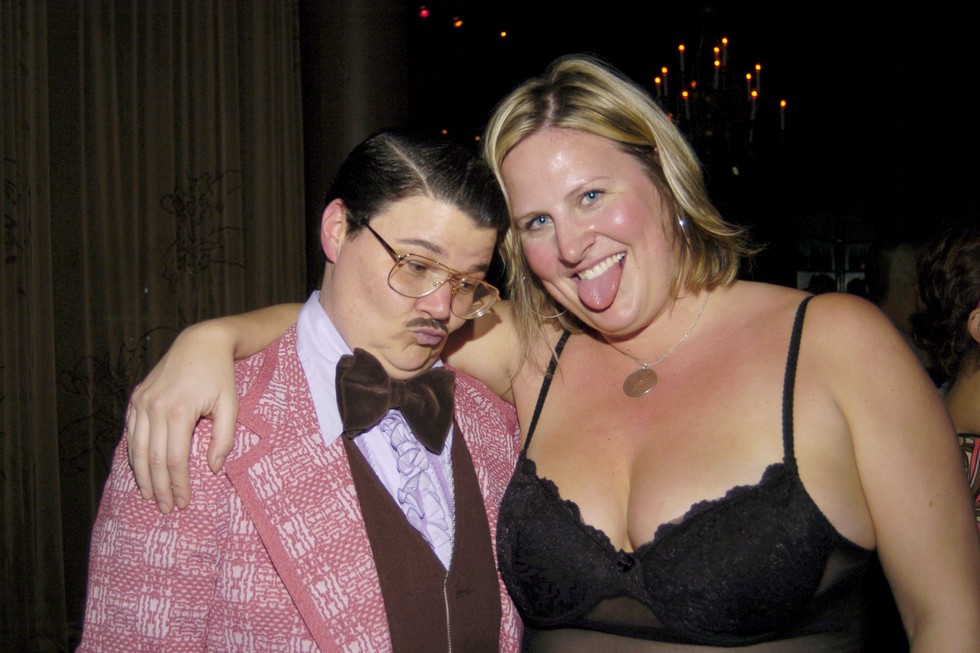 A few weeks ago, at Michael Musto's party for his book La Dolce Musto at Room Service, I was slightly horrified when a big (both vertically and horizontally), blond woman took the stage in a bra, a no -mystery-mesh top, shorts and heels. I thought this isn't going to be pretty – it wasn't, (especially when she tore her shorts off to reveal a very small thong and garter belt), but it was entertaining, and her voice was great! It matches her size!  And what was she singing about, you ask? Why, her canhole of course, while frequently bending over to drive her point home.  It was grotesque in the best sense of the word.  And yesterday I open the Post and who do I see? The big mouthed boobilicious Bridget in a pic with Kenny Mellman, (the pianist Herb in the downtown cabaret duo Kiki and Herb). The article by Barbara Hoffman was about their show "At Least It's Pink", written with the help of Sex and the City scribe Michael Patrick King, which opened last night at Ars Nova! The article is hilarious and mentions that she still continues to work her day job at Ruby Foo's uptown "where a guest once suggested, via a comment card, that she wear a bra." And the best part is, is that she was wearing one! Love it!


Here's a pic of Bridget and Murray Hill at Michael Musto's book party.