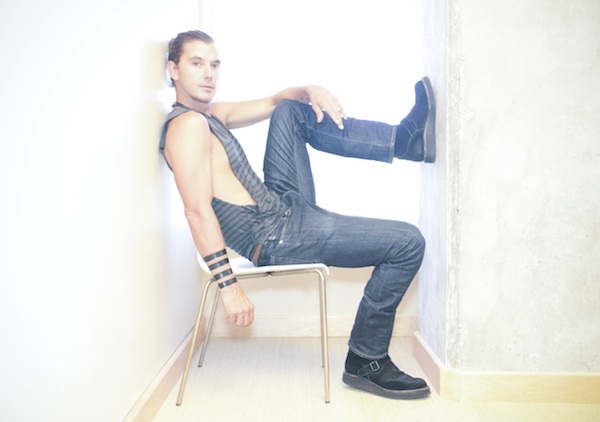 Bush is back. On the eve of the legendary alt-rockers' first album in 10 years, The Sea of Memories, the one and only Gavin Rossdale let us style and photograph him; and chatted with us about the record, touring, crispy bread and childrens-book-writing aspirations.Tell me about your new album
Sea of Memories
. Where'd the title come from?
The title comes from our history both past and present, and how it really defines us.  We are all in our own little boats sailing around just crashing into each other.
What are a few of your fondest recent memories?
Coming home from a recent trip and two little boys, five and three, rushing into my arms; the perfect fried breakfast in London's West End; and waiting backstage behind the curtain with the crowd shouting, "BUSH, BUSH, BUSH!"  Bush is short and really packs a punch.   When I was doing my solo project it just wasn't the same, it's really about doing the right thing at the right time. 
What's your earliest memory?
Ahh.  The smell of bread in Portugal.  I was walking around with my mum and the smell just filled the air.  Till this day I'm partial to crispy good bread.
Where can you find crispy good bread in L.A.?
The Cheese Store in Beverly Hills does it, and L.A. Bakery near our old house in Los Feliz has the best cheese danish with that amazing crunch factor.  You can really tell a good restaurant from the bread they set on the table.  
Since you're sipping hot tea now, who are three people you'd like to have over for a cup?
Francis Bacon, though I'd give him wine not tea.  He's one of my favorite painters.  PJ Harvey, she's just pure class and Dinos Chapman of the Chapman Brothers.  I know him personally and he would just loosen us all up.
You are getting ready to go on a nationwide tour with this album. Do you have a place you're really looking forward to playing?
I always love the major cities.  Not to go back to food, but they have the best restaurants.  I mean if I'm in New York they have all the amenities and when I'm in Syracuse it's a little more limited.  Though I have to say the smaller towns have crowds that are feverish and so appreciative.  I just try to always be joyful and find joy in everything everywhere.
Besides the tour, do you have any traveling plans coming up?
The irony of my life is before, I had no money, but all the time in the world. Now that I have some money, the time is gone.  We live between London and L.A. so we spend most of our time in those two places. The last place we went was a small town in the South of France called Antibes.  I just loved walking in the old streets with the ambiance and all the energy.  I'd love to go back there.
Who are a few of your favorite designers?
I like Nice Collective, Comme des Garcons and I enjoy Rick Owens.  Right now I'm wearing what use to be an All Saints shirt before I cut it,  a pair of Adriano Goldschmied jeans that they sewed my name into because I'm such a fan and a pair of Undercover boots.
Since you have kids and you love to write, would you ever write children's books?
Actually I'd love to; I read so many at night to the boys.  You know it's only about five lines and the majority of it is art.  I think i could do that.

Photographed and styled by J. Everette Perry