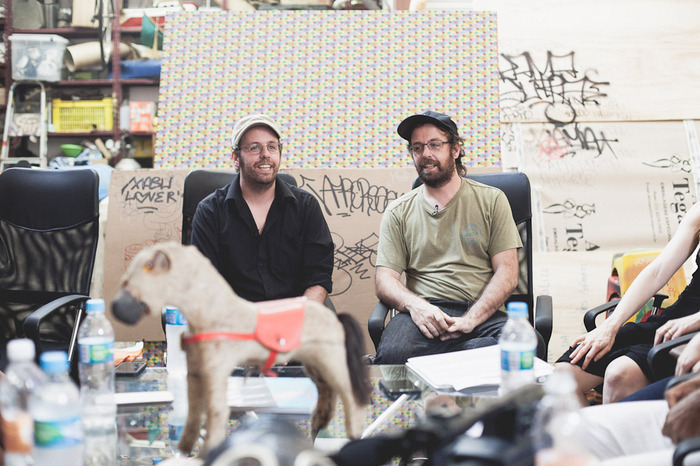 PAPER recently had the chance to sit down with prolific Brazilian artists
Os Gemeos
in their São Paulo studio. The 38 year-old identical twins Otavio and Gustavo Pandolfo have been producing art together (and never separately) since the age of four. In the worlds of art and commerce, they're superstars, with brand collaborations, museum installations, murals commissioned by celebrities, fine art sales, and public art projects under their belts. Most recently, they unveiled their new design for the Hennessy V.S. Limited Edition bottle -- which will be available this month-- and they're currently preparing their biggest solo show to date, scheduled for March 2014 at São Paulo's
Galeria Fortes Vilaça
. Constantly finishing each others' sentences, they repeated the phrase "everything is simple" or "everything is easy" in regard to just about every topic that came up; this mantra seems to have served them well. Below, some tidbits from the inspiring duo, as well as a peek inside their studio.
On how the association with Hennessy came about:
"For these kinds of collaborations, like we also did with Louis Vuitton or Nike, back in the day, in all this, the main thing is the style that we have. What we've been developing all these years, that for us is the most important thing ever, is to have our own style and to be happy with these drawings that we have. This for us is the goal. It's very simple, everything we do, everybody we know, we try always to have fun. It's important to have fun, life is too short. We've done so many things all these years; we used to do a lot of illustrations for books, children's books and newspapers, strip comics, concerts, dancing, animation, exhibition, installation, graffiti, dancing, singing, and now we're very into playing music again. We like to experiment with things, this collaboration is just one more thing."
On meeting Roger Waters:
"We grew up listening to Pink Floyd.... When we were 7 or 8 years old, we watched
The Wall
for the first time and went crazy, we loved that... All these people we used to get inspired by in the beginning, today are friends of ours. Life just happened very naturally. It's not like we tried to meet them, it just happened. Didn't expect it, but one day in the studio, they ring you up, and, "Hi, it's the producer of Roger Waters and he wants to invite you to do something." Things like this, they always happen. People like us, they have a sensibility, a natural need to come together. You need to feel that you're not alone. People that you trust and you like -- if you believe, you're gonna meet them, just like this.
On the impact of working with Jeffrey Deitch:
"We did a big show with Jeff. After that, things changed." [Makes explosion noise/gesture.]
On the importance of the color yellow in their work:
"Everybody has yellow inside. For us it's a very spiritual color. It's something that happens very naturally when we work in the studio, when we are drawing. Everyday we go to work in the room and it's yellow because of the lights that come in the window. Sometimes in the house of my mother, we take one room and use it as our studio. All our drawings from this time are orange, yellow, red, hot. The night is too cold outside. All the colors you see are how we feel. When you feel the night knocking on your window, you need to be yellow, keep yellow. All the colors you see are improvised, everything we do is improvised. We never know which color we going to put on the clothes or character, it just happens."
Their advice to creative people looking for success:
"First you have to see yourself. Look in the mirror, try to know what is your mission here, what are you doing here. You have to trust. If you trust, you can fly."