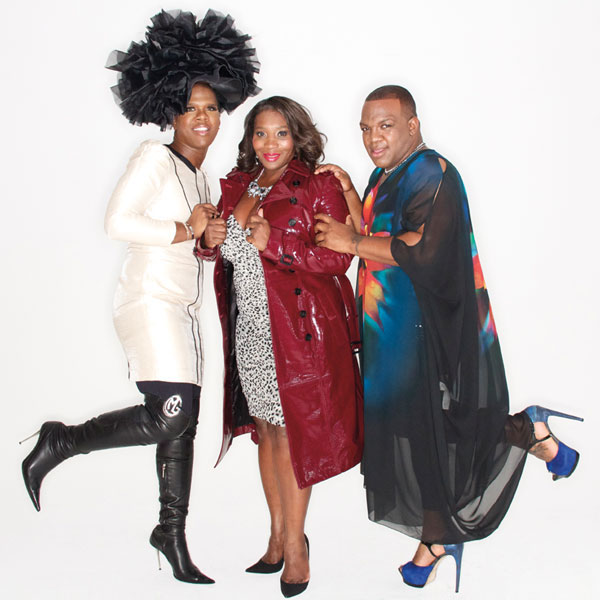 (L-R) Miss Lawrence, Bevy Smith and Derek J

It's my armor that I use in battle every day," Lawrence "Miss Lawrence" Washington says of his gender-bending style that fans have flocked to on Bravo's rising style talk show,
Fashion Queens
. Wearing snug leather pants, and towering in black leather stiletto boots as he applies cat-eye makeup at
Paper
's photo shoot, Washington's real armor, it seems, is his self-assuredness. Washington and his equally chic, high heel-wearing co-host, Derek "Derek J" Johnson, are effortlessly contributing to the refreshing normalization of gender identity in television, on a network otherwise best associated with botoxed housewives and millionaire matchmaking.
Bravo king Andy Cohen saw A-list potential in Washington and Johnson, two Atlanta hairstylists and scene-stealing "B" characters on the
Real Housewives of Atlanta
. After the duo starred in their own spinoff special Hairstylists Tell All, Cohen added Bevy Smith, the quick-witted New York fashion maven and media personality, into the equation, and Fashion Queens was born.
The show features the three giving their fashion hits and misses, as well as hilarious quips on celebrity gossip, all delivered in a patter of old-school drag slang and network-branded catch phrases, including "reading" (telling someone like it is) and "giving me wife" (when a Real Housewife looks great). But Smith says she's careful not to tread on Washington and Johnson's territory. "I don't want to usurp the gay lingo," Smith says, a lingo she feels many heterosexual women on TV and in fashion have claimed as their own.
The crackling dynamic between the three hosts made the show's first season a success, which on average drew in about one million viewers and will return for an extended second season this month. Even so, the challenge to keep the same fierce magic that has made Fashion Queens popular has never felt more real. In the words of Smith: "We still have to bring it."
Fashion Queens
airs on Bravo Sundays at 11:30 p.m.Makeup: Oz Rodriguez
Hair: Tywan Williams for Nairobi
Bevy wears a trench by Burberry Prorsum, shoes by Jimmy Choo and jewelry by Swarovski.