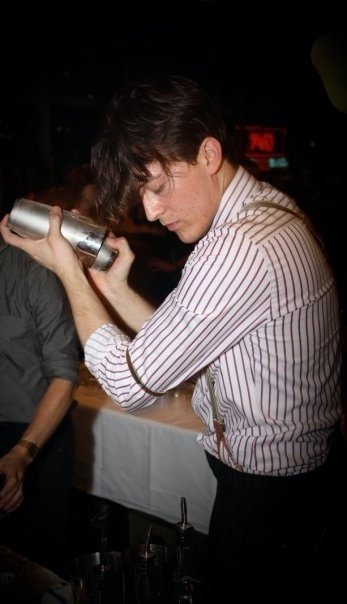 Since
Maison Premiere
's soft opening last week, Williamsburg's chic ruffians have packed themselves between the period resto's elegantly grimed walls to gorge on oysters and glasses of absinthe -- much like they might have in past lives on 19-Century Bourbon Street. (Think cleavage-filled corsets rather than full-on flashing.) Resembling a fellow from times-gone-past himself,
Maxwell Britten
, Maison's
suspendered barkeep
chatted with PAPERMAG about the bar's ambitions to distill absinthe and out-shuck Grand Central Oyster Bar.
Tell us about Maison's concept.
We're inspired by New Orleans, but not necessarily New Orleans themed. The city influenced the way we set up the bar with a great selection of American whiskey, rum agricole, eau de vies, cognac, armagnac and a huge absinthe section. Right now we've got 16 absinthes. By tomorrow we'll have 20, and by next week, we should have the largest selection in the country. We'd also like to eventually produce our own absinthe when we have time to talk to distillers.
We heard you have a pretty rad absinthe fountain.
The fountain is an approximate replication of the fountain from the Old Absinthe House in New Orleans. The main difference is that ours works and theirs doesn't. We
designed most of it with a marble company and a few contractors. They figured out how to do the ancient style piping and chilled water system. The statue on top is an original Napoleon by the same sculptor who did the one in New Orleans. We found it on eBay.
Why's the absinthe fountain so central to MP?
The fountain represents what we're doing. It's our shrine to a ceremony, a tradition, a culture and a lifestyle.
So you've got the absinthe, you've got the fountain, what about the oysters?
We started on Monday with 14 varieties of oysters. Tomorrow we'll have 15 and a couple of clams. Right now, Maison has the largest selection in all of Brooklyn and
Queens. We're hoping to compete with some of the bigger oyster houses in New York and eventually outnumber places like Grand Central Oyster Bar.
You better have some good shuckers.
We do. We poached an oyster shucker from Marlow & Sons who was curious, saw our operation and was inspired to come over and join us. He can do fifty in a minute. He just pops 'em off like soda caps. Monday through Friday from 4 to 7 we do $1 you-call-it oysters. One night this week we went through 500 like that.
There better be some cocktails to drink with all of those oysters.
Right now we've got six cocktails on the menu, but there will be 12 in total. They're divided into contemporary and classics. We wanted to do cocktails from New Orleans, but not necessarily ones that everyone knows. We hope people will realize they can come in and get a great sazerac or Ramos gin fizz even though it's not on the menu.
The Old Hickory is a New Orleans classic with dry French vermouth, sweet Italian vermouth, Peychaud's and orange bitters. Apparently Andrew Jackson was drinking a
lot of them during the Battle of New Orleans, and everyone called him Old Hickory.
I've also been talking with Giuseppe [Gonzales] over at Painkiller about original Hurricane recipes. It's kitschy, but if we can do it well it might be something we start in
the summer.
What else will happen in the summer?
Our backyard is almost complete. We planted all our vines last summer so they should be out in the spring. The whole thing will be covered in greenery, and we
might do a shucking station. We'll have green glass partitions so it will be civilized and intimate. The French doors will be open so it'll be like looking into a whole other world.
We've tried to get through those French doors. Why are they so tiny?
There was a great amount of study and research in the design. There were trips to France and New Orleans to see how the timeless classics like Napoleon House and
Arnaud's French 75 work. We thought, what would you see in the nineteenth century if you walked through a door? What would you be sitting on? What would the ceiling look like? What would you be drinking? And then we did it in our own way.