On stage, 24-year-old rising musician Garrett Borns -- AKA BØRNS -- makes knees weak with his soaring falsetto vocals and long-haired, glam-rock vibes. It's not only his looks that remind you of a classic rocker from the genre's '70s heyday but it's also his sound that feels timeless and classic, too. He's currently touring his debut album, Dopamine, released last October, which packs together bright, feel-good anthems best enjoyed at summer's peak.
BØRNS has been building steady buzz ever since the release of his 2014 EP, Candy, a record that found the Michigan-bred musician catching fire with his euphoric track, "Electric Love," a song that evokes the wistful nostalgia of bands like the Beach Boys and the Bee Gees with an updated, power-pop finish. "Electric Love" also appears on Dopamine, along with another album standout, "10,000 Emerald Pools," the perfect complement for weekends away with its sunny sweet vocals and breezy melodies.
Offstage and in person, BØRNS is surprisingly soft-spoken, more humble and down to earth than the rock god he appears to be onstage, someone who's toured with big names like Mumford & Sons and Halsey. He opened up to us about his obsession with the Bee Gees, his Michigan roots and covering a ZAYN song in a castle.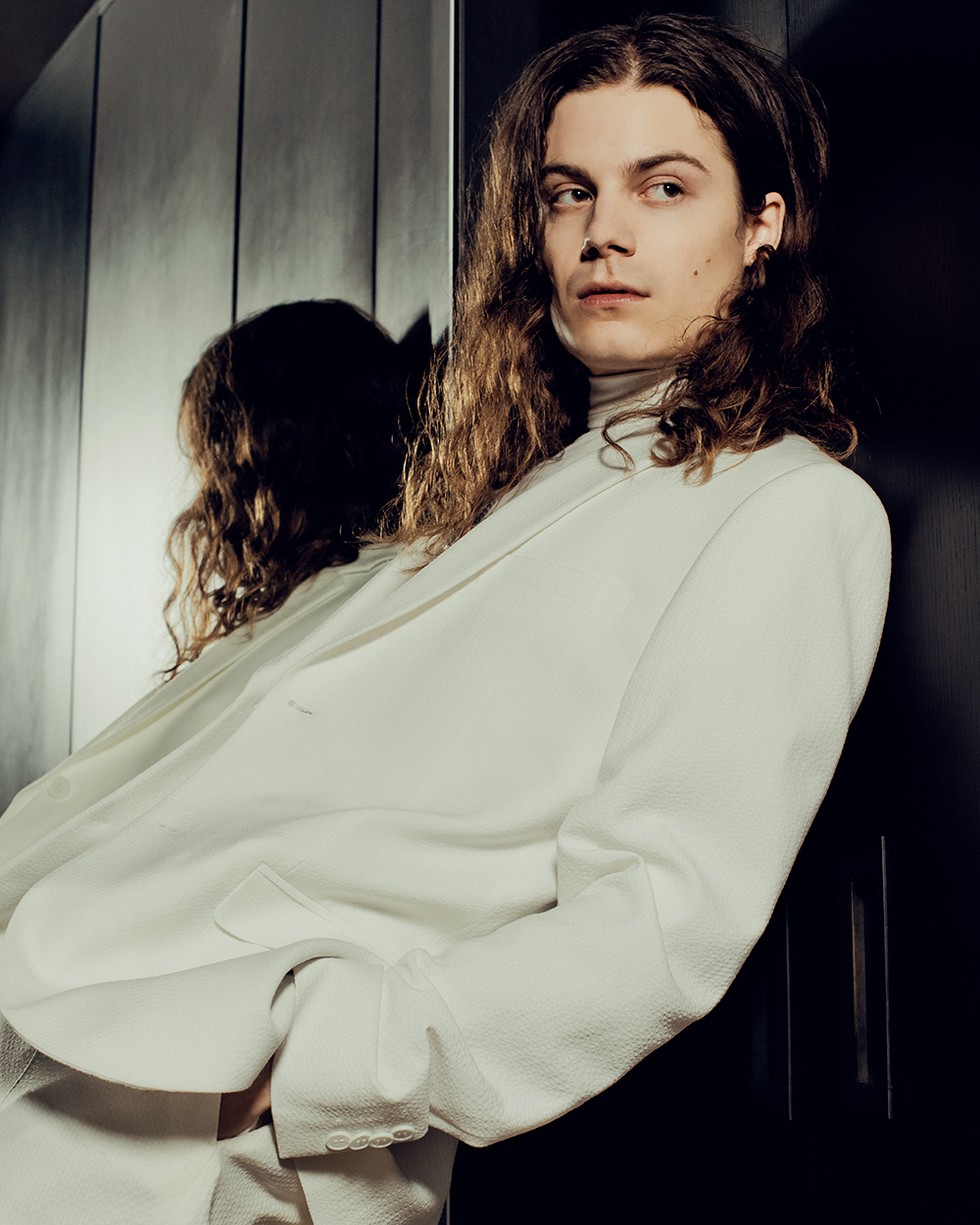 You said the white suit you're wearing for today's shoot was "so Bee Gees." Are they an act you look up to?
I reference the Bee Gees for a lot of life decisions, like the way to walk down a sidewalk [laughs]. I was just in Cleveland and there's a Rock 'N' Roll Hall of Fame there. We got an exclusive tour down to this vault, where they had a temperature-controlled room with all these outfits on display -- a bunch of Bee Gees stuff, like Barry Gibb's silk shirt just hanging. Sonically, the Bee Gees are a huge inspiration, too. Their songs are so well-composed and really heady, but really easy to listen to. When you break them down, the chord changes, modulations and melodies are so complex, but somehow still so palatable. That's always something I'm striving for in music.
Accessibility is one of the hardest things to nail with music but it seems to be something you do really well.
I'm always studying discographies and learning chord changes -- seeing how my favorites write. I do that with bands or artists, such as Bowie. With him, I studied each album one at a time. What I really like about the Bee Gees, too, is how they've progressed. They reinvent themselves with every album and always try new things.
You grew up in Michigan. Is that largely where you first began performing live?
That's where I started because I hadn't really traveled much, and I had a lot of friends who're musicians. Some of the best musicians I know are from Michigan. I started by just playing bars and recording music -- figuring out what I wanted to do with my own. In Grand Haven, there's a great music scene. On Michigan's West Side, there's a lot of bluegrass, very roots-style music -- a lot of festivals on farms.
But eventually you decided to leave Michigan. Why?
I studied music theory right out of high school, like classical piano, and then I was like, 'Man, I gotta get on the road.' If I really wanted to learn songwriting and have great life experiences, I knew [traveling] was how I'd make a great record. I had to challenge myself and knew I had to also travel solo to grow on my own. I went to New York, couch-surfed around and took any writing opportunities I could get, sometimes just making jingles. Then, I took a trip to LA on a whim and I've been there ever since, just living simply and out of a suitcase.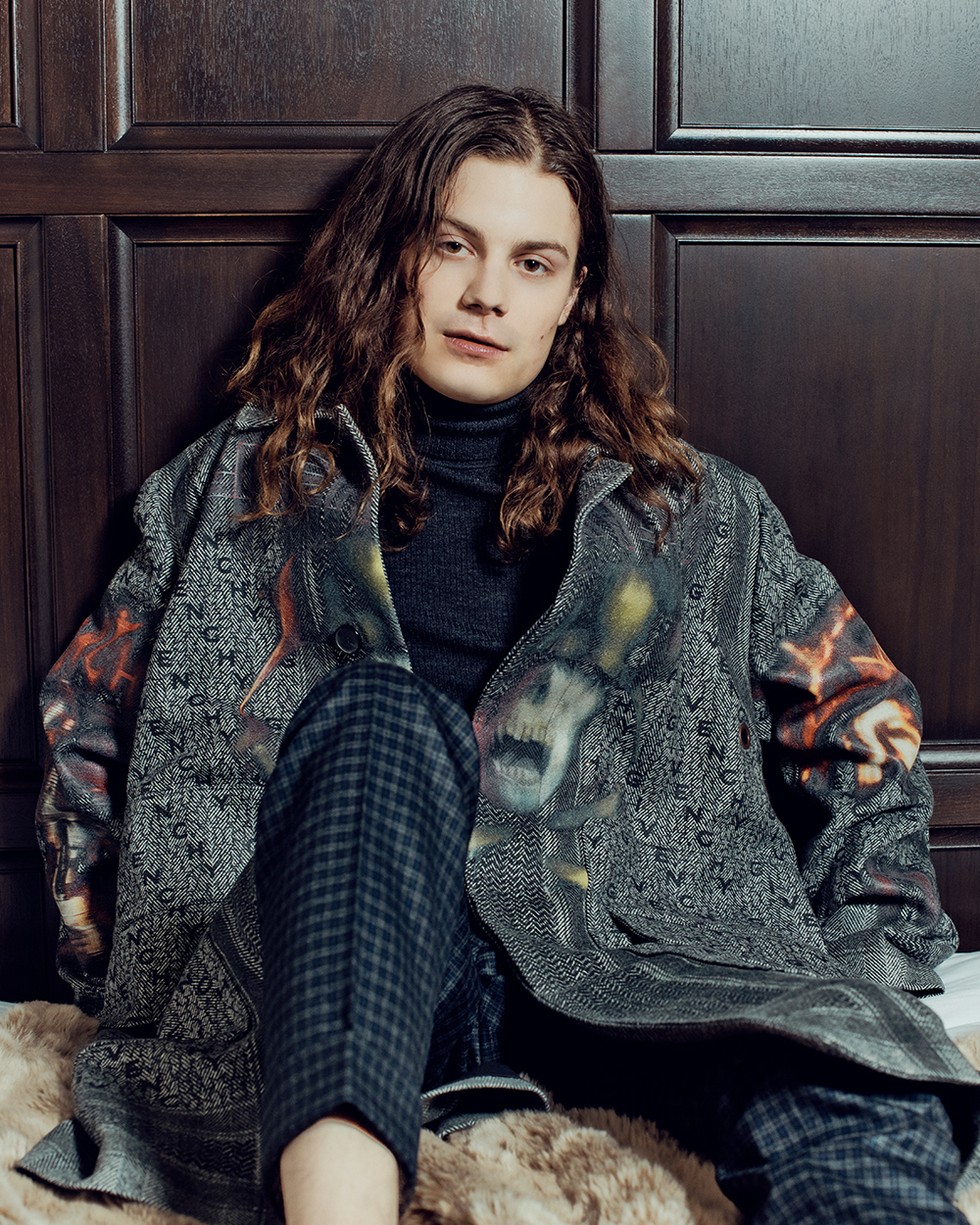 How was it working with producer Tommy English, who you collaborated on your debut album with?
I met Tommy through a mutual midwest friend group -- he's from Chicago. The album came from both my influences and his influences. He has a very classic rock background and I'm more disco. Tommy was in a band and he toured with KISS when he was like, 20-21. They had this classic, hard-rock sound and he plays guitar like a motherfucker. He can shred, so he's very into riff-based stuff. In the studio, we played the instruments and wrote everything ourself. Everything happened so naturally, we were just having fun.
Did you expect "Electric Love" to be the track that everyone would latch onto?
We never established a single right off the bat -- we first put out an EP and people were naturally drawn to 'Electric Love.' It's weird, people even picked out the next single, 'Green Money.'
Many of your songs revolve around love and these larger-than-life romances. Are you singing about love as an idea or is there a central muse?
A lot of my sentiments come from songs I grew up on, like The Turtles song, 'Happy Together.' [Singing] 'I can't see me lovin' nobody, but you; For all my life.' It's very theatrical and I wanted to put that into [my album], but there's definitely a muse, of course. Muses are very malleable in songs. A lot of times it's something that's in my head, like daydreams, but there's always someone I'm singing to.
You recently covered ZAYN's single, "iT's YoU" What about that song attracted you?
It's a beautifully written song and the melodies are so nice. My guitarist plays a lot of slide guitar, so we arranged this ethereal sounding [treatment]. For the video, we'd just ended a tour in Paris -- I was in Europe with Halsey -- and we found this beautiful castle outside Paris where Louis XIV used to live. It was crazy and absolutely freezing, but we put the piano through the window -- just hoisted it up. If you've never seen a piano dangling by a string, it's a scary thing.
Grooming by Alicia Campbell
Location: Shot at The New York EDITION