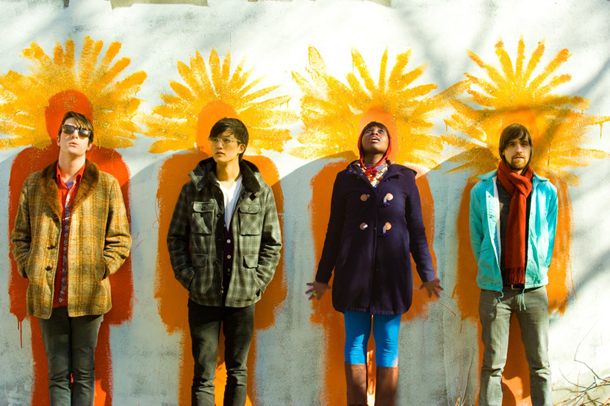 I first saw
Body Language
on a lazy Thursday afternoon during CMJ. I had heard some of this quartet's recorded stuff beforehand and was quite impressed -- they create a very likable sound that meshes soulful electro-pop with multi-instrumental pumps -- but seeing them live is what really hooked me. In front of an audience, this three-guy-one-girl group really lives up to their name: there's color and oomph to the way they bang their instruments, bounce on their feet and sing those honey-coated vocals. The music just makes you want to move. And, damn, those white boys have some serious swagger!
Body Language is currently doing a December residency at
Brooklyn Bowl.
We checked them out last Monday, and per usual, they rocked it. At one point, Matt, with surprisingly sensual range, yelled out "I hope you guys are having a fucking good time, because we are!" We did...we really did!
We were able to chat afterwards with keyboard and dance enthusiast,
Grant Wheeler
, about the origins of Body Language, some of this year's hottest music, and what he thinks makes a kick ass New Years Party.
So how did Body Language come about?  
Matt and a good DJ friend of ours, JPrez, started up a weekly party at a Hartford dive bar called Vegas Blvd.  The parties starting packing out the bar and the atmosphere really gave us the itch to fashion some of our own home-brewed pop remixes and originals to drop at the parties. And just about the same time, we started collaborating with (our lead singer) Ang, and forging what you would now know as the
Speaks
EP.
Your band name really embodies the music you guys create. What's the history behind it?  
We started calling ourselves Body Language in September 2008.  The name is inspired by our somewhat kinetic stage presence and our ever persistent desire for other show-goers to reciprocate that same energy.
I definitely felt that energy! What were some of your inspirations for your recently released EP, Social Studies?
We draw a lot of influence from records from many eras. At the time we were consuming a great deal of Beach Boys, many Motown releases, Kano, Metro Area, Jimmy Edgar. But more importantly, some of our personal relationships have provided our deepest insights into writing music. The writing for this release actually began shortly after we finished working with Michael Angelakos on the beginnings of Passion Pit's debut,
Manners
. Living and working with Mike was a serious crash course in composing instinctual and visceral pop.  We're also close friends with a producer named Machinedrum, who constantly has been our Sherpa for the outer reaches of electronic music and emerging genres.
What's it like to play Brooklyn Bowl on Mondays?
It's turning out to be wonderful little extension of the weekend.  Friends, drinks, bowling and a great sounding venue -- you really couldn't ask for more!
Pumped for the Brooklyn Electronic Music Festival?
Very much so! We had the opportunity to play the first BEMF last summer with the Juan MacLean and others, and it seems that the curators of this event have stepped up their game with both the lineup and the location.  From start to end, the bands on this bill look pretty amazing.
What are some of your top bands of 2010?
Fur, Toro y Moi, Delorean, Ariel Pink, El Guincho, the Morning Benders, Phantogram...
And top songs of 2010?
Fur, "Clears Throat"; Delorean, "Real Love": Ariel Pink, "Round and Round"; Phantogram, "Mouthful of Diamonds"; and El Guincho, "Bombay."
What's your idea of the perfect holiday party?
I'll sum up our New Year's last year which we thought was an amazing time. We went to the Steam Whistle Blows at Pratt for the countdown and got very drunk whilst screaming over the bellows of the whistles.  Then an entire crew of friends took over a car of G train and we got the entire train singing very loud renditions of Alanis Morissette songs.  Then we walked the whole choir down to Paris-London-NewYork on Kent Ave., set up for DJing in a jiffy (courtesy of Machinedrum) and two minutes into the first song the entire place packed out wall to wall with a drunken freak-out dance party.  It was absolutely epic.
Photo by James McDowell